Province announces $1-billion investment to expand and redevelop St. Joseph's
April 19, 2022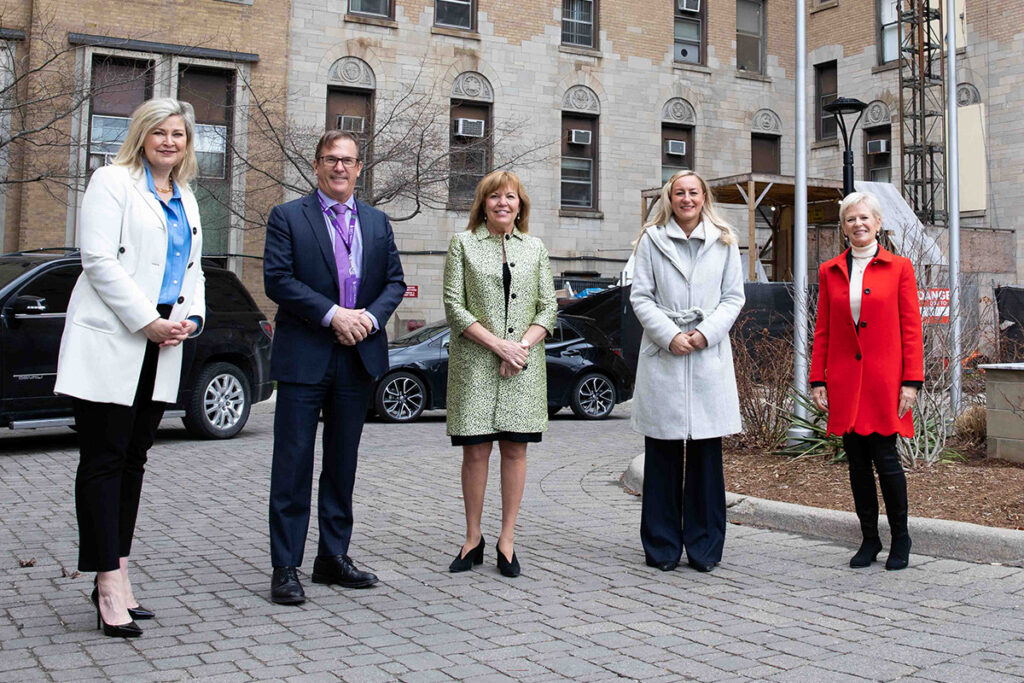 The Ontario government is investing more than $1 billion to redevelop and expand St. Joseph's Health Centre, supporting a new state-of-the-art patient care tower and renovations to the hospital to improve patient care in west Toronto.
"This announcement represents a major milestone in our century-long legacy at St. Joseph's," said Dr. Tim Rutledge, President and CEO of Unity Health Toronto. "This historic investment will help us provide high-quality care in modern spaces equipped with the latest technology and more private rooms. Once complete, this project will help reduce wait times, improve access to care and end hallway health care."
The announcement was made by Christine Elliott, Deputy Premier and Minister of Health, who was joined by Kinga Surma, Minister of Infrastructure, and Christine Hogarth, MPP for Etobicoke-Lakeshore.
"Our government continues to make key investments to build the infrastructure needed to end hallway health care and create a stronger, more resilient health care system," said Minister Elliott. "This over $1-billion investment to redevelop Unity Health Toronto's St. Joseph's Health Centre will ensure that patients and families can receive high-quality care when they need it."
The new patient care tower, which will be built on the southeast corner of our campus, will feature an expanded emergency department and new spaces for our operating rooms, intensive care unit and medical, surgical and mental health inpatient programs. The tower will also create much-needed capacity.
The plan is to add more than 100 beds, update infrastructure and enhance services to support the population in west Toronto, which is expected to grow by more than 15 per cent – or 125,000 residents – over the next decade.
"For more than a century, we've been caring for our neighbours in west Toronto and have no plans of ever stopping," said Dr. Rutledge." This investment will help us grow so we can continue to support the health care needs of our residents and future generations."
This investment will also benefit St. Joseph's staff, physicians and learners, some of whom work with infrastructure between 60 and 90 years old. The challenges of working with aging infrastructure have been brought to the forefront during the COVID-19 pandemic.
In the announcement, Minister Elliott also announced the approval of Unity Health's Stage 2 functional program application, which allows our teams to continue to plan for the new tower and progress through the Ministry of Health's process for capital planning projects.
Unity Health's teams are excited to dream big about the future of St. Joseph's and look forward to working with our provincial and municipal partners, as well as our staff, patients and west-end community members, to advance this significant project.
"Thank you to the Ontario government for making this historic investment in St. Joseph's," said Dr. Rutledge. "Your support will help us provide residents in west Toronto with the necessary hospital infrastructure to benefit them and our people for generations to come."