Ten great things that happened this week
March 03, 2022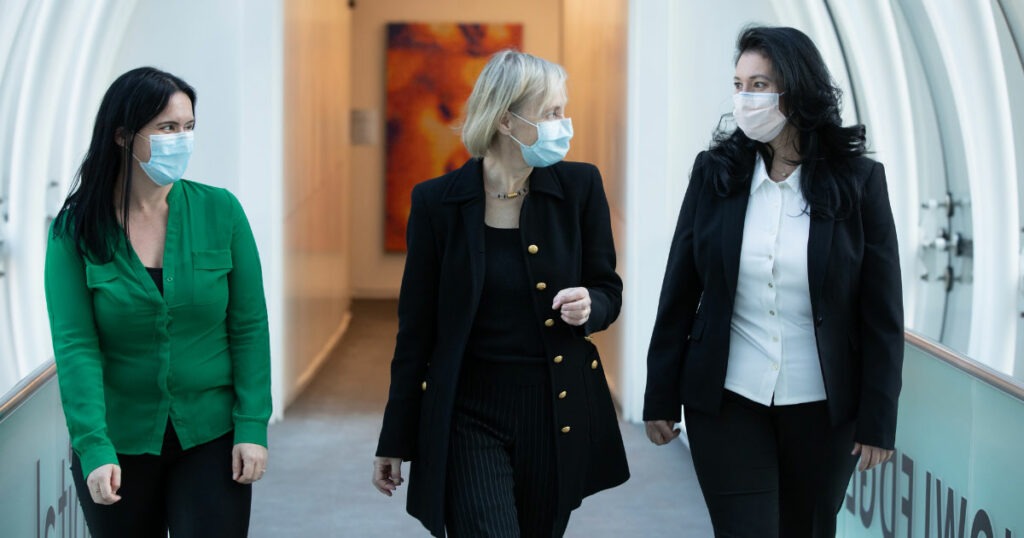 Each week, we share a list of 10 great things that happened at our sites. Do you have a story you'd like to share? Send it to communications@unityhealth.to.
1. St. Michael's researchers awarded $6.8M in CIHR funding
Fourteen research projects led by researchers at St. Michael's Hospital received more than $6.8 million in funding from the Canadian Institutes of Health Research fall project grant competition. Funding was awarded to projects looking at a wide variety of health issues, including weaning off of mechanical ventilation, the effects of recreational cannabis legalization and developing a better understanding of a molecule key to kidney inflammation and fibrosis. Congratulations to all of the researchers!
2. St. Michael's cystic fibrosis clinic shares the impact of life-changing drug
To mark Rare Disease Day, staff members at St. Michael's cystic fibrosis clinic spoke about how coverage for the costly drug Trikafta has transformed patients' lives. Last September, the Ontario government announced it would provide coverage for Trikafta to CF patients. Access to the drug was made possible, in part, by research led by Dr. Anne Stephenson, a respirologist and researcher at St. Mike's. "Our clinicians report that they now encounter patients who now cry once they know that they have access to this life-changing medication," said Desa Hobbs, Senior Clinical Program Director of the Heart, Lung and Vascular Program at Unity Health Toronto.
3. New Mental Health Short Stay Unit opens at St. Joseph's Health Centre
On March 1, St. Joseph's celebrated the opening of the new RBC Foundation Mental Health Short Stay – Transitional Aged Youth Unit, thanks to the generous support of donors who share our commitment to mental health care for youth. The new unit is the first of its kind in a Toronto hospital setting, focusing on youth who are making the transition from adolescent care to adult care – a critical time for young people with mental illness. The new RBC Foundation Mental Health Short Stay – Transitional Aged Youth Unit is designed to improve the experience for youth in our care and features six newly-designed patient rooms, two patient lounges and innovative technology to improve patient and staff safety and overall work flow. Stay tuned for more details about the new unit.
4. How can we blunt the threat of future pandemics? Dr. Dan Werb explains in a new book
In a Q&A about his new book, The invisible siege: The rise of coronaviruses and the search for a cure, Dr. Dan Werb, scientist with MAP Centre for Urban Health Solutions, spoke about the scientists who've been studying coronaviruses since the 1980s, "putting boundaries" on our anxieties and the importance of the epidemic triangle. Read the Q&A.
5. Flexible access to daily take-home methadone doses during the pandemic associated with lower opioid-related overdoses, study finds
New research led by Dr. Tara Gomes found that Ontario patients receiving opioid agonist therapy who were given more daily take-home doses of medication in 2020 were less likely to have opioid-related overdoses. The study examined the impact of a change in Ontario's guidance in 2020, which gave patients access to more daily take-home doses of methadone. "This pandemic-related change in guidance allowed us to see what would happen if these rigid rules were changed, and the findings suggest that more flexible treatment is actually safe and helps keep people in opioid agonist therapy programs," said Dr. Gomes. Read more.
6. February honour roll recognizes staff, physicians, researchers and learners
Several staff, researchers, physicians, learners and teams across Unity Health Toronto were recognized in the February honour roll. Recognitions, honours and awards in February went to Providence staff Matthew D'Silva, Sharon Bissember and Rony Toma, the Unity Health Library Services Team and many others. Congratulations to all!
7. Fashion student teams up with Dr. Jory Simpson to perfect a post-op bra
Ryerson fashion student Jo-Ann Harris and Dr. Jory Simpson, St. Michael's chief of general surgery, were featured in a CBC News story about a post-operative bra Harris designed for breast cancer patients. Harris' design took the top spot in a design contest sponsored by St. Michael's Hospital and Ryerson University's Healthcare User Experience Lab. For her innovative design, Harris was awarded $10,000 and a one-year internship with Dr. Simpson to develop the product. Read more.
8. Unity Health's stroke program recognizes heart month
To mark the end of heart month, the St. Michael's Hospital stroke program is recognizing its team. Many common heart disorders can increase the risk of stroke, and the St. Mike's stroke program has been working hard to ensure that care was not compromised despite COVID. The team is thanking nurses, techs, administrators and physicians for keeping the Stroke-Endovascular Treatment angio-suite live 24/7, throughout the entire pandemic. The stroke program at St. Mike's is one of the only programs in Toronto that did not shut down its neuro-endovascular services for maintenance or logistics, giving patients access to world-class care 24/7, 365 days a year. Congratulations to the entire team, we appreciate all of your efforts!
9. Dr. John Sievenpiper speaks about the 'food-as-medicine' movement
Dr. John Sievenpiper, physician and researcher at St. Michael's Hospital, spoke to The Globe and Mail about the growing "food-as-medicine" movement, which aims to see doctors consider and prescribe food as they would medication. Dr. Sievenpiper told The Globe that he tends to give his patients two prescriptions: one for the pharmacy and another for diet. "In clinical practice, too often nutrition gets lip service," he said, adding that a prescription for diet "communicates to the patient that we think this is important."
10. Dr. Dan Beriault outlines the benefits of reducing unnecessary lab tests
Amid a global shortage of lab supplies, Dr. Dan Beriault, head of biochemistry at Unity Health, co-wrote an op-ed about the benefits of reducing unnecessary lab tests. Dr. Beriault said that while lab testing is the most common medical activity in Canada, not all lab findings are needed. Low-value testing is when tests are ordered for the wrong reason or at the wrong time. These tests can lead to false positives, which leads to more unnecessary testing. "Reducing unnecessary tests means fewer needle pokes for our loved ones. It means less risk or potential harm to patients. And it means we protect laboratory resources to be available when needed most."
Previous Ten Great Things articles