Ten great things that happened this week
April 01, 2021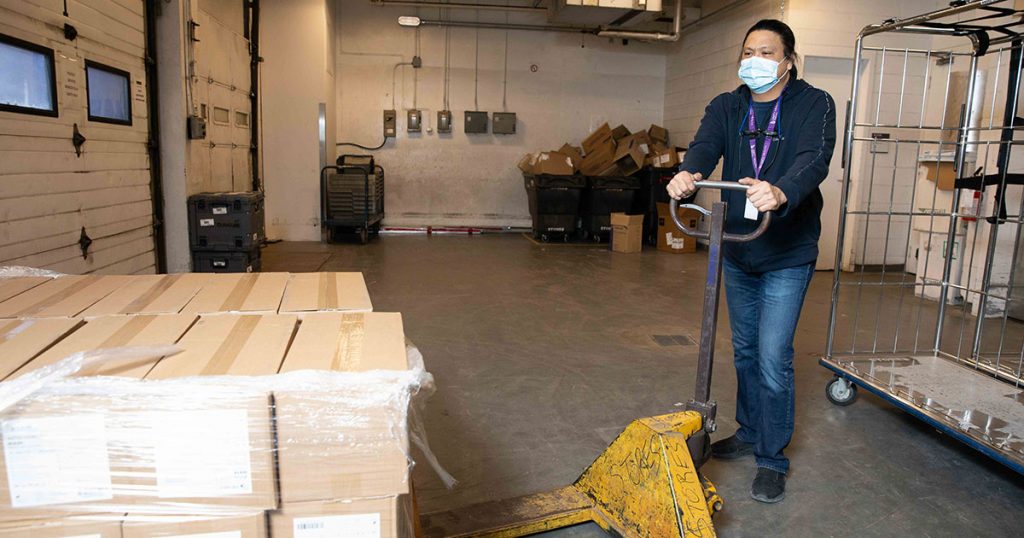 Each week, we're sharing a list of 10 great things that happened at our sites. Do you have a story you'd like to share? Send it to communications@unityhealth.to.
1) A primary care physician and a patient discuss why 'trans care is health care'
International Transgender Day of Visibility celebrates transgender people, their contributions to society and raises awareness of the discrimination they face. One of those barriers is in access to health care. Dr. Thea Weisdorf, a primary care physician with St. Michael's Academic Family Health Team, specializes in providing primary care to transgender and gender expansive individuals. Aleksander is a patient with Dr. Weisdorf. They joined us to talk about the simple ways health care providers can make the experience feel safe and welcoming for everyone. Read more.
2) Dr. Suzanne Shoush shares her experience vaccinating Indigenous people living in remote communities in Northern Ontario
Dr. Suzanne Shoush, Family Physician at St. Michael's Hospital, flew to Webequie First Nation and Sandy Lake to provide COVID-19 vaccines to residents as part of Ornge's Operation Remote Immunity. "Until now, First Nations communities have often been ignored when it comes to resource allocation. This program is new and strange and good." Read more in her profile in Toronto Life.
3) From truck to bedside: Behind the scenes with our PPE team
Across Unity Health Toronto's three sites, the logistics teams work together to make sure our hospitals have an adequate supply of personal protective equipment. Millions of gloves and masks have been delivered to Unity Health in 2020 alone. This photo essay offers a glimpse behind the scenes with our PPE team. Read more.
4) Meet the first Therapeutic Recreationist to join the Mental Health Department at Unity Health
Recreation and leisure can help patients socialize, get active and learn coping strategies that they can take with them once they leave the hospital. This is why Rachel Blair was hired to work in the 7M mental health unit and the Psychiatric Intensive Care Unit (PICU) at St. Joseph's Health Centre, becoming the first Therapeutic Recreationist to join a mental health program at Unity Health. Read more.
5) Study by Dr. Tara Kiran highlights the need for a more robust testing strategy to prevent COVID-19 outbreaks at homeless shelters
A study that tested individuals living at shelters for COVID-19 found that among those who tested positive for the SARS-CoV-2 virus, less than 15 per cent had symptoms. Led by Dr. Tara Kiran, Family Physician at St. Michael's Hospital, the research suggests that expanded testing of asymptomatic individuals could help stop the spread in shelter settings. Read more.
6) We spotlight Sharon Bissember as part of our Behind the Mask series
Before the pandemic began, Registered Nurse Sharon Bissember would stay at her mother's house when she worked consecutive days at Providence. Last March, she stopped visiting her mother and would wake up at 5 o'clock in the morning to drive from Barrie to Toronto. Read her story #BehindtheMask.
7) Two Upstream Lab researchers examine how social factors impacted COVID-19 infection
Evidence that COVID-19 disproportionately impacted racialized communities, low-income individuals and certain occupations was available to policymakers early in the pandemic, according to a rapid review led by Tara Upshaw and Dr. Andrew Pinto. The findings come as advocates call for social determinants to be considered in vaccine rollout, and for groups made vulnerable by policies that create and reinforce health disparities to be prioritized. Read more.
8) Dr. Amol Verma and Dr. Fahad Razak write Toronto Star op-ed on the need to strengthen generalist models of hospital care
In a recent study on acute COVID-19 care, Dr. Amol Verma and Dr. Fahad Razak found that majority of hospitalized COVID-19 patients are cared for on general medicine wards. In this Toronto Star op-ed, they write that the pandemic has reinforced the need to increase human resource and ward capacity in these wards. Read more.
9) We reveal new items from the St. Joseph's 100th anniversary time capsule
25 years ago, staff and physicians from St. Joseph's sealed a time capsule to be opened during St. Joseph's 100th anniversary. This week, we reveal some of its contents.
10) What can emergency departments do to provide better care for patients dealing with pregnancy loss? Kate MacWilliams weighs in
Kate MacWilliams, a Registered Nurse and Patient Care Manager at St. Joseph's Health Centre, says more education and empathy is needed to help patients navigate a traumatic time. She spoke with CBC News on her research and how hospitals can implement changes in emergency departments so patients have more support. Read more.