Ten great things that happened this week
April 08, 2021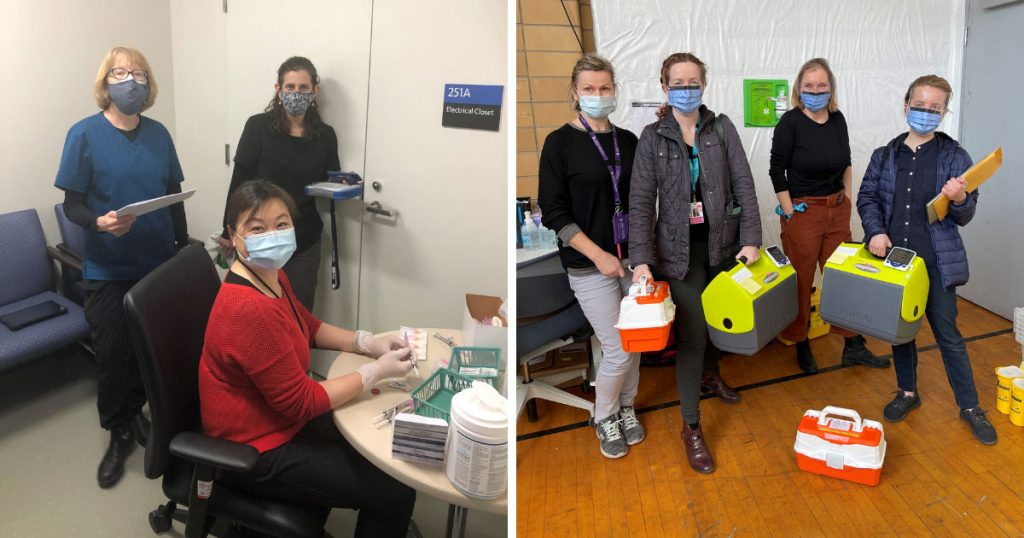 Each week, we're sharing a list of 10 great things that happened at our sites. Do you have a story you'd like to share? Send it to communications@unityhealth.to.
1) A patient shares their kidney transplant story for Be A Donor Month
After 28 years of marriage, Elliot Bassin and his wife Marilyn bonded in a way that the couple never thought possible. They shared a kidney. For Be A Donor Month, Elliot and Marilyn are sharing their experience with transplantation. Read more.
2) Dr. Sidney Kennedy receives the University of Toronto's President's Impact Award
The University of Toronto has awarded Dr. Sidney Kennedy with the President Impact Award for his contributions to the treatment of people with major mood disorders in Canada and around the world. Read more.
3) Dr. Seema Marwaha discusses why more supports are needed for long-haul COVID-19 patients
A year into pandemic, long-haul COVID-19 patients still struggle to get care. Dr. Seema Marwaha, general internal medicine specialist at St. Michael's Hospital, says this exposes the weaknesses in the health care system when it comes to treating chronic conditions. "We need to create some space for care that is not just acute and not just preventative in public health. We need to understand that there is this proportion of people that are recovering that are going to need help," she told CBC News.
4) Dr. Jillian Baker shares her experience as part of Operation Remote Immunity
"It was an honour to be welcomed into a Northern Ontario Indigenous community to help vaccinate against COVID-19," says Dr. Jillian Baker, a pediatrician and pediatric/young adult hematologist at St. Michael's Hospital. She shares her experience vaccinating people living in Pikangikum as part of Operation Remote Immunity, an initiative led by Ornge. Read more.
5) Team Vaccine launches pilot to vaccinate homebound seniors in our communities
Unity Health Toronto teams are working together to pilot a process for vaccinating homebound seniors in the West and Downtown East. This will ensure that those who are most vulnerable get access to COVID-19 vaccines, even if they are not able to go to a clinic in the community. See the photos here.
6) We spotlight Shafqat Tahir in our Behind the Mask series
Shafqat Tahir, Laboratory Manager and Biosafety Officer at St. Michael's Hospital, always knew she wanted to live her life in a lab. When the pandemic began, her whole team worked around the clock to set up their COVID-19 lab and do their jobs safely. "We always knew that 80 per cent of medical decisions are based on laboratory results. But it's just so good to see that the world is now realizing how important laboratory science is." Read her story #BehindtheMask.
7) Does Ontario need to rethink its vaccine rollout approach? Dr. Andrew Petrosoniak shares his thoughts on CBC Canada Tonight
"We need to pivot now," says Dr. Andrew Petrosoniak, emergency and trauma physician at Unity Health Toronto. He spoke to CBC Canada Tonight on what he has been seeing in the Emergency Department and how Ontario can improve the current vaccine rollout. Watch the segment.
8) What are the effects of expanding stand your ground laws? Dr. Alexa Yakubovich weighs in
There is no evidence to support the claim that stand your ground laws protect people against crime says Dr. Alexa Yakubovich, a postdoctoral fellow at the MAP Centre for Urban Health Solutions at Unity Health Toronto. The race of victims is "one of the most important predictors regarding the outcomes of self-defense cases," she told USA Today.
9) Ontario needs to deploy more rapid COVID-19 tests. Dr. Kevin Schwartz explains why
Ontario should immediately expand its use of rapid COVID-19 tests to slow the spread says Dr. Kevin Schwartz, infectious diseases physician at St. Joseph's Heath Centre. In a recent study on rapid COVID-19 tests that he co-authored, he found that testing only symptomatic patients is "slow and not sufficiently effective in preventing onward community transmission." Read more in CBC News.
10) What can be done to better protect racialized groups against COVID-19? Dr. Andrew Pinto speaks to the Globe and Mail
There needs to be a "clear, transparent connection to action" after the collection of race-based data to curb the spread of COVID-19, says Dr. Andrew Pinto, family physician at St. Michael's Hospital. He spoke to the Globe and Mail about how strategies like paid sick leave could help given the high rates of participation in essential jobs by the racialized groups who have had high rates of COVID-19.