Masks, safety and empathy: The role of the Entrance Screener at Unity Health Toronto
May 31, 2021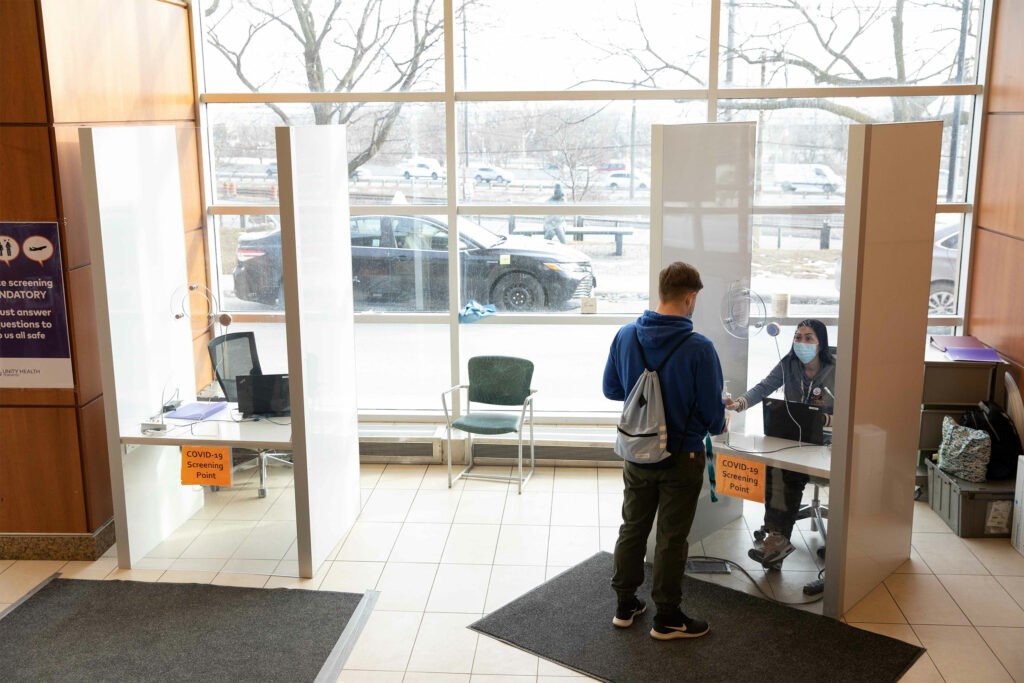 Get to know the team behind the plexiglass. Story and photos by Katie Cooper.
Since March 2020, entrance screeners have been an essential part of the Unity Health team to keep patients, staff, and visitors safe. They are the first point of contact when entering our buildings and carefully balance safety precautions with compassion to everyone they encounter. They ask questions about COVID-19 symptoms and recent travel, and hand out clean masks to those who enter. Over 90 screeners work at 16 entrances across our three sites, including St. Joseph's Health Centre shown above.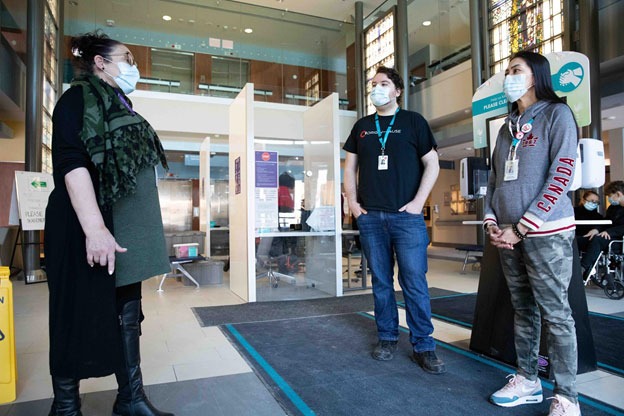 "We started off with a lot of re-deployed staff, but as they all went back to their units after the first wave of COVID-19, we hired dedicated screening staff. We did the same thing during SARS when people were screened coming into the hospital," says Linda Picken, Entrance Screening Site Lead at St. Joseph's (pictured above left). "For me as a leader bringing new people into the hospital and putting a team together, although it has been challenging, it's been an exciting period of time."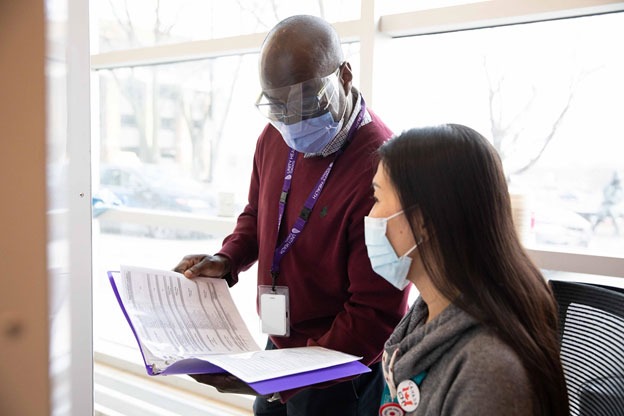 Tijah Morgan, Operations Lead for Entrance Screening at St. Joseph's (pictured above left), brings his insight and experience from working 18 years at WestJet.  "If flights were cancelled, delayed, or diverted I was responsible to get passengers to their final destination in a timely fashion. Having to make quick decisions, and dealing with conflict resolution in high stress situations are important skills that I apply to my job at St. Joseph's." He handles the scheduling and day-to-day operations for the team of 35 screeners who cover entrances seven days a week. Three of those entrances are open 24 hours.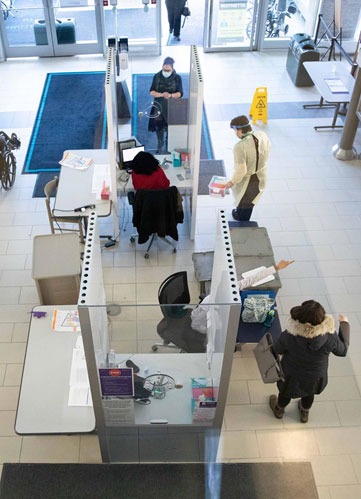 The biggest challenge for the team is when people don't want to comply with screening procedures. "The way we approach it is, unfortunately this is what's happening in the world right now," says Tijah. "We try to reiterate the fact that we are still in a pandemic and you have to adhere to the guidelines if you're coming into the hospital. This ensures everyone's safety and health and we want to go back to some form of normalcy soon, so if we comply maybe we can get there a lot quicker."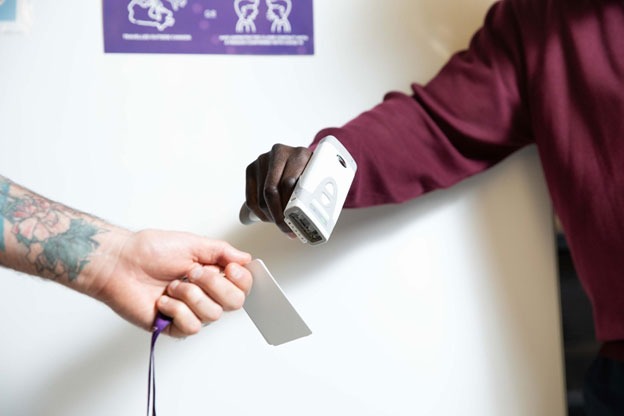 Linda says listening is an important part of the role. "We have reduced the number of people coming into the hospital and that's hard because people are concerned about their loved ones. They want to come visit them, and they're unable to," she says. "The screeners have to stick by the guidelines but also have to be empathetic and listen to people and understand their concerns. We talk about the values of the hospital and how a smile and being understanding helps to reassure patients and make them feel safe. The role includes a lot of problem solving."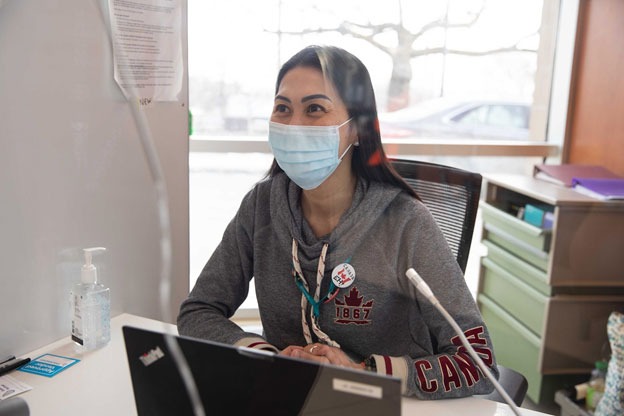 Catherine Chu (pictured above), a screener at the Melnyk entrance, has been working at St. Joseph's for 14 years. "It's a big privilege for me to work at St Joseph's and I return that privilege by working the best I can. I face different kinds of people every day and I don't judge because we have our own journey to face every single day. My mother passed away in the Philippines and I was not by her side. So I told myself, if I cannot help my mother at that time, I want to do more for other people who need my help. It comes from my heart,  I love helping people."