Dr. Joanna Sale's #OneBurningQuestion: Can we stop devastating hip fractures?
June 04, 2021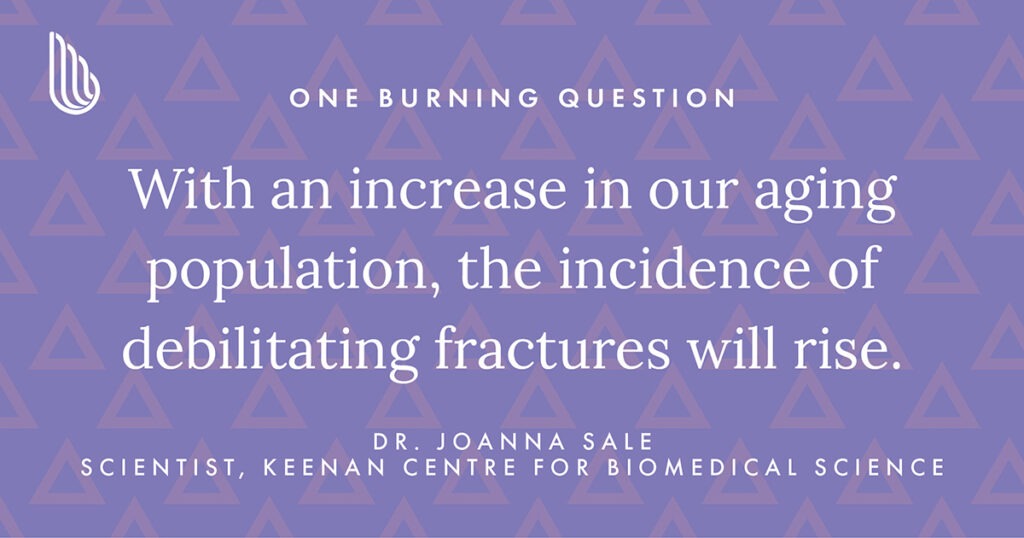 By Ana Gajic
Years ago, Dr. Joanna Sale's grandmother fell and fractured her hip. No one in the family really talked about it – her grandmother had to walk with a cane afterwards and she never moved the same way again.
Dr. Sale has always been fascinated by the body in motion, and is concerned when a person's ability to move, like her grandmother's, is interrupted by disease or injury. In her early graduate training in an exercise physiology lab, Dr. Sale learned the importance of implementing and comparing exercise interventions to keep people's bodies moving.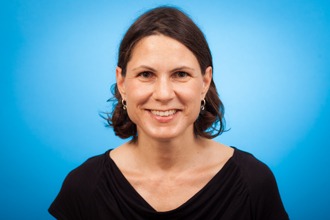 Now as a scientist at the Li Ka Shing Knowledge Institute, she studies fragility fractures which occur after a fall from standing height or less, and how to prevent those who have had them from having more serious fractures. With other experts in this area, including Dr. Earl Bogoch, an Orthopedic Surgeon at St. Michael's who holds the Brookfield Chair in Fracture Prevention, Dr. Sale has helped evaluate the effectiveness of a Fracture Liaison Service at St. Michael's Hospital.
A Fracture Liaison Service is an internationally-endorsed model of care dedicated to screening and treating those who have a fracture to prevent future injury. A coordinator embedded in the service proactively identifies fracture patients on a system-wide basis and determines their fracture risk. They then work with the patient to ensure they receive bone health treatments, such as medication, and appropriate follow-up both within the service and in their primary care setting.
In two recent studies published in The Journal of Bone and Joint Surgery and Osteoporosis International, Dr. Sale and her team examined the benefits of fracture prevention programs like the Fracture Liaison Service.
The discovery
Every year, there are 50,000 fragility fractures in Ontario, and each is a major predictor of a future fracture.
"That initial injury is a warning that they could come back with a much more serious fracture," Dr. Sale said. "With an increase in our aging population, the incidence of these debilitating injuries will rise."
Half of those who break their hips have had a fragility fracture previously.
At the same time, about a quarter of patients with broken hips die within five years, and only half regain their pre-fracture mobility, Dr. Sale said.
Dr. Sale's two studies pointed to a similar conclusion: fracture prevention programs work. In one analysis, her team was able to show that the program was cost saving to the health-care system compared to usual care for individuals with fragility fractures.
The second study looked at whether a program like this could increase equity for older and younger people with these injuries. The research showed that the fracture prevention program's systematic approach to identifying patients at high risk for future fracture eliminated differences in treatment initiation rates based on age, enhancing equitable access to treatment.
The impact
Care provided through the Fracture Liaison Service "not only prevents subsequent fractures, but it also equalizes access to treatment and saves the system money," Dr. Sale said.
Dr. Sale's work at the Fracture Liaison Service at St. Michael's has helped inform similar programs across Ontario. Her team leads the evaluation of the Fracture Screening and Prevention Program that is funded by the Ontario Ministry of Health and Long-Term Care. The team has also been collaborating with Providence Healthcare to expand their work to a second site of Unity Health.
"Every hip fracture prevented is one less person whose mobility is suddenly interrupted and whose quality of life could be changed forever. Our work in this area includes looking at patient experiences. I am a clinical epidemiologist but also a phenomenologist – someone who sees patients as experts in their own experience. By advocating that patients' experiences should drive improvement in our health care system, we can maintain the health and dignity of our aging population."
More #OneBurningQuestion articles