Ten great things that happened this week
February 02, 2023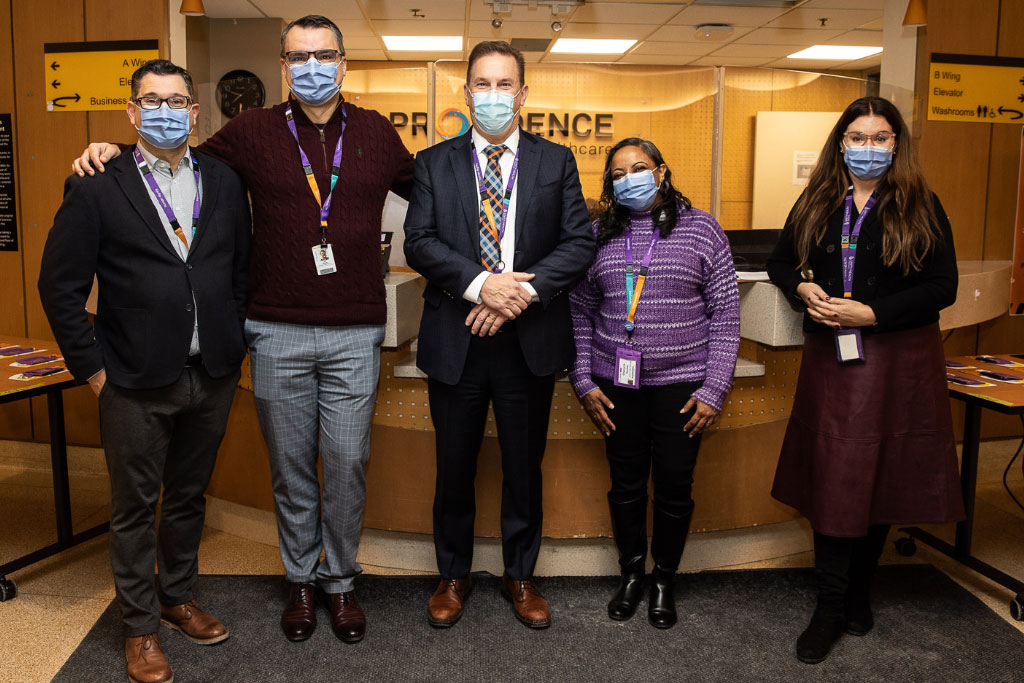 Each week, we share a list of 10 great things that happened at our sites. Got a great story to share? Contact Communications@unityhealth.to .
1. Unity Health recognizes Black History Month
Unity Health President and CEO Dr. Tim Rutledge shared a message to mark the start of Black History Month, recognizing the month as an opportunity to celebrate and learn about the achievements and contributions that Black people and their communities have made in Canada and around the world. It's also a time to amplify Black voices and take action to end anti-Black racism, he said. Rutledge noted the past commitments Unity Health made to tackle racism, provided an update on the progress made, and the concrete actions the organization will take in the year ahead.
2. Subscribe to the Unity Health monthly e-newsletter!
We have launched the Unity Health Newswire, a brand new monthly e-newsletter featuring buzzworthy stories, the latest in innovation and introductions to some of our amazing patients and staff. If you'd like to subscribe to the newsletter, send an email with your name and email address to Communications@unityhealth.to!
3. Mission Day at Providence Healthcare
We celebrated Mission Day at Providence Healthcare with staff, physicians, learners and volunteers. The day featured a welcome message, mass, staff messages and the presentation of the Our Shares Values Awards. The day was a wonderful opportunity to reflect and celebrate the legacy of Providence Healthcare and its history of providing care for those in need. Thank you to all who helped plan the day and all those who attended.
4. How the Emergency Department Outreach Team supports unhoused patients
The Toronto Star profiled the new Emergency Department Outreach Program and the various ways it works to support unhoused patients. The program pairs unhoused patients with an outreach worker, who will help the patient navigate social services, find shelter and seek more permanent housing. The program aims to stop the cycle that brings the same patients repeatedly through the Emergency Department doors.
5. Unity Health ranked one of Canada's top research hospitals
Unity Health Toronto has been ranked among the top 15 research hospitals in the country, according to Research Infosource Inc. It was also ranked second in research intensity, which defined as the amount of spending when divided per researcher. This year's rankings represent advancement from the 2020/2021 rankings. "Seeing Unity Health move up through the rankings is a reflection of our researchers' dedication to solving complex health-care problems through research excellence," said Dr. Ori Rotstein, vice-president of Research and Innovation. Congratulations to all researchers!
6. January Honour Roll recognizes research excellence
Unity Health staff, physicians, learners and teams celebrated important research honours and achievements in the month of January. Those recognized include: Maria Rugg, Dr. Monica Farcas, Dr. Amir Khoshbin, Dr. David Lipson, Dr. Sharmistha Mishra and Dr. Darrell Tan. Congratulations to all!
7. Calling all students: Apply to the Keenan Research Summer Student Program
Applications are open for students interested in the Keenan Research Summer Student (KRSS) Program. The program sees students work with principal investigators on impactful projects throughout the summer. The program is open to full-time undergraduate students, medical school students and high school graduates who are enrolled in a relevant undergraduate program for the fall. Visit the program website for more information.
8. Dr. Shazeen Suleman awarded research grant
Dr. Shazeen Suleman has been awarded a New Investigator Research Grant from the SickKids Foundation and CIHR. Suleman, physician lead at the Compass Clinic and scientist with the MAP Centre for Urban Health Solutions, examines what makes healthcare more accessible for newcomer children, and designs and evaluates programs to support children experiencing social or economic marginalization. Congratulations!
9. Dr. Fahad Razak assesses the global picture of COVID-19
Following the WHO decision not to end the COVID-19 global public health emergency, Dr. Fahad Razak explained to The Toronto Star that there are still too few people who are vaccinated against COVID-19 around the world.
10. What should be included in the WHO COVID messaging? Dr. Prabhat Jha weighs in
Dr. Prabhat Jha told CTV News that the WHO must make clear that the pandemic continues to impact populations across the globe. He also said that we must maintain careful watch for new variants of concern.
Previous Ten Great Things articles