Ten great things that happened this week
December 08, 2022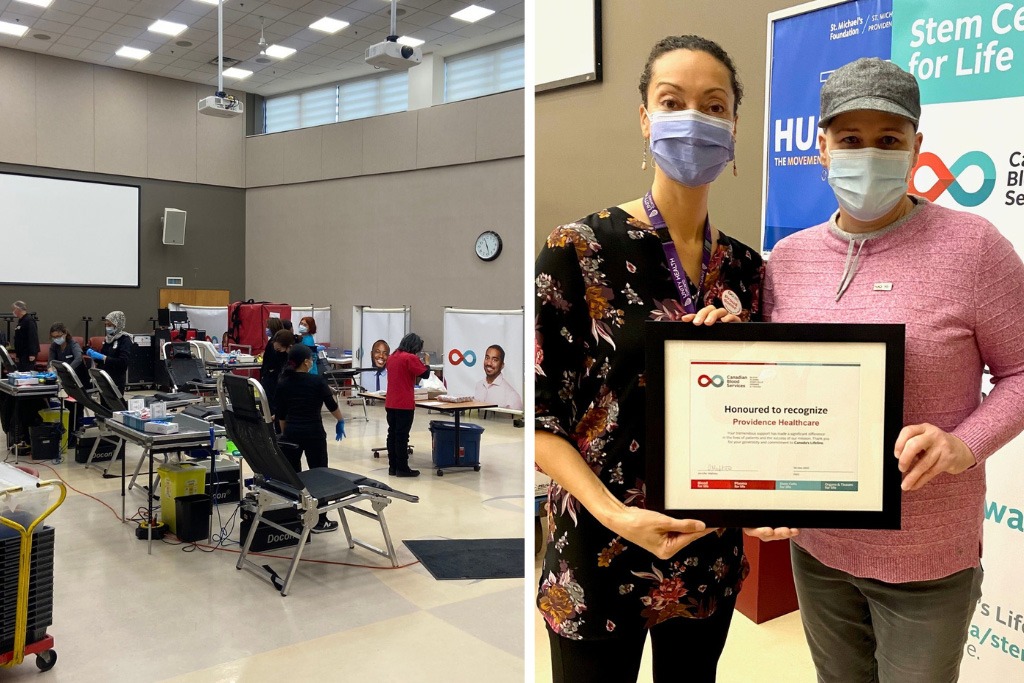 Each week, we share a list of 10 great things that happened at our sites. Do you have a story you'd like to share? Send it to communications@unityhealth.to.
NOTE: There will be no Ten Great Things newsletter from Dec. 22-Jan. 5. The Ten Great Things newsletter will resume on Jan. 12, 2023.
1. Providence Healthcare hosts blood, plasma donation drive
Providence Healthcare partnered with Canadian Blood Services to host a successful blood and plasma drive. The event was held in honour of Jacqueline Wiley and her health journey. Wiley, patient care manager, seniors health and ambulatory care at Providence, was diagnosed with myeloma last spring and required several transfusions herself before starting her cancer treatment. In addition to being a beloved member of the Unity Health community, Wiley is a daughter, sister, wife, mother, aunt and friend to many. She and her husband are regular blood donors, and are now asking others to also step up and donate. Thank you to everyone who donated!
2. Meet the Unity Health team that uses math to tackle global health threats
The Research Group in Mathematical Modeling and Program Science is a team of dedicated researchers who use math to address some of the world's most pressing global health problems, including COVID-19, HIV, Ebola and human mpox. The team develops math models to better understand and predict epidemics, in the hopes of helping to craft more equitable, tailored interventions. Grounding the research lab is a deep commitment to public health, equity and scientific inquiry, says principal investigator Dr. Sharmistha Mishra. "Our models are really part of the science that serves communities… we approach our modeling with that lens."
3. How patient and family partners make visiting the Emergency Department a little easier
Input from Patient and Family Partners (PFPs) helps to improve the patient experience at Unity Health. They include Jennifer Schultz and Janet Rodriguez, who are among the former patients, families and caregivers who pair with Unity Health staff and leaders to work on improving the quality and care experience at our hospitals. One example of this was a wayfinding project Schultz was involved with in May 2022. Schultz did a walkthrough of a new ambulatory area of the St. Michael's Emergency Department, and gave input on how to make the new area less confusing for patients. Based on some of her input, the area got new signage, paint and lighting, and a phone was installed nearby.
4. Research Month wraps up with awards, recognitions
Researchers across Unity Health Toronto were recognized with awards to celebrate our 7th annual Research Month. This year's winners are working on a wide array of research projects, including developing models to find a COVID-19 cure, founding one of Canada's largest pediatric research networks, and math models to drive policy changes for HIV and mpox care. Congratulations to all of the winners, well done!
5. Just for Kids Clinic expands hours to help care for more sick children
In recent weeks, the Just For Kids Clinic at St. Joseph's has filled close to 100 appointments daily– nearly double pre-pandemic volumes – as the number of sick children in the community has surged. As the only pediatric walk-in clinic in Toronto's west end, the team has expanded its hours to include longer days and extended weekend hours in order to help address the critical need for pediatric care. Thank you to the entire team for your efforts and commitment to serving our community's youngest patients.
6. Registered nurse talks about joy at work at Unity Health
Yao Tian, a registered nurse at St. Joseph's, spoke about his career journey at Unity Health. Tian said he enjoys the vibrant community surrounding St. Joseph's. "It's such a diverse neighbourhood, whether it's your co-workers or your patients," he said. "It gives you diversity in terms of who you get to work with. It gives you good perspective and helps keep it interesting." Learn more about joy at work at Unity Health.
7. Research sounds alarm over burnout risk for critical care physicians
A new study led by Dr. Karen Burns suggests critical care doctors experienced moderate burnout, moral distress, and professional fulfillment during the pandemic. The study, published in Critical Care Medicine, surveyed participants from Canada and the U.S. The authors found higher moral distress was linked to increased volume of COVID-19 patients in the intensive care unit (ICU). Doctors who worked more days per month and more night shifts reported higher levels of burnout. One in five used at least one maladaptive coping strategy, the study found. This research highlights potentially modifiable factors to enhance physician wellness.
8. Dr. Carolyn Snider speaks to the Toronto Star about health risks for underhoused people
Dr. Carolyn Snider spoke to the Toronto Star about the increased risks underhoused people face during the cold winter season. Snider, chief of emergency medicine at St. Michael's, said hospital emergency department staff try their best to help underhoused patients find shelter, but are not always successful. "It is very worrisome going into the winter season," she said.
9. CHARTWatch featured in Macleans article on the future of healthcare
In a Macleans article profiling future advancements in healthcare, CHARTWatch was listed as an example of things to come in 2023. CHARTWatch is an artificial intelligence tool that was developed at Unity Health. Using data, it can help predict if a patient will need to be admitted to the ICU. Macleans noted that AI tools such as CHARTWatch will be rolled out across the country in a bid to improve patient care.
10. Dr. Sean Rourke speaks to CBC Radio about launch of Our Health Boxes
For Indigenous AIDS Awareness Week, Dr. Sean Rourke was interviewed on Main Street Halifax. Rourke spoke about the importance of self-testing and the upcoming launch of the Our Health Boxes, which are vending machines that will distribute HIV self-testing kits to community members.
Previous Ten Great Things articles