Ten great things that happened this week
January 26, 2023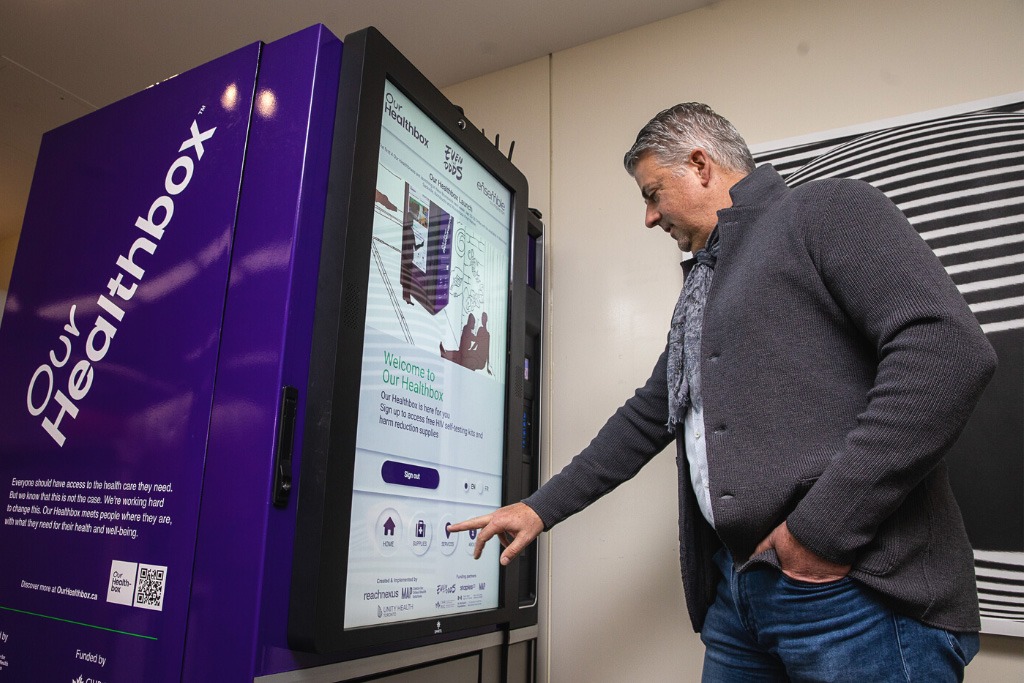 Each week, we share a list of 10 great things that happened at our sites. Got a great story to share? Contact Communications@unityhealth.to .
1. Machines that dispense free harm reduction supplies launch in New Brunswick
Machines that dispsense free self-testing kits for HIV and COVID-19, naloxone kits, new needles, condoms and other harm reduction and sexual health supplies will be popping up in communities across Canada. The Our Healthbox machines are similar to vending machines, and also provide health information and a service directory for people to find much-needed healthcare and supports in their community. The initiative, led by Dr. Sean B. Rourke and a team at St. Michael's, launched in New Brunswick on Jan. 23, and there are plans to launch up to 100 more machines over the next three years.
2. OurCare survey results spotlight how Canadians access primary care
Results from the first stage of the OurCare survey were released this week, highlighting how patients across Canada access primary care. The project, led by Dr. Tara Kiran, seeks input from the public on how to rethink the future of primary care. The online survey was completed from more than 9,000 people. Data from the survey found that 23 per cent of respondents reported not having a family doctor or nurse-practitioner (NP) who they see regularly. Groups less likely to have a family doctor or NP included those who were younger, were new to Canada, and lived with a low income.
3. St. Michael's holds mock Code Orange training exercise
The St. Michael's Hospital trauma program and emergency department held a mock Code Orange tabletop exercise, to simulate and help our clinical teams prepare for a sudden influx of patients in the event of an external emergency. The exercise, which was attended by ED staff, physicians and nurses, focused on triage, registration and decanting of the ED. Congratulations to all who participated and the team who led the exercise!
4. Lori Brady presents at Provincial Geriatrics Leadership Forum
Lori Brady, senior clinical director, seniors health and ambulatory care, gave a presentation at the Provincial Geriatrics Leadership Forum. Brady's presentation highlighted Providence Healthcare's specialized geriatric review work to increase access to services for older adults living with complex health issues. The session broadly focused on identifying approaches to capacity planning for older adults who have multiple health conditions. It explored capacity planning for older adults from three different perspectives: a provincial lens, a regional lens, and an organizational lens – which featured Brady's presentation. Congratulations!
5. Dr. John C. Marshall recognized by Society of Critical Care Medicine
Dr. John C. Marshall, intensivist and researcher at St. Michael's, was awarded the Lifetime Achievement Award by the Society of Critical Care Medicine. Marshall was recognized at the Society of Critical Care Congress in San Francisco, where he also gave a presentation titled "Whose achievement? The power of Scientific Collaboration." Congratulations!
6. Research paper suggests carbohydrate may have therapeutic potential against bleeding disorders, heart disease
A research study by Dr. Heyu Ni suggests that a carbohydrate called fucoidan may have unique therapeutic potential against bleeding disorders and cardiovascular disease. The study, published in The Journal of Thrombosis and Haemostasis, found that fucoidan can bind to a specific platelet receptor. When fucoidan is in high molecular weight, it can stimulate platelets and stop bleeding, the study found.
7. Dr. Muhammad Mamdani profiled for leading AI solutions to improve healthcare system
The University of Toronto's Faculty of Pharmacy profiled Dr. Muhammad Mamdani for his role as a leader in building artificial intelligence solutions to improve the health system. Mamdani, Unity Health vice president of Data Science and Advanced Analytics, and his team bridge advanced analytics, including machine learning, with clinical and management decision making to improve patient outcomes and hospital efficiency.
8. Dr. Stephen Hwang calls for evidence-based threshold for cold weather alerts
Dr. Stephen Hwang's research on cold-related health injuries was featured in TVO Today. Hwang's research found that unhoused people face health risks well before the temperature drops to -15 C. Hwang said the -15 C threshold is not based on clear evidence. He said warming centres and resources for unhoused people should be opened whenever the temperature is colder than zero degrees or throughout the winter months.
9. Dr. Fahad Razak shares knowledge about Kraken COVID-19 subvariant
Dr. Fahad Razak spoke with The Toronto Star Podcast "This Matters" about the Kraken COVID-19 subvariant. Razak said the variant is highly transmissible and is a descendant of the Omicron variant. It's now the strain in about 20 per cent of cases in Ontario.
10. CTV Kitchener highlights launch of Signal 1 support system at community hospital
CTV Kitchener wrote about the launch of Signal 1's AI clinical decision support system at Grand River Hospital. The support system, which uses data to predict patients' needs and also plans for resource allocation, builds on algorithms initially developed at St. Michael's Hospital.
Previous Ten Great Things articles