Ten great things that happened this year at Unity Health Toronto
December 15, 2022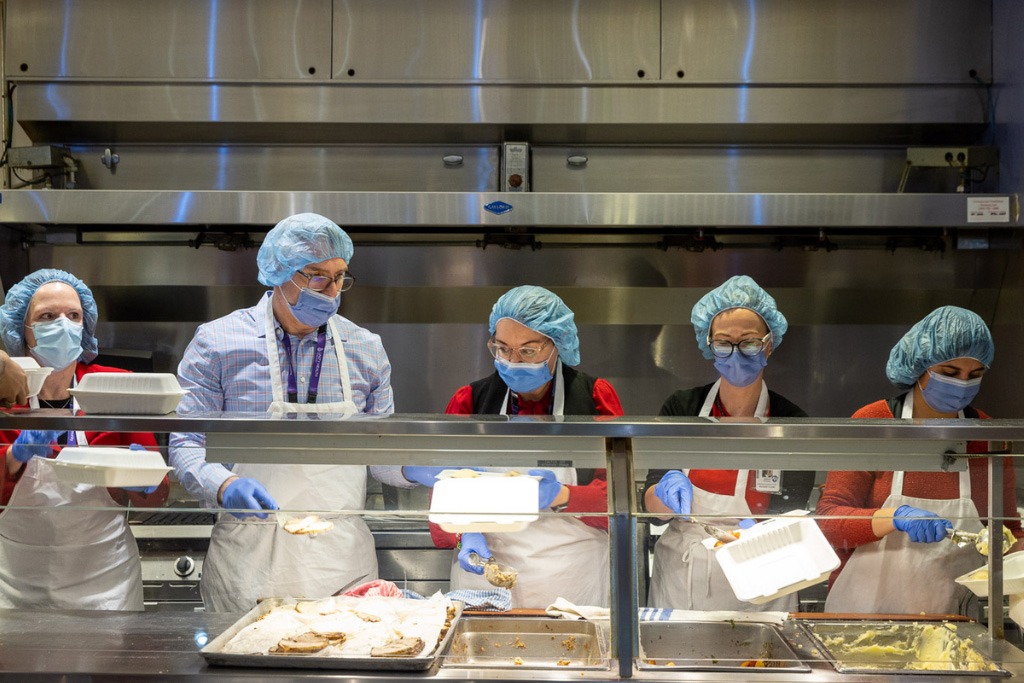 Each week, we share a list of 10 great things that happened at our sites. This week, we're looking back at some of the highlights from 2022.
*NOTE: There will be no Ten Great Things newsletter from Dec. 22-Jan. 5. The Ten Great Things newsletter will resume on Jan. 12, 2023.*
1. Unity Health gets top marks from Accreditation Canada
Unity Health Toronto was accredited with Exemplary Standing by Accreditation Canada – the highest level of performance achievable in the Accreditation Canada program. In the final report, our network met 99.6 per cent of the criteria and had all required organizational practices in place. The results are evidence of the commitment to excellence shown by all staff, physicians and learners. This was the first accreditation undertaken by our sites since we became a unified network and we're excited to grow from here!
2. Province announces $1-billion investment for St. Joseph's redevelopment
The Ontario government committed more than $1 billion to redevelop and expand St. Joseph's Health Centre. The investment will help build a new state-of-the-art patient care tower, fund renovations to the hospital and will improve patient care.
3. People Appreciation BBQs and holiday parties return
After a pandemic pause, our People Appreciations BBQs and holiday gatherings returned in-person. Over the summer and towards the end of the year, we safely gathered together to catch up with colleagues and enjoy some tasty treats. See you at next year's events!
4. Unity Health honored with Top Employer distinction
For the second year, Unity Health Toronto was named one of the GTA's Top Employers by MediaCorp. As part of the distinction, Unity Health was featured in The Globe and Mail for its commitment to helping staff grow in their careers, plus its wide range of programs to support the safety, wellness and work-life balance of employees. We also launched a new careers webpage that highlights all the benefits of working at Unity Health. Check out the page and join us!
5. Unity Health continues to support education and career development
Unity Health continued to support programs and opportunities for staff to grow and develop their careers. In particular, Unity Health supported a number of initiatives to attract and retain top nursing talent, including a clinical extern program for nursing students, financial support for ICU nurses in training, and the Supervised Practice Experience Partnership program to train internationally-educated nurses.
6. Unity Health continues its work toward Truth and Reconciliation
To mark the second annual National Day for Truth and Reconciliation, Unity Health Toronto President and CEO Tim Rutledge took stock of our previous commitments toward improving the experiences that Indigenous people have within our organization, and assessed what we had accomplished and where we fell short. We spoke with Dr. Janet Smylie about steps healthcare workers can take to help address Indigenous health inequities. We also profiled the San'yas Anti-racism Indigenous Cultural Safety Training Program – a popular course some Unity Health Toronto staff have been taking for the past two years.
7. Research funding surpasses $100 million
This year, Unity Health surpassed $100 million in research funding, representing a 23 per cent increase over five years. As part of that, we received a total of $26 million from The Canadian Institutes of Health Research (CIHR), the Natural Sciences and Engineering Research Council (NSERC), and the Social Sciences and Humanities Research Council (SSHRC), representing a 74 per cent increase over five years. Congratulations to all the researchers and their teams, well done!
8. Unity Health celebrates 2SLGBTQ+ community during PRIDE
Unity Health staff, physicians, learners and volunteers came together to celebrate the 2SLGBTQ+ community during the Toronto Pride Street Fair. The team was on hand at the Unity Health booth to meet with community members and answer any questions they may have.
9. Collaboration with Signal 1 to revolutionize healthcare
Unity Health Toronto is collaborating with Signal 1 to develop artificial intelligence tools to improve patient care and transform healthcare. The collaboration will see Signal 1 work with Unity Health to build and commercialize AI systems already in use at St. Michael's Hospital. One of these systems includes CHARTWatch, an AI tool that predicts if a patient's condition will worsen and if that patient will need to be admitted to the ICU.
10. Behind The Mask interactive exhibit spotlights our pandemic stories
We took our award-winning Behind The Mask series and turned it into an interactive art display. The display features large-scale images of some of our incredible community members and shares their pandemic stories with a wider audience. The exhibit was launched the same weekend as the Nuit Blanche art festival, and then went on display at all three of our sites. We hope you enjoyed it!