Ten great things that happened this week
November 18, 2022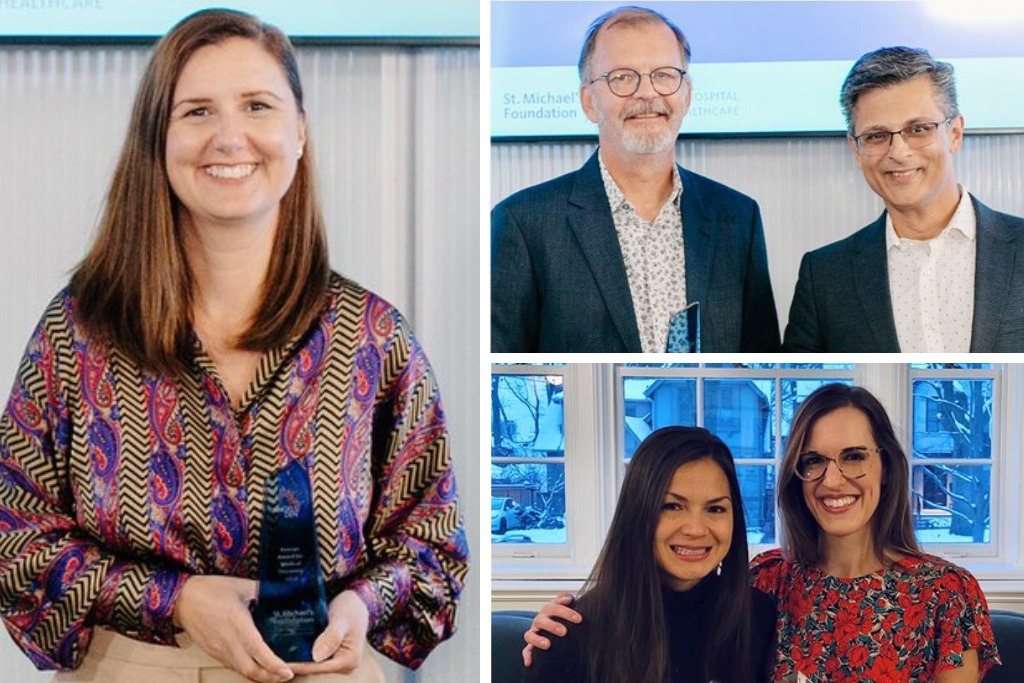 Each week, we share a list of 10 great things that happened at our sites. Do you have a story you'd like to share? Send it to communications@unityhealth.to.
1. Congratulations to the Angels Den winners!
Congratulations to the winners of this year's Angels Den! This week, six teams of St. Michael's scientists battled it out for a chance to win $500,000 in funding. Urology's Dr. Monica Farcas took home the $150,000 Keenan Award for Medical Discovery for her device that suctions kidney stone fragments during surgery, leaving patients stone free. Dr. Laurent Brochard, the Keenan Chair in Critical Care and Acute Respiratory Failure, and Dr. Muhammad Mamdani, the Vice-President of Data Science and Advanced Analytics and the Odette Chair in Advanced Analytics, won the $150,000 Odette Award for Health System Innovation, for designing algorithms that will personalize mechanical ventilation. And gynecologic surgeons Dr. Carmen McCaffrey and Dr. Elizabeth Miazga won over the audience, taking home the Canada Life People's Choice Award for MyEndo, an app with barrier-free online treatments and educational resources to ease the pain of endometriosis. Congratulations to the winners – and to all the finalists for a riveting competition. Watch all the pitches here. Angels Den is organized by St. Michael's Foundation with the support of sponsors and donors.  
2. St. Michael's pharmacists create tool for parents amid shortage of children's pain relief medication
Amid a shortage of children's pain relief medication, several St. Michael's pharmacists created a tool for parents, instructing them on how to safely give their children the correct dosage of adult ibuprofen and acetaminophen. Pharmacists Brenda Chang, Doret Cheng and Jon Hunchuck created the dosing chart, which was shared widely online.
3. Unity Health recognizes World Prematurity Day
Nov. 17 was World Prematurity Day, a day that raises awareness of premature birth and the impact it can have on families. Data show that 1 in 10 babies is born prematurely. Unity Health can care for up to 40 infants in our neonatal intensive care units at St. Michael's Hospital and St. Joseph's Health Centre, providing the best care to babies from across the province. This year, both units recognized World Prematurity Day with purple banners and onesies for the infants and treats for families and staff.
4. Calling all RNs! Come to the St. Michael's Emergency Department hiring fair
The emergency department at St. Michael's Hospital is hosting a hiring fair for registered nurses. The fair will be held at the hospital on Nov. 29 from 10 a.m. – 3 p.m. Learn more about exciting nursing careers at St. Michael's, where best care experiences are fueled by research, innovation and education. During the fair there will onsite interviews, as well as tours of the emergency department and simulation labs. Register here.
5. Research examines growing family doctor shortage and the future of primary care
A study led by St. Michael's researcher Dr. Tara Kiran found that nearly 20 per cent of family physicians in Toronto are considering closing their practices in the next five years. The study, published in Canadian Family Physician and covered in The Globe and Mail, comes as Ontarians struggle to secure primary care, with recent data showing that nearly 1.8 million Ontario residents don't have a family doctor. "Family medicine is the front door of our health system and for too many people that front door has been closed," said Kiran. The study said policy makers should work to address the factors impacting family physician recruitment and retention.
6. Meet the scientist dedicated to improving the lives of young people with diabetes
In the latest installment of our Research Month series, Dr. Andrew Advani answers questions about his diabetes research, focused mostly on the biology of the disease and improving the lives of young patients living with it. As he takes viewers through his basic science lab at the Keenan Research Centre for Biomedical Science, Advani shares what keeps him passionate about his work. "There's nothing that keeps us more motivated in the basic science lab than spending time with young people with diabetes and listening to their experiences," he said.
7. Li Ka Shing Knowledge Institute hosts series of talks on ending race correction
The Li Ka Shing Knowledge Institute is hosting a series of talks about ending the practice of "race correction." Race correction is when anti-Black racism is embedded in clinical care and testing. On Nov. 18 from noon – 1:30 p.m., Dr. Kim Connelly will join a panel of experts to discuss how race correction is used in lung function testing. Lung function tests are used to assess lung-related conditions such as asthma or chronic obstructive pulmonary disease. Around the world, health care systems apply a "race correction" based on the false and racist assumption that Black people have lower lung function at baseline. This unscientific race correction is done without the patient's consent, and as a result, physicians are less likely to correctly diagnose Black patients with lung disease, and less likely to offer appropriate treatment.
8. Dr. Samir Gupta recognized by peers for science communication skills
Dr. Samir Gupta, respirologist and scientist at St. Michael's Hospital, was recognized by his peers with the Medical Post Media Engagement Award. Throughout the COVID-19 pandemic, Gupta became a trusted voice who relayed scientific information and broke down complex concepts to a general audience via regular appearances on CBC News. He pitched and created a series of videos on COVID-19 with the CBC that were intended to reach young people. The videos amassed a whopping 11 million views! Congratulations, well done!
9. Unity Health researchers among the world's most influential scientists
Congratulations to Drs. Laurent Brochard, Sidney Kennedy, Lawrence Leiter, Arthur Sutsky, Sharon Straus, and Subodh Verma, who were named among the world's most influential researchers by Clarivate! The annual list compiled by Clarivate recognizes researchers and social scientists who have shown exceptional influence in their fields, reflected through publication of papers that are frequently cited by their peers. Well done to all!
10. Dr. Fahad Razak speaks to The Agenda about the 'triple-demic' of viruses impacting kids
Dr. Fahad Razak appeared on TVO's The Agenda to discuss the historically high number of pediatric patients at Ontario hospitals and the three viruses that are driving the numbers.
Previous Ten Great Things articles