Ten great things that happened this week
February 16, 2023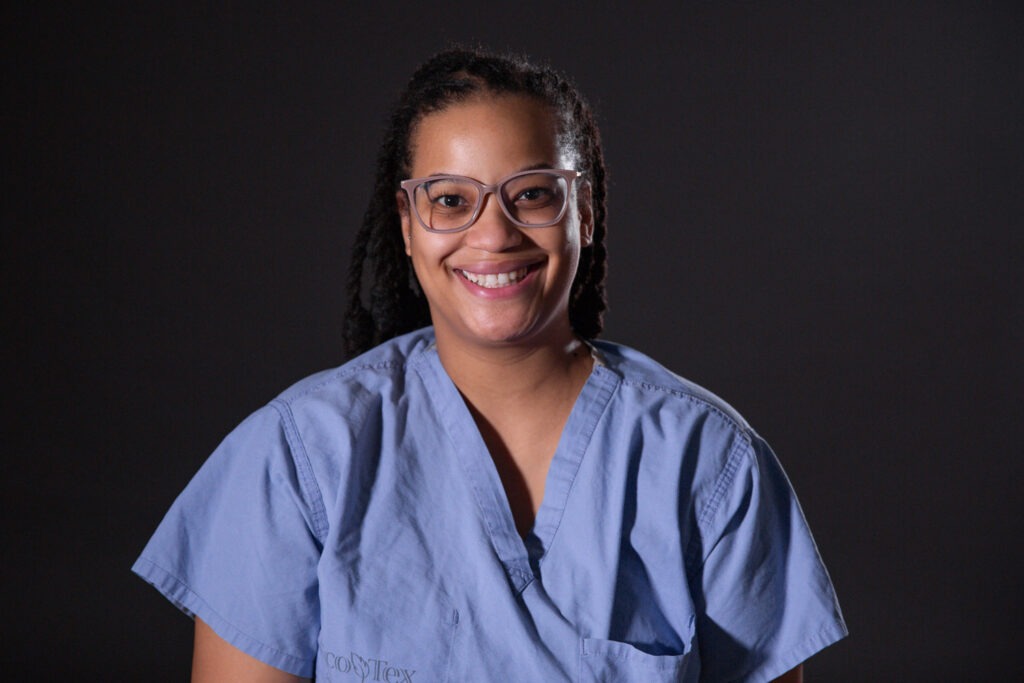 Each week, we share a list of 10 great things that happened at our sites. Got a great story to share? Contact Communications@unityhealth.to .
1. RPN Seanice Dennis reflects on her career journey
St. Joseph's Registered Practical Nurse Seanice Dennis shared her story in a Behind The Mask feature. Dennis spoke about her upbringing, her family and her career journey. She also reflected on racism and microaggressions she's experienced in the workplace. "I take pride in being the first Black RPN in our department but getting to this point hasn't been easy," she said. "Throughout my career as an RPN, I've been called a monkey, the N-word. I've had patients accuse me of not being Black or ask me what bleaching cream I use because I have a fairer complexion." Dennis' story shows us that there is still a lot of work to be done to dismantle anti-Black racism.
2. How the St. Michael's Emergency Department prepares for an external disaster
We took readers behind the scenes of a Code Orange simulation at St. Michael's Hospital. A Code Orange is the hospital-wide alert for an external emergency, resulting in mass injuries and casualties. The St. Michael's Trauma Program conducted a Code Orange simulation to assess and improve the hospital's preparedness for when a real-life external emergency takes place. The exercise simulated an extra 24 patients being brought to the Emergency Department, and tested how frontline staff would triage patients and make space in the unit. "We must practice these exercises regularly to stay on top of our game," said Emergency Physician and Trauma Team Leader Dr. Rachel Poley.
3. Providence Healthcare staff recognized with Our Shared Values Awards
We celebrated the recipients of the Our Shared Values Awards at Providence Healthcare. The awards recognize those staff members who go above and beyond to embody Unity Health's values of human dignity, compassion, excellence, community and inclusivity. This year's recipients include Marnellie Hilao for the Human Dignity Award, Marry Ninan for the Compassion Award, Janet Richards for the Excellence Award, Niala Dookie for the Community Award and Pamela Rose for the Inclusivity Award. Congratulations to all of the winners, well done!
4. Register now for the MAP Symposium!
Registration is now open for the Solutions for Healthy Cities Symposium on March 23, hosted by MAP Centre for Urban Health Solutions. The theme of this year's symposium is "The Science and Practice of Implementation Success." It will feature several guest speakers and a keynote discussion with Dr. Ibram x. Kendi and Dr. Stephen Hwang. Kendi is the founding director of the BU Center for Antiracist Research and author of many notable books, including "How to Be an Antiracist." There will also be MAP case studies on drug checking services, HIV self-testing, Housing First, and the Safe at Home housing model for women fleeing violence. Register now and don't miss this exciting event!
5. Dr. Nav Persaud speaks about his advocacy work to recognize first Black physicians in Canada
Dr. Nav Persaud spoke to The Toronto Star about his advocacy work calling for recognition of Dr. Alexander Augusta and Dr. Anderson Abbott, the first Black people licensed to practice medicine in Canada. Two plaques recognizing Augusta and Abbott will be installed across the city in May. Read more about how Persaud first became interested in the two physicians.
6. Two female post-doctoral fellows share their journey in the sciences
In celebration of International Day of Women and Girls in Science, Drs. Amanda Ceniti and Raquel Benitez Ruiz shared their career journey, from childhood to post-doctoral fellows at St. Michael's Hospital. They spoke about their childhood love of science, their research interests and what keeps them motivated to keep going. "The way is not always easy," said Benitez Ruiz. "But if you like to ask questions, ask them, and try to resolve all these puzzles… all these things happening every day in science, because you are opening new paths for everybody."
7. Study investigates how physicians react to and use AI-generated advice
As Artificial Intelligence (AI) in health care becomes more common, Dr. Errol Colak – a physician with St. Michael's Medical Imaging department – worked with colleagues on the Emergency Department and Medicine teams to research how physicians are reacting and integrating AI-generated advice into their clinical practice. A new study published in Nature Scientific Reports provided physicians with X-rays that included accurate clinical advice and asked them to make a diagnosis, rate the quality of the advice and judge their own confidence in the diagnosis. The advice either came with or without a visual explanation and was either labeled as coming from an AI or a human radiologist. Overall, physicians had the highest diagnostic accuracy when they received AI-generated advice that included a visual explanation, showing that physicians can benefit considerably when using explainable AI advice. This study was featured in The Imaging Wire earlier this month.
8. Dr. Muhammad Mamdani gives talk about AI and the future of healthcare
Dr. Muhammad Mamdani was part of a panel discussion about the future of medicine. Mamdani shared his expertise as a leader in the use of artificial intelligence in healthcare. The talk was hosted by Let's Talk Science, a non-profit organization dedicated to preparing Canadian youth for future STEM careers.
9. Innovation with roots at St. Michael's expands to a new province
A device created by InventoRR-MD, a home-grown St. Michael's company, is being evaluated by Alberta Health Services, enabling the company to test this innovation in a new province and expand its reach. The device, called AbClo, is used to close an open abdominal incision without surgery. Co-founded by St. Michael's surgeons and supported by the hospital's Research Commercialization team, InventoRR-MD specializes in trauma and general surgery devices and was incubated in the Biomedical Zone, which is a partnership between Unity Health and Toronto Metropolitan University. The evaluation at Alberta Health Sciences is being supported by the Ontario Bioscience Innovation Organization through its Early Adopter Health Network (EAHN™) program.
10. Dr. Gianluigi Bisleri recognized by MP, Prime Minister
The University of Toronto's Faculty of Medicine hosted a talk with Dr. Gianluigi Bisleri, cardiac surgeon at Unity Health, on Feb. 10. Bisleri spoke about advancements in heart surgery and his role as a leader in minimally-invasive cardiac surgery. He was recognized for his contributions to the field with a letter from Prime Minister Justin Trudeau and a certificate from MP Marco Mendicino. Congratulations!
Previous Ten Great Things articles