Ten great things that happened this week
February 09, 2023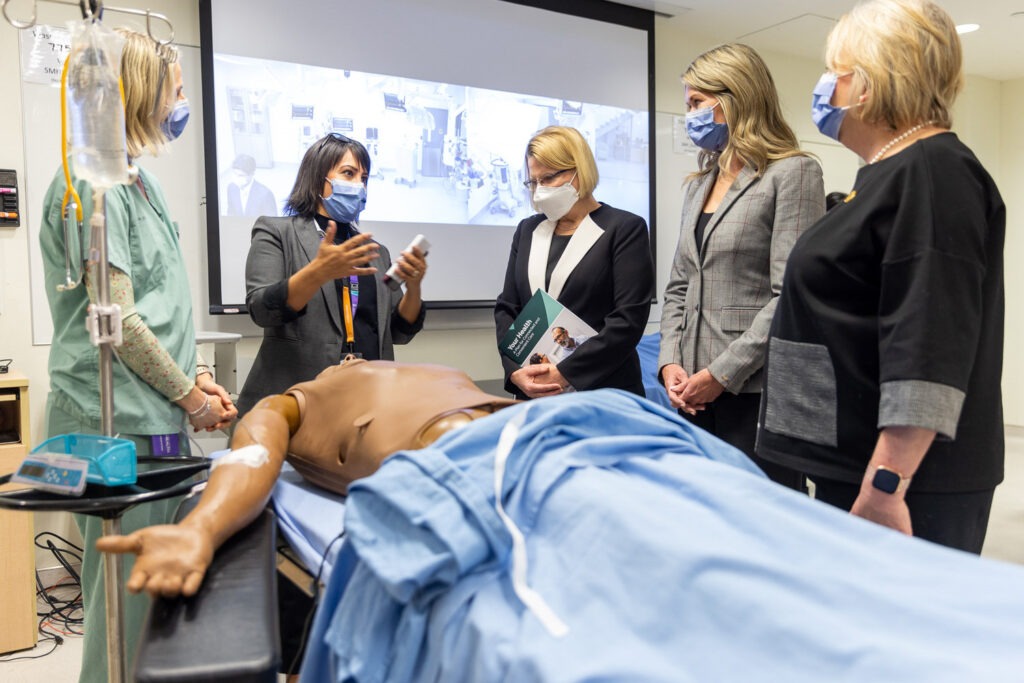 Each week, we share a list of 10 great things that happened at our sites. Got a great story to share? Contact Communications@unityhealth.to.
1. Provincial ministers visit St. Michael's to announce healthcare plan
On Feb. 2, Provincial Health Minister Sylvia Jones, Minister of Colleges and Universities Jill Dunlop, and Parliamentary Assistant to the Minister of Health Dawn Gallagher Murphy visited the Simulation Program space at St. Michael's Hospital to announce the province's healthcare plan. During their visit, they met with Unity Health Toronto leaders and staff to learn more about our Simulation Centre and education programs.
2. Kudos to our resident doctors and fellows
To mark Resident Doctors Appreciation Week, we're thanking all of the resident doctors and fellows across Unity Health Toronto. In 2022, resident doctors and fellows provided more than 95,000 hours of direct patient care and covered more than 1,000 hours in extra shifts. In the 2022 Resident and Fellow Learner Engagement Survey, 81 per cent said they felt welcomed and accepted as part of the team, and 93 per cent said they would work here in the future if the opportunity arose. Thank you, we appreciate you!
3. NICU Parent and Family Lounge undergoes transformation at St. Joseph's
A renovated NICU lounge for parents and families is now open at St. Joseph's. The lounge offers families a space with a private washroom, kitchenette and a comfortable area for parents and families to use as they spend long days learning how to care for their premature babies. Previously, many of these commodities weren't available in the NICU lounge. The redeveloped space was made possible thanks to a generous donation from Robert L. Tundermann and Christine E. Courturier, who have a special connection to St. Joseph's. After spending many weeks with their grandson in the NICU 13 years ago, the Tundermanns recognized the importance of having a comfortable space for NICU babies and families. Thank you to the Tundermanns for making this lovely new area possible!
4. AI-powered tool helps St. Michael's surgical unit improve patient care
CHARTWatch Surgical, a new AI-powered tool, is in use at St. Michael's Hospital's busy surgical unit. The tool uses patient data to predict the level of care a patient will need. This insight, paired with clinical expertise, helps the care teams communicate and make decisions. The tool delivers a report to staff, telling them whether patients are at low, medium or high risk. The tool also alerts staff if a patient's status changes to high risk. Unity Health launched CHARTWatch Surgical in partnership with Signal 1, a Canadian health AI startup.
5. Toronto Star profiles the St. Michael's Emergency Department Outreach Program
The Toronto Star profiled the St. Michael's Emergency Department Outreach Program, a program that supports unhoused patients and works to stop the cycle that brings patients repeatedly through the Emergency Department doors. St. Michael's saw more than 4,500 unhoused patients come to the trauma centre in 2022. The program pairs unhoused patients with an outreach worker, who works to find them shelter and helps them navigate various health and social services.
6. U of T Faculty of Medicine profiles Dr. Gian Bisleri
Dr. Gian Bisleri was profiled for his leadership in minimally-invasive heart surgeries. Bisleri, a surgeon at St. Michael's, is one of a handful of surgeons in Canada that specializes in minimally-invasive cardiac surgery – specifically in repairing leaky valves and treating irregular heartbeats. He has performed the largest series of Cox Cyro-Maze procedures in the country. Bisleri talked about how minimally-invasive cardiac surgery differs from traditional surgery and why he's passionate about the field.
7. Dr. Samir Gupta gives talk for Better Breathing Week
Dr. Samir Gupta, respirologist and clinician-scientist at St. Michael's, gave a talk exploring considerations in diagnosing asthma and lung disease for Better Breathing Week. Better Breathing week is one of Canada's longest-running accredited respiratory events and is organized by the Lung Health Foundation. Congratulations!
8. Dr. Tara Kiran writes op-ed calling for reforms in primary care
Dr. Tara Kiran wrote an op-ed in The Globe and Mail outlining the results of the OurCare survey, which highlight how people access primary care in Canada. The survey found that more than one in five people reported not having a family doctor or nurse practitioner who they can see when they need care. Kiran said that Canadians are ready for changes in the health system.
9. Dr. Sean Rourke speaks about Our Healthbox project to Filter Magazine
Dr. Sean Rourke spoke to Filter Magazine about Our Healthbox, a project that sets up smart vending machines that dispense HIV self-testing kits and other harm-reduction supplies for free. Several machines are operating in New Brunswick, and the project goal is to have 50 machines established across Canada by the end of 2023.
10. How can we boost COVID-19 vaccine uptake rates? Dr. Fahad Razak discusses with The Toronto Star
Dr. Fahad Razak speaks with The Toronto Star about different strategies to boost COVID-19 vaccine rates for anyone who hasn't had a vaccine in more than six months.   
Previous Ten Great Things articles