Ten great things that happened this week
November 04, 2022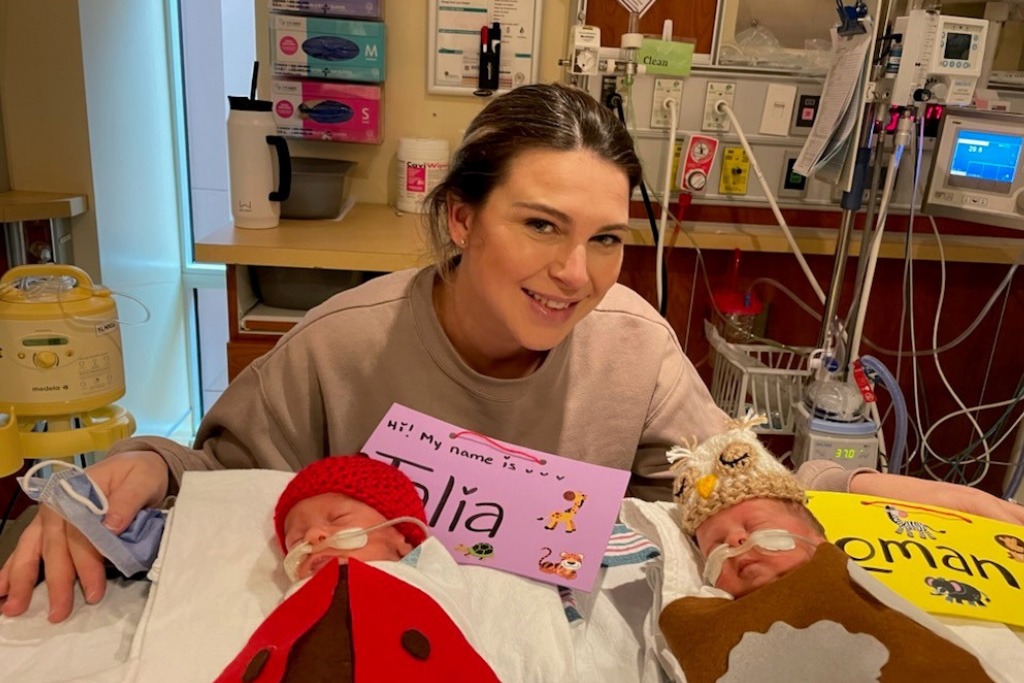 Each week, we share a list of 10 great things that happened at our sites. Do you have a story you'd like to share? Send it to communications@unityhealth.to.
1. Patients and caregivers say Providence's Adult Day Program offers much-needed support
We profiled the Adult Day Program at Providence Healthcare, which offers recreational and therapeutic programming for individuals with cognitive decline or dementia. The program is one of only two in the province that is open 24/7 and serves approximately 45 clients. The program is a vital support for patients and caregivers in the community. Jean Reid's late husband Curt Reid attended the ADP once a week and always looked forward to it. Jean said that having a one day break from caregiving was important to her well-being. "Caregiving is not easy. It's a lot of work, a lot of care, but having that one day… is a blessing."
2. Baby bluebirds, lady bugs and owls: St. Joseph's NICU celebrates Halloween with our tiniest patients
Staff and physicians at the St. Joseph's Neonatal Intensive Care Unit held a special Halloween celebration for some of our smallest patients. Staff helped several NICU babies dress up in tiny costumes to mark the first of many Halloween celebrations to come. From tiny bluebirds to adorable lady bugs, we think they looked pretty incredible! Thank you to everyone in the NICU who helped make this day special for families!
3. Unity Health Emergency Departments promote anti-violence in hospitals
This month, the emergency departments at St. Michael's Hospital and St. Joseph's Health Centre are raising awareness about the issue of violence in our care spaces. Unity Health has developed tools to combat violence in our hospitals, including our digital Safety Dashboard in the Emergency Department. ED staff can then use the Agitation Roadmap to take steps to support ED patients who are agitated. Unity Health also has a specialized mental health response team (BERT) that can support in a situation when a patient is in distress. As a reminder, hospitals and Emergency Departments can be stressful places. It is important to treat each other as compassionately and calmly as we can. Unity Health has zero tolerance for violence and abuse of anyone within our walls.
4. Research Month kicks off at Unity Health: 5 questions with Dr. Manav Vyas
November is Research Month at Unity Health! This is our 7th annual Research Month, and this year we're profiling some of the researchers who are working on impactful projects. In the first of our new video series, we asked Dr. Manav Vyas five questions about his research on stroke occurrence and outcomes among immigrants to Canada. Stay tuned for more profiles of researchers!
5. Meet the three Angels Den teams competing for the $150,000-Odette Award for Health System Innovation
November is Research Month at St. Michael's, and what better way to mark it than to check out the 8th annual Angels Den, airing Nov. 16 at 7 p.m. Last week, we introduced the contestants vying for the Keenan Award for Medical Discovery at Angels Den. Now, here are the three teams competing for the Odette Award for Health System Innovation: Dr. Andrew Pinto and Dr. Stephanie Garies are using AI to monitor electronic medical records in family practices across the province for signs of respiratory outbreaks, so public officials can be alerted quickly. Dr. Laurent Brochard and Dr. Muhammad Mamdani are designing algorithms that alert clinicians the moment a patient needs their ventilator adjusted, rather than wait for the usual two-to-four-hour check-ins. And Dr. Carmen McCaffrey and Dr. Elizabeth Miazga created an app called My Endo with online, easily accessible treatments to manage endometriosis pain and, in some cases, prevent surgery. Viewers get a chance to vote for their favourite team for the Canada Life People's Choice Award when the show airs on Nov. 16. Learn more and register at angelsden.ca
6. Unity Health recognizes World Stroke Day
Unity Health recognized World Stroke Day (Oct. 29) and all the staff and physicians who work to provide world-class stroke care at our hospitals. Did you know that St. Michael's recently launched a Direct to CT initiative for patients experiencing a stroke? This initiative sees stable stroke patients taken directly to the CT scanner upon arrival at the Emergency Department, rather than bringing them to a room for assessment first. This allows healthcare providers to get the clinical information they need faster, which allows for the quicker delivery of treatment – all of which makes a huge difference in a patient's prognosis. The goal is to get the first CT image completed within 15 minutes of a patient's arrival. The St. Michael's team is meeting and exceeding this goal, with a few recent cases where the patient had their scans done and medication administered within 15 minutes of arrival. Congratulations to all of the stroke teams at Unity Health!
7. Ontario Transfusion Coordinator Program celebrates 20 years of excellence
Congratulations to the Ontario Transfusion Coordinator Program (ONTraC), which recently marked its 20th anniversary! The Ontario Ministry of Health-supported program is a blood conservation program administered by St. Michael's Hospital that aims to enhance transfusion practice by promoting alternatives to donor or allogeneic blood transfusion in surgical patients, thereby improving patient care and well-being in a cost-effective manner. The team is led by Dr. John Freedman and includes Dr. Katerina Pavenski, Alanna Howell, Farnoosh Yazdanpanah, Anna Nassis and members of the Anesthesiology Team. The program has been internationally recognized for its achievements, and was recently recognized by the International Anesthesia Research Society. Congratulations to all on 20 years of excellence!
8. Dr. Dan Werb's book 'The Invisible Siege' wins Hilary Weston Writers' Trust Prize
Dr. Dan Werb's book 'The Invisible Siege' won the Hilary Weston Writers' Trust Prize for Nonfiction. Werb's book traces the long history of coronaviruses and the scientists who were committed to understanding them. The annual prize recognizes excellence in the category of literary nonfiction, which includes essays, history, biography, memoir, commentary and criticism. Congratulations!
9. Dr. Rick Glazier recognized for excellence in developing transformative evidence
Dr. Rick Glazier, scientist at the MAP Centre for Urban Health Solutions and physician at St. Michael's, has been awarded the 2022 Peggy Leatt Knowledge and Impact Award by the Institute of Health Services and Policy Research. The award recognizes the achievements in developing transformative evidence on ways and means to improve healthcare and health systems. Congratulations!
10. Dr. Sakina Rizvi to speak at Meet the Scientist webinar
Dr. Sakina Rizvi, scientist and psychotherapist at St. Michael's Hospital, will be participating in a Meet the Scientist webinar on Nov. 8. Rizvi will be speaking about neurobiology for suicide and its connection to physical pain processing. The series is being hosted by the Brain and Behavior Research Foundation, an organization that awards grants to researchers dedicated to alleviating the suffering caused by mental illness.
Previous Ten Great Things articles