Ten great things that happened this week
October 06, 2022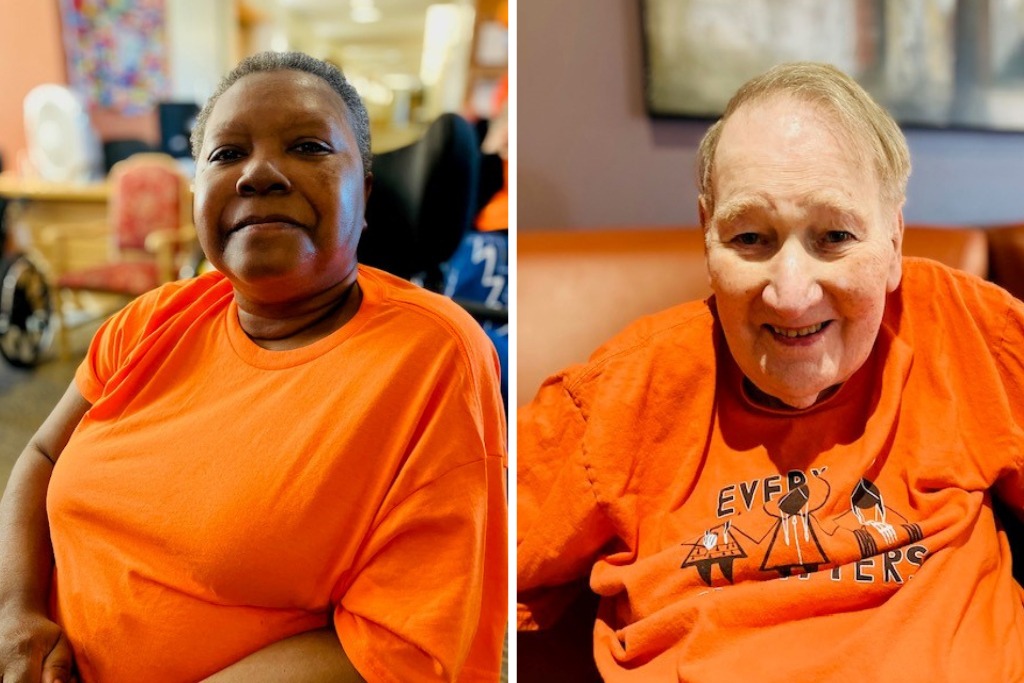 Each week, we share a list of 10 great things that happened at our sites. Do you have a story you'd like to share? Send it to communications@unityhealth.to.
1. President and CEO Dr. Tim Rutledge shares message on National Day for Truth and Reconciliation
On Sept. 30, Unity Health Toronto President and CEO Dr. Tim Rutledge shared a message recognizing National Day for Truth and Reconciliation. In his message, he gave an update on where Unity Health stands in regards to four commitments the organization made last year to improve relationships with Indigenous colleagues, patients, and community members. Unity Health achieved three of the four accomplishments, but fell short on one commitment. He pledged to continue working towards accomplishing the fourth commitment and also outlined future reconciliation commitments for the coming year. "This is an ongoing journey and while on a day-to-day basis, we'll experience both successes and failures, please know that we're absolutely committed to this work for the short and the long term."
2. Unity Health community shows support for residential school survivors
Across the organization, Unity Health community members marked National Day for Truth and Reconciliation by wearing orange shirts. Sept. 30 is also known as Orange Shirt Day, in recognition of the trauma that was inflicted on Indigenous children at Canada's residential schools. The name is tied to the story of Phyllis Webstad, a survivor who had an orange t-shirt her grandmother had given her taken away from her when she arrived at residential school in the 1970s. At Unity Health, teams across the organization wore orange shirts to show support for survivors like Phyllis. Staff and residents at St. Joseph's Inpatient Mental Health Unit, the BARLO MS Centre, and the Houses of Providence marked the day by wearing orange shirts, listening to accounts from residential school survivors, making "Every Child Matters" banners, and reflecting on how the day made them feel. Thank you to everyone who took time to recognize the second National Day for Truth and Reconciliation.
3. Behind The Mask exhibit unveiled during Nuit Blanche
Our interactive Behind The Mask exhibit was displayed at the Li Ka Shing Knowledge Institute on Oct. 1, coinciding with the annual Nuit Blanche art fair. Curious passersby and Unity Health staff stopped by to check out the exhibit, including Nadira Hiralal and Freddy Paiz who were featured in the photos! The display will remain at St. Michael's for one month before moving on to a rotation at St. Joseph's and Providence. The exhibit will then be divided and permanently installed among the three sites. The Communications team received support from the Joy Fund to organize a large-scale installation of black and white prints from our award-winning Behind The Mask series.
4. St. Michael's Hospital staff celebrated for their commitment to Our Shared Values
On Sept. 29, St. Michael's staff and physicians were recognized for their commitment to living our mission and values with Our Shared Values Awards. This year's winners include: Ted Bednarski for the Human Dignity Award, Dr. Shazeen Suleman for the Compassion Award, Murray Krock for the Excellence Award, Meghan Storey for the Community Award, the My Baby and Me Team for the Inclusivity Award, and Christina Salmon for the Inclusivity Award. Congratulations to all!
5. Unity Health recognizes National Catholic Health Care Week
In the lead up to National Catholic Health Care Week (Oct. 2-8), there were two masses held at Providence Healthcare in the early fall, with more than 80 residents and their families gathering together in the courtyard outside the Houses. The mass was requested by the residents and is a sign of their deep desire to safely gather again. Thank you to the many staff at Providence who helped coordinate the event. This year, National Catholic Health Care Week seeks to build understanding and connection through the best care experiences for all, with care, research and education to improve the health and well-being of all Canadians. From liturgies like the one at Providence, to excellence in bedside care, to innovation through artificial intelligence, Unity Health Toronto is committed to achieving a Canadian society that reaches out to every person who is suffering from illness, stigma, poverty or loneliness.
6. How did the pandemic affect school grades? Dr. Sloane Freeman is working to find out
Dr. Sloane Freeman, pediatrician and MAP Centre for Urban Health Solutions scientist, is researching how pandemic disruptions impacted school performance. She received funding from the Canadian Institutes for Health Research (CIHR) to study whether Ontario high school students' academic test scores changed over the course of the pandemic and how students experiencing marginalization were affected. We spoke with her about the role education plays in health, what the research literature shows so far, and where educators and parents go from here.
7. Unity Health recognizes excellence in September Honour Roll
Unity Health staff, researchers, physicians, learners and teams were celebrated for receiving important honours, achievements and awards in the month of September. Those recognized in the September Honour Roll include: Dr. Alun Ackery, Dr. Anna Banerji, Marie Eason Klatt, and Dr. Dan Werb. Congratulations to all!
8. Dr. James Maskalyk named Executive Editor-In-Chief of Canadian Medical Association Journal
Dr. James Maskalyk, emergency physician at St. Michael's Hospital, has joined the Canadian Medical Association Journal editorial board as the executive editor-in-chief. The Canadian Medical Association Journal is Canada's major medical journal and has substantial impact on health care and the practice of medicine in Canada and around the world. Congratulations!
9. Dr. Tara Kiran speaks about OurCare survey on CTV's Your Morning
Dr. Tara Kiran appeared on CTV's Your Morning to speak about the state of primary care in Canada and the OurCare research survey. The survey seeks Canadians' input on the future delivery of primary care. "I think that we can reimagine a future system and that the time is now," she said.
10. Dr. Fahad Razak shares five lessons the pandemic taught us about primary care
As the work of Ontario's COVID Science Table comes to an end, Dr. Fahad Razak, director of the table, wrote a Toronto Star op-ed about five lessons about primary care that we learned from the pandemic. One of those lessons highlighted the importance of having reliable data. "Without comprehensive and timely data, we are driving blind," he said.
Previous Ten Great Things articles