Ten great things that happened this week
October 27, 2022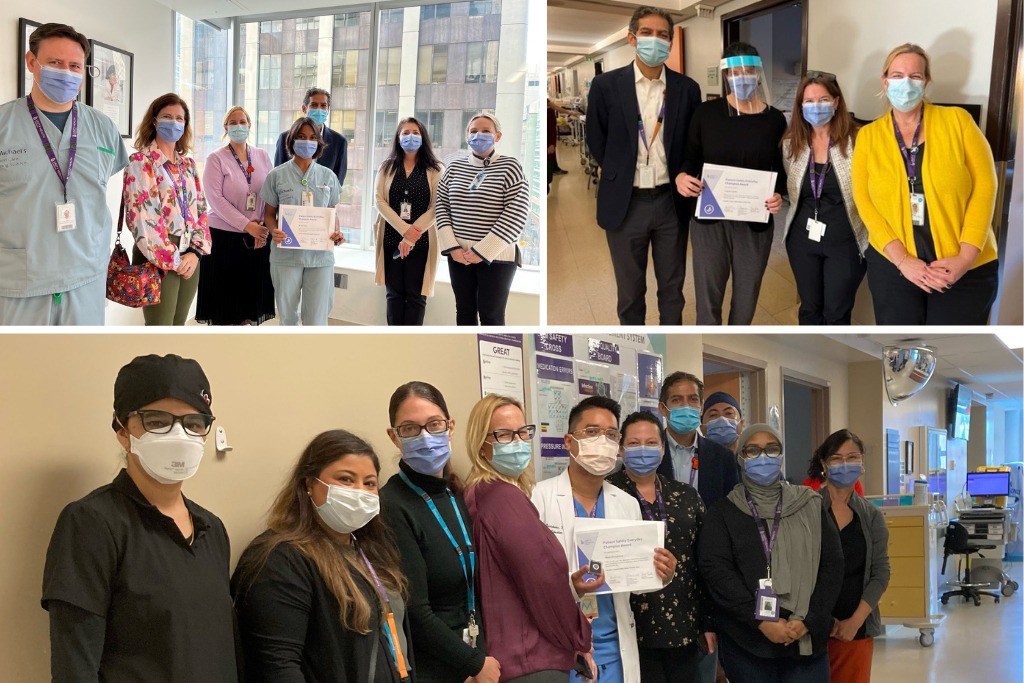 Each week, we share a list of 10 great things that happened at our sites. Do you have a story you'd like to share? Send it to communications@unityhealth.to.
1. Unity Health recognizes Patient Safety Everyday Champions
The Patient Safety Everyday Champion Awards at Unity Health celebrate individuals or teams who promote a culture of safety, demonstrate leadership and engage with patients, residents and families to improve patient safety. This year, Unity Health received a total of 15 nominations – the most nominations to date! This year's winners are: Mark Bartolome, clinical educator at St. Joseph's, who was recognized for his work on prevention strategies and role in helping to roll out the universal falls precautions policy and strategy for the units; Krupa Issac, registered nurse at St. Michael's on the Vascular Access Team, who was recognized for promoting a culture of patient safety by keeping current with best practices of infection prevention; and Lauren Lipkin, occupational therapist at Providence, who was recognized for being a consistent champion of patient safety, particularly in the area of falls, unattended medication, faulty equipment and cluttered environments. Congratulations to the winners and nominees, well done!
2. Meet the 2022 Angels Den scientists competing for the $150,000 Keenan Award for Medical Discovery
The 8th annual Angels Den, Canada's biggest medical research competition, is airing Nov. 16. Watch as six teams of St. Michael's scientists pitch their research projects for a chance to win $500,000 in funding, provided by St. Michael's Foundation sponsors and donors. Three teams are competing for the Keenan Award for Medical Discovery: Drs. Howard Leong-Poi and Jane Batt are using microscopic bubbles containing genes that keep the muscles in injured limbs healthy while the damaged nerve is being repaired. Dr. Monica Farcas has invented a device that sucks up kidney stone fragments, leaving patients stone-free. And Drs. Venkat Bhat and Karim Ladha are investigating whether ketamine – a well-known and widely available antidepressant – can treat brain fog in long COVID patients. Stay tuned next week, when we introduce the three teams competing for the $150,000 Odette Award for Health System Innovation. Viewers can vote for their favourite team for the Canada Life People's Choice Award when the show airs. Learn more and sign up at angelsden.ca
3. Dr. Joel Ray speaks about how pregnancy can be a 'crystal ball' on a woman's future health
We spoke with Dr. Joel Ray, obstetrical medicine internist at St. Michael's Hospital and scientist at the Li Ka Shing Knowledge Institute, about the connection between pregnancy and a woman's future health trajectory. Ray's research focuses on understanding the factors that contribute to negative maternal and newborn health outcomes, and disseminating evidence to prevent untimely maternal and infant deaths. He spoke about the "holy unity" that links fetal health with maternal health, and how that extends to the period after the child is born. "There is a growing awareness of what happens in a woman's pregnancy as a predictor of that woman's future health within the next one to two decades – essentially, before her child even reaches age 10 or 20 years," he said.
4. Dr. Sharon Straus named one of the top-ranked female scientists in the world
Dr. Sharon Straus, physician-in-chief at St. Michael's and director of the Knowledge Translation Program, was ranked one of the best female scientists in the world by Research.com. Straus was named 109th top-ranked female scientist in the world, and fourth in Canada. The purpose of the ranking is to inspire female scholars, women considering an academic career, and decision-makers worldwide with examples of accomplished female scientists. Congratulations!
5. Join the Adult Day Program at Providence Healthcare
Join the Adult Day Program at Providence Healthcare! The Adult Day Program supports individuals with moderate to severe dementia and their families. Located in a custom-designed space at Providence, the program provides patients with social activities and therapeutic programming. The program cost is $31 per day or evening service, which includes a full hot meal and eight-ten hours of care. The program is open to anyone living in Toronto or the GTA experiencing memory loss or dementia. Please contact Kathleen Raqueza at Kathleen.raqueza@unityhealth.to or call 416-285-3803 to learn more.
6. Study sheds light on healthcare service use by people with mental illness and a history of homelessness
A study by Unity Health and ICES found that the rates of inpatient, emergency and physician visits were higher for homeless participants with a mental illness compared to a general cohort of homeless adults. The study, published in Health Services Insights, explored factors associated with healthcare encounters among adults experiencing homelessness in Ontario. Data from two cohort studies were linked to ICES health records for homeless adults and homeless adults with mental illness. During the one-year follow-up, the researchers found that people in the cohort with a mental illness had higher rates of inpatient, emergency and physician services; Black patients were less likely to visit a primary care physician than white patients and were less likely to use Emergency Department (ED) services or be admitted to a non-psychiatric inpatient unit; and factors such as alcohol and drug use, criminal behavior and victimization were all associated with higher rates of ED use in both cohorts.
7. Dr. Andrew Pinto to speak at Globe and Mail event exploring innovation in the health system
Dr. Andrew Pinto, family physician and director of the Upstream Lab, will be taking part in a Globe and Mail event exploring innovation in the Canadian healthcare system on Oct. 31 from 1 p.m. – 2 p.m. The event will look at the various solutions emerging as Canada continues to face pressures in the healthcare system. The webinar will bring together healthcare leaders to discuss the problems, solutions and next steps for better patient care. Register for the event here.
8. Dr. Ripudaman Minhas leads conference on health and equity among Canadian children
Dr. Ripudaman Minhas, developmental pediatrician at St. Michael's Hospital, led the 2022 Canadian Children, Youth and Communities Health In Equity Conference. The interdisciplinary conference is designed to bring together pediatric health and allied healthcare leaders to address child and youth inequities from birth to adolescence using a family-centred approach. The conference explores health equity topics specific to marginalized communities and offers approaches to addressing barriers in access to healthcare for disadvantaged youth.
9. Jesse Knight recognized for outstanding research presentation
Jesse Knight, PhD candidate and member of the Mishra Lab, was awarded the Stephen Pauker Award for outstanding presentation in quantitative methods and theoretical developments by the Society for Medical Decision Making at the society's conference in Seattle. Knight was recognized for his presentation titled "Beyond Instantaneous Partnerships: Capturing Partner-Level Herd Effects in Compartmental Models of Sexually Transmitted Infections." Knight's work is a tremendous contribution to advancing approaches to modeling sexually transmitted infections. Congratulations!
10. Dr. Gustavo Saposnik elected to World Stroke Organization Executive Board
Congratulations to Dr. Gustavo Saposnik, neurologist and researcher at St. Michael's, who has been elected to the Executive Board of the World Stroke Organization. Saposnik will oversee special projects while leveraging the success of the World Stroke Academy, where he serves as editor-in-chief. Congratulations!
Previous Ten Great Things articles