Ten great things that happened this week
September 29, 2022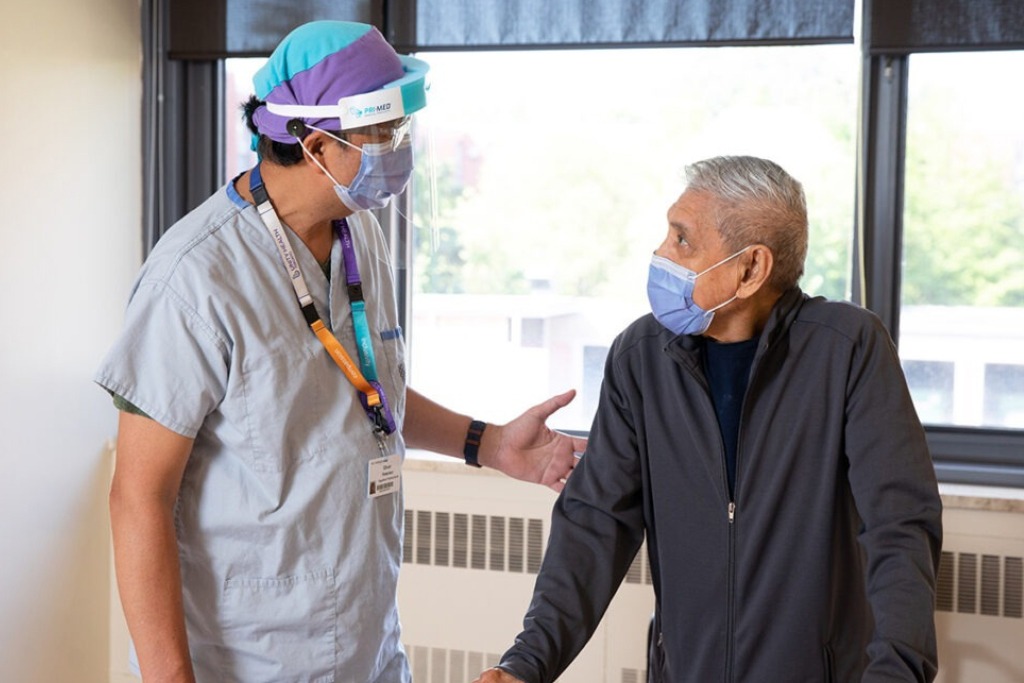 Each week, we share a list of 10 great things that happened at our sites. Do you have a story you'd like to share? Send it to communications@unityhealth.to.
1. Unity Health participates in first accreditation survey since uniting as one network
Unity Health is participating in a voluntary peer review process of our programs and services from Oct. 3-7. This process is led by Accreditation Canada, an independent, not-for-profit organization that evaluates health services against national standards of excellence. Notably, this is Unity Health Toronto's first Accreditation as an integrated health network. Accreditation is an opportunity for our teams to showcase and celebrate their achievements and commitment to excellence, particularly in the areas of safety and quality. Thank you to all staff, physicians, learners and volunteers for all the work that's been done in advance of the survey.
2. Translating apologies into action: How healthcare providers can address Indigenous health inequities
Ahead of the National Day for Truth and Reconciliation, we spoke with Dr. Janet Smylie, researcher and physician at St. Michael's Hospital and Strategic Lead of Indigenous Wellness, Reconciliation and Partnerships, about how healthcare providers can take steps to address Indigenous health inequities. Based off of a recent article she co-authored in The BMJ, Smylie outlined three ways feelings of sorrow can be transformed into action. "There needs to be a tangible investment in reconciliation and supports for those who need to heal," she said.
3. 'The learning is invaluable': Unity Health employees share key takeaways from Indigenous cultural safety training
For the past two years, hundreds of Unity Health employees have taken the San'yas Indigenous Cultural Safety Training program. The Indigenous-led online program is designed to increase participants' knowledge, awareness and skills for working with and providing healthcare services to Indigenous communities. It also prompts participants to think about their role in dismantling and transforming anti-Indigenous systems of racism. Three Unity Health employees who completed the course shared some of the things they learned. "I have more sensitivity to the diversity of Indigenous peoples in Canada, and the many ways this diversity might impact cultural safety and expectations of care relationships," said Spiritual Care Practitioner Jason Hallman. "I am clearer on my commitment to call out and stand up to any bias when I see it."
4. Providence Healthcare opens new unit for ALC patients
Providence Healthcare opened a new 13-bed transitional care unit this past summer for patients who no longer require acute care but still need support until they find a place in long-term care. The unit is open to ALC patients from all three Unity Health Toronto sites as the network prioritizes finding ways to alleviate system pressures. "We were tasked with a short timeframe to open this unit," said Patient Care Manager of Rehabilitation and Palliative Care Jacqueline Lumsden. "To plan, build, staff and open a new unit in six weeks, especially with all the health human resources challenges we're facing, was a major challenge."
5. St. Michael's study highlights exodus of Ontario family physicians during pandemic
The number of Ontario's family physicians who stopped working doubled during the first six months of the COVID-19 pandemic compared to previous years – accounting for more than 170,000 patients losing access to a primary care provider – according to a new study led by St. Michael's and ICES Ontario. The study found that nearly three per cent of Ontario's family physicians stopped working during the first six months of the pandemic. The study comes as the Ontario healthcare system grapples with capacity pressures, fueled by staffing shortages and a surge of patients seeking emergency care. "The family doctor shortage is difficult for people personally, but also impacts other parts of the system. For example, when people don't have a family doctor, they are more likely to head to the emergency room," said study lead author and St. Michael's family physician Dr. Tara Kiran.
6. Visit Unity Health's interactive Behind The Mask exhibit during Nuit Blanche
Heading downtown for Nuit Blanche this weekend? Check out Unity Health's interactive Behind The Mask exhibit outside the Li Ka Shing Knowledge Institute at 209 Victoria St. The exhibit, which runs from 7 p.m. – 10 p.m., features large-scale animated photos and first-hand accounts of the health care heroes who showed compassion, dedication and resilience throughout the pandemic. Take a photo or video of the exhibit, tag us on social media and let us know what you think! See you on Saturday!
7. Unity Health recognized for environmental stewardship
Unity Health Toronto was recognized by the Canadian Coalition for Green Healthcare, winning Green Healthcare Awards for its sustainability practices and leadership. Unity Health won in the category of Leadership, while St. Michael's, St. Joseph's and Providence won in the category of Pollution Prevention. Providence Healthcare won an additional award in the Energy category. Well done!
8. How Unity Health is using AI to revolutionize healthcare
The Toronto Star profiled how Unity Health is using the power of data and artificial intelligence to improve healthcare delivery. The article examined several data/AI projects underway at our hospitals, including CHARTwatch, Gemini and an Emergency Department tool to forecast patient volumes. "By harnessing data and using advanced analytics and artificial intelligence, we're going to be able to transform healthcare globally," said Unity Health CEO and President Dr. Tim Rutledge.
9. Drs. Fahad Razak and Ana Banerji answer questions about the bivalent COVID vaccine
Drs. Fahad Razak and Anna Banerji answered questions about the bivalent COVID vaccine in a Globe and Mail article, including when to get it, the difference between the vaccine approved in Canada and the vaccine approved in the U.S., and if you should also get a flu shot.
10. Marie Eason-Klatt recognized by Canadian Society of Hand Therapists
Marie Eason-Klatt, manager of collaborative practice and education, was awarded the Lifetime Achievement Award by the Canadian Society of Hand Therapists (CSHT). Eason-Klatt was one of the therapists who helped form the CSHT at St. Joseph's Health Centre in 1989. Congratulations!
Previous Ten Great Things articles