Equitable, personalized stroke care: Dr. Atif Zafar lays out vision for St. Michael's Hospital
June 22, 2022
It's been seven months since Michael Greaves had a series of strokes, and he's often in disbelief that he survived. Last November, as the 46-year-old drove home from breakfast with friends, he had several strokes that landed him at the St. Michael's Hospital Emergency Department. There, he was swiftly assessed and treated with tPA, a stroke treatment that breaks down blood clots. He stabilized, and just one week later, was discharged from hospital with no significant cognitive impairment or mobility issues.
"While I was going through it, and it was bad, I thought I was going to die," he said. "But hospital staff and doctors were able to keep me calm and educate me on what was going on, and what they were going to do."
Recognize the signs of stroke
Equitable, personalized stroke care
Greaves is one of the hundreds of stroke patients treated last year at St. Michael's Hospital, the Regional Stroke Centre within the South East Toronto Stroke Network. As a Regional Stroke Centre, St. Michael's is committed to being a leader in the development, implementation and coordination of stroke care.
It's something that drives Dr. Atif Zafar, Medical Director of the Stroke Program, as he aims to transform stroke care at St. Michael's. Since joining Unity Health in 2020, Zafar and the stroke team have streamlined processes to deliver care more efficiently, as well as started new initiatives to bring equitable care to the diverse patient population the hospital serves.
"Our vision is to build St. Michael's, not into a Canadian or North American leader, but a global leader, an entity that leads the world into transitioning into equitable, personalized stroke care," he said. "We want every patient to get the care that's malleable and flexibly-aligned for that individual."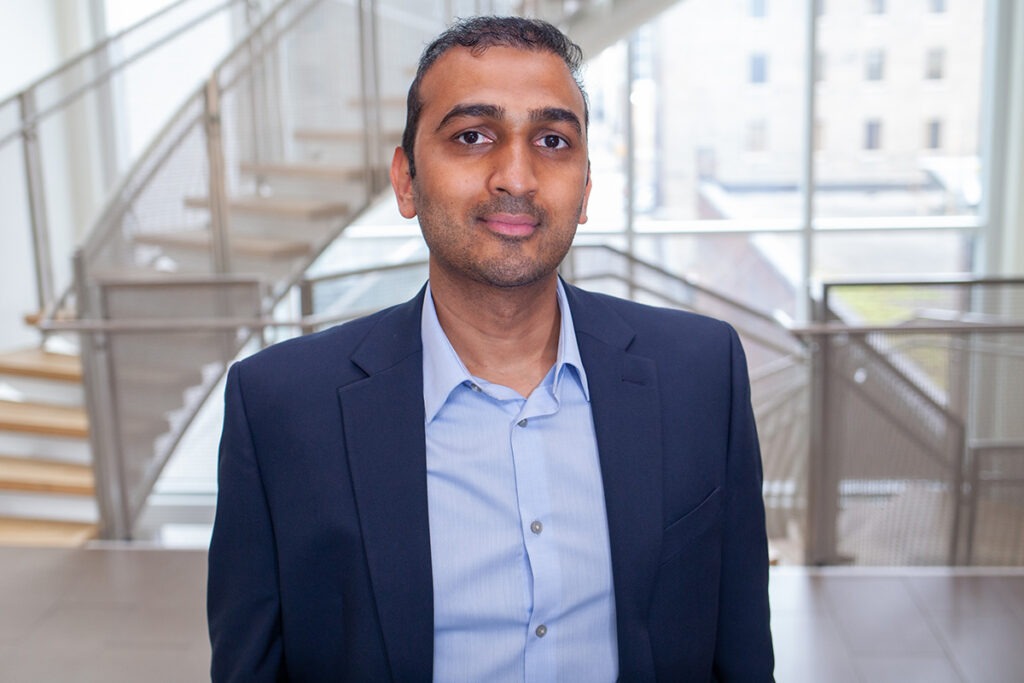 For example, Zafar says the stroke team has formed a Stroke and Neurovascular Health Equity Clinic, which builds relationships with nursing homes and shelters to ensure doctors and staff can follow-up with patients who don't have permanent, fixed addresses. Sometimes this means dropping off medication to a patient at a shelter or coordinating with shelter or nursing home employees to arrange a virtual appointment, he said.
"Our core principle is about equity in healthcare and making sure we're providing world class care to our patients, irrespective of what their background is, what language they speak, their financial status, or if they have a home address."
This also means working to understand patients' beliefs and traditions in terms of health and wellness, says Zafar. He gives the example of patients who are interested in herbal medicine. The conventional approach by a physician, he says, would be to tell the patient that that's not something doctors do.
"The approach we are taking is we want to understand why the patient likes herbal medicine, and how can we learn from their thought process and then try to modulate the treatment strategy in a way where we gain the patient's trust," he said.
"We want to engage our patients individually, so that at the end of the day that patient isn't having future strokes and is recovering well."
Streamlining processes and building programs
One of the new processes that was launched earlier this year is a Direct to CT initiative, which sees stable stroke patients taken directly to the CT scanner upon arrival at the Emergency Department, rather than first bringing them to a room in the ED for assessment.
By taking stroke patients directly to the CT scanner, healthcare providers are able to get the clinical information they need faster, which allows for faster delivery of treatment – all of which can make a huge difference in the patient's prognosis. The goal is to get the first CT image completed within 15 minutes of a patient's arrival. Since implementing the new initiative, the team is meeting and exceeding the goal, with a few recent cases where the time to tPA, the same lifesaving treatment Greaves received, was within 15 minutes.
Nurse Practitioner Lee Barratt was one of the team members who spearheaded the initiative, along with Neurologist Dr. Alexandra Muccilli and Clinical Educator Celine Callender.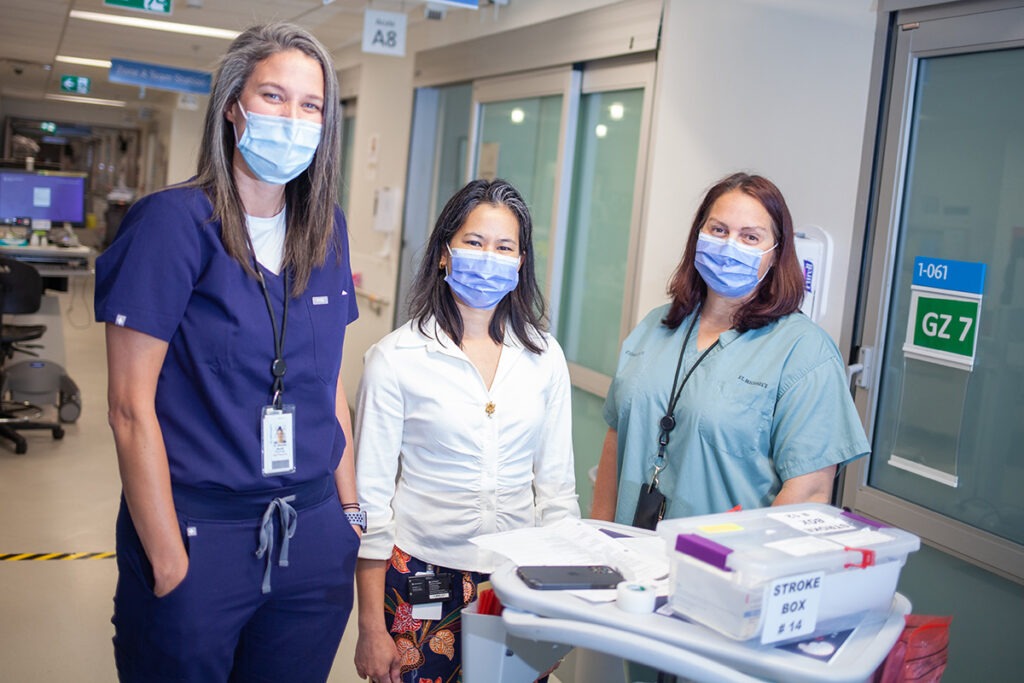 Barratt, who worked for nearly 20 years in the Emergency Department, immediately saw how cutting down the time before patients are brought to CT would lead to better patient outcomes.
"I felt it was important to work on this front metric, because having worked in the Emergency Department for a while, I know there's a fair amount of time lost in the front part of the process," she said. "When patients come in, they need immediate assessment, an IV, bloodwork – things that normally people do in a patient room. The team has adopted to do these things in a non-traditional environment, like the CT room."
To build the Direct to CT process, the team held educational meetings with different departments, including the ED, neurology, registration and the laboratory team. They also built models and held simulation labs, where they timed each part of the process to understand what would be the most efficient way to get the patient to the CT scanner.
"The key was involving all of the stakeholders, getting everybody together and coming up with a plan where everyone felt engaged, because you can't treat stroke with just neurologists or just emergency staff or just CT technicians," she said. "You need everybody working together."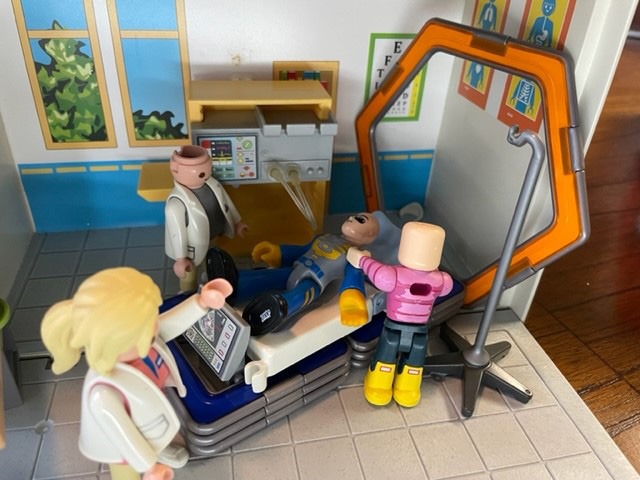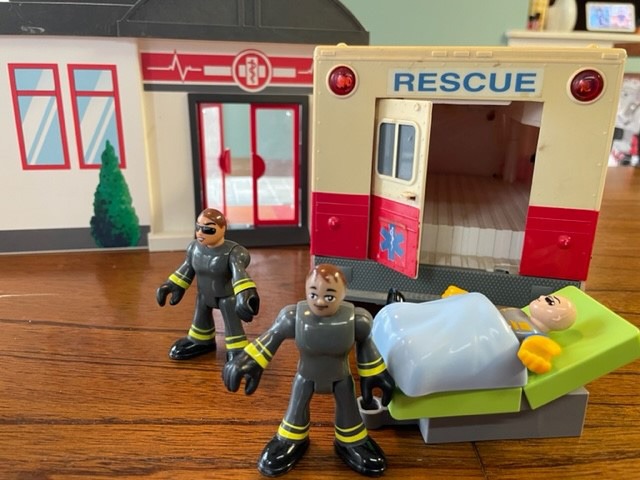 Playmobil sets were used to educate and raise awareness of the Direct to CT process. (Photos: Lee Barratt)
Filling the needs of our community
Looking ahead, Zafar sees St. Michael's and Unity Health delivering world-class stroke care to patients no matter where they live.
Part of that may be via the Purple Pathway quality initiative with Providence Healthcare, which ensures that as stroke patients start rehabilitation at Providence they receive consistent care from their Unity Health team. "Providence has Stroke Distinction, and we work and communicate with Providence staff to ensure continuity of care," he said.
Or it may be through specialized programs the stroke unit has developed, such as a unique fibromuscular dysplasia clinic that serves as a resource for patients whose family doctors aren't familiar with the condition.
He also sees opportunities to leverage St. Michael's established leadership in artificial intelligence (AI) and Neuro-endovascular Robotics to achieve better care for patients.
This means that a patient who lives in a rural area who needs interventional care, rather than being flown to St. Michael's, could be treated by a St. Michael's team who are doing the minimally-invasive procedure remotely using robotic innovation.
"We are listening to our community and being flexible to their needs," Zafar said. "Our vision is to become leaders in personalized stroke care and deliver care the way patients want it to be delivered."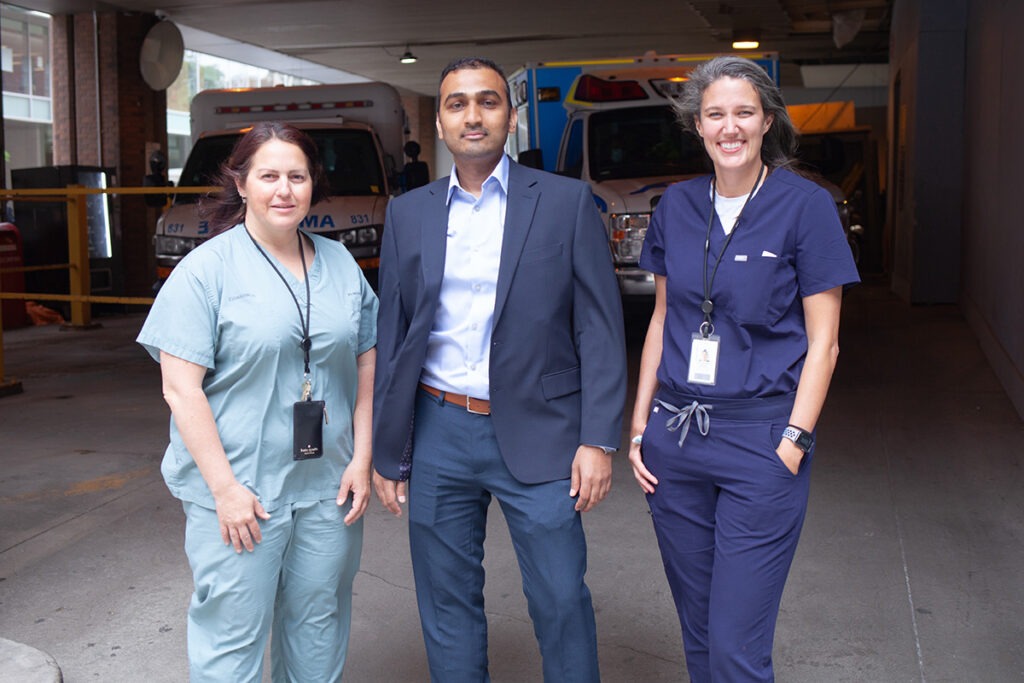 'Kindness and gratitude'
About 24 hours after receiving tPA, Greaves, the stroke patient, said he started to regain feeling and mobility on his left side. He was transferred to the ICU, and several days later, he was discharged from hospital. He has since resumed "normal" life, returning to work in the music publishing industry.
Greaves said that prior to his stroke, he never had any major health issues or concerns. "When I was in the Emergency Department, I was in disbelief that of all things that I would transition out of this world from, it would be from a stroke," he said.
He's thankful for the care he received at St. Michael's and says he will always carry that gratitude forward.
"Tomorrow's not guaranteed, and kindness and gratitude for one another needs to be at the forefront," he said. "EMS and all of the St. Michael's staff were so caring and went over and above to make sure I was OK. That's a beautiful thing, because when you're under that sort of duress, to have those sorts of people around you, you couldn't be in a better position to fight and carry on."
By: Marlene Leung
Photos: Yuri Markarov