Ten great things that happened this week
September 15, 2022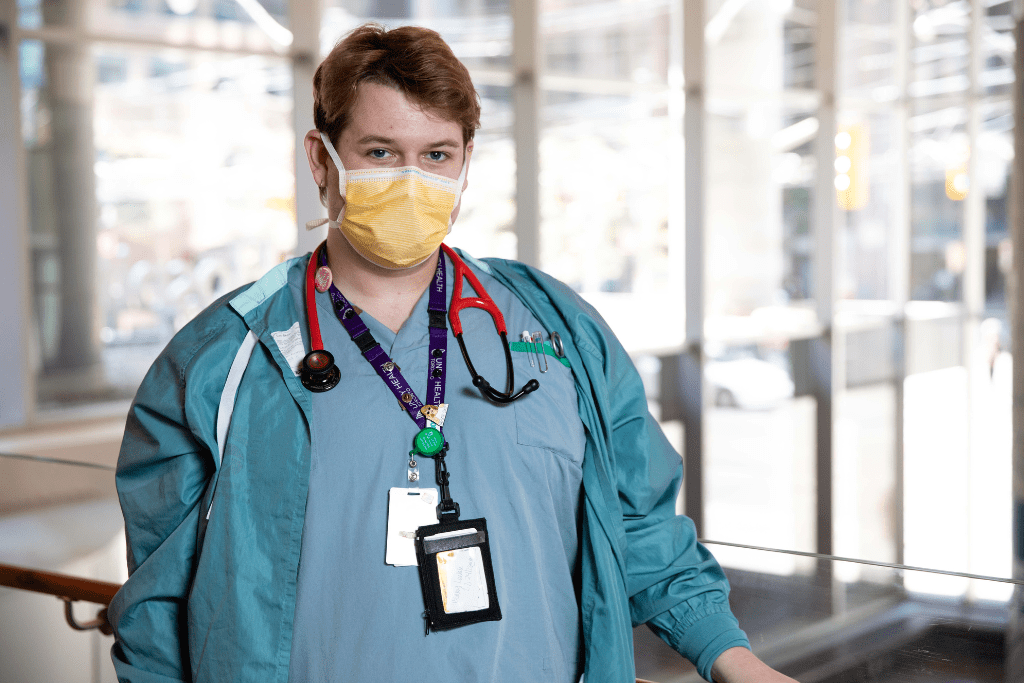 Each week, we share a list of 10 great things that happened at our sites. Do you have a story you'd like to share? Send it to communications@unityhealth.to.
1. Unity Health is helping students gain experience and filling staffing needs
A program at Unity Health Toronto is helping clinical externs gain valuable experience and helping to fill staffing needs. Clinical externs are students in health disciplines, including nursing, who are still in the process of completing their educational programs. Thanks to the program, clinical externs are employed as unregulated care providers at Unity Health Toronto, where they help with specific care tasks, such as helping patients with daily living activities, supporting ambulation, feeding and toileting, and prepping patients to go for tests. Once the externs have completed their formal education, Unity Health looks for opportunities to hire them into full-time and part-time roles. Conor Goulden was a clinical extern at Unity Health, who was hired on as a RN in the Cardiac Intensive Care Unit at St. Michael's after he completed his nursing studies. "I really can say with full confidence and belief that if I didn't do my clinical externship, I would not have been fully functional in CV surgery or the CICU," he said.
2. Unity Health co-recipient of funding to advance brain heart research
A project exploring the relationship between the brain and heart that's being co-led by Unity Health Toronto has received funding from Brain Canada and Heart & Stroke. Dr. Gustavo Saposnik, neurologist at St. Michael's, and Dr. Doug Lee, cardiologist at the Peter Munk Cardiac Centre at UHN, will launch a project to investigate what causes injury to the brain and heart, and how the two organs affect each other. With the funding, their project, called UNEARTH CVD, will develop new methods to diagnose early declines in brain function, as well as study the intersection between heart failure and dementia. The project will also include engagement with Indigenous researchers and Indigenous peoples with lived experience. Congratulations to the entire team!
3. The New York Times speaks to Dr. Carolyn Snider about ED pressures
Dr. Carolyn Snider, chief of emergency medicine at St. Michael's, spoke to The New York Times for an article examining the pressures on hospital Emergency Departments across Canada. The article featured Emergency Department leaders who commented on the various factors driving long wait times and staffing issues.
4. Work with Unity Health Toronto! Come to our career fair on Sept. 17
Come to the Healthcare Career Fair on Sept. 17 and learn about exciting career opportunities at Unity Health Toronto. Meet with Unity Health representatives and learn about the fantastic careers we're recruiting for, the great benefits we offer, and the many educational and career development opportunities for staff. The fair runs from 10 a.m.- 4 p.m. at the Sheraton Centre, Toronto. We'll see you there!
5. Dr. Ritika Goel talks equity in CPSO podcast
Dr. Ritika Goel, family physician at St. Michael's Hospital and Temerty Faculty of Medicine Social Justice, Anti-Oppression and Advocacy Theme Lead, was featured in an episode of the In Dialogue podcast. The podcast, produced by the College of Physicians and Surgeons of Ontario, regularly features interviews with various healthcare leaders and academics. Goel spoke about her work treating marginalized populations, the barriers her patients face, engaging in allyship and broadly applying the equity lens in medicine.
6. Dr. John Marshall calls for a broader definition of critical care
Hospital News featured a Q&A with Dr. John Marshall about why there needs to be a broader definition of critical care. Marshall was among several scientists who recently co-wrote a perspective piece on this topic that was published in Nature Medicine. The authors argue that in the wake of the pandemic, critical care should look beyond syndromes and the consequences of illness, and address the biological make up that determines how a person responds to a disease and its treatments.
7. Dr. Fahad Razak calls on leaders to reduce pandemic polarization in op-ed
In a Toronto Star op-ed, Dr. Fahad Razak calls on leaders to reduce pandemic polarization to reduce avoidable illness and deaths in the months ahead. "Polarization is on the rise in many democracies and it is increasingly anchored in politicized discourse about COVID-19," the op-ed said.
8. Dr. Sharon Straus weighs in on how we can maximize the impact of health research
Dr. Sharon Straus, physician-in-chief at St. Michael's Hospital, co-authored an op-ed in The Globe and Mail examining what lessons were learned from the pandemic and how researchers can maximize the impact of their work.
9. Dr. Jesse Jenkinson speaks about finding housing solutions in the wake of the pandemic
In an article about the damaging cycle of hospital re-admission for patients with mental illness who are also experiencing homelessness, MAP Centre Post-Doctoral Fellow Dr. Jesse Jenkinson spoke about opportunities to find housing solutions post-pandemic. "We're at a point right now where there's a window of opportunity to make that shift," she said. "It's going to require some evidence and advocacy on everyone's part to push for some of these changes that we know are really important and could improve people's lives."
10. Schools must educate students about human monkeypox, Dr. Darrell Tan tells CBC News
After a two-year pandemic pause, campus life has returned to Canadian universities. As students resume their campus activities, schools should educate them about human monkeypox in a stigma-free, non-judgmental way, Dr. Darrell Tan told CBC News.
Previous Ten Great Things articles