Ten great things that happened this week
October 13, 2022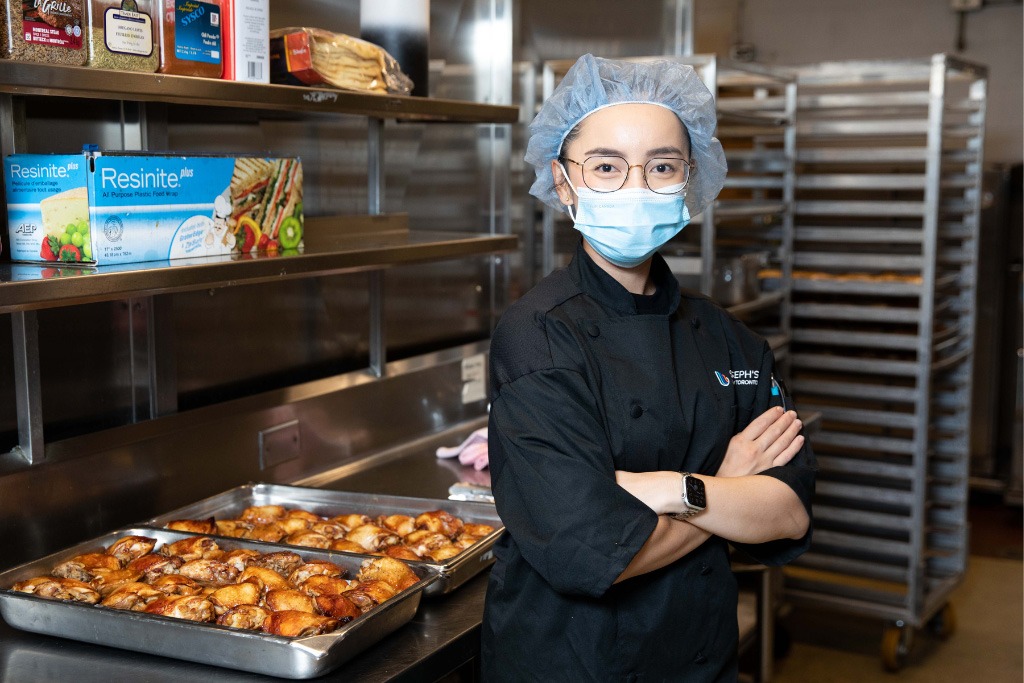 Each week, we share a list of 10 great things that happened at our sites. Do you have a story you'd like to share? Send it to communications@unityhealth.to.
1. Meet the first ever female head chef at St. Joseph's Lakeside Café
We spoke with Beatriz Coronado, the first-ever female head chef at the Lakeside Café at St. Joseph's Health Centre. Coronado comes to St. Joseph's with a stacked resume, including previous stints in fine dining, banquets and certification in the Canadian Society of Nutrition Management. She spoke about her unique path to St. Joseph's, her go-to Filipino comfort food, and how the Lakeside Café is different than other hospital cafeterias. "We try to create a variety of food for every ethnic taste, as there is a diversity of people who work at and visit the hospital," she said. "We also pay attention to the presentation of the food on the plate using colour contrast between the various items. Food is a large part of people's lives in every culture, and it brings people together."
2. St. Joseph's and St. Michael's Renal Programs recognized for commitment to excellence
The Ontario Renal Network recognized the Renal Programs at St. Joseph's Health Centre and St. Michael's Hospital for their commitment to excellence in care. The programs were recognized for serving patients through another year of the pandemic, while ensuring high-quality care for renal patients. Of note, the percentage of chronic dialysis patients who received their third dose of the COVID vaccine in Ontario rose to 82.2 per cent as of late August, a feat made possible by renal programs across the province. Congratulations to all the staff and physicians at both programs!
3. Dr. Prabhat Jha recognized for excellence in public health
Dr. Prabhat Jha is being honoured by the American Public Health Association with an award recognizing his groundbreaking work in expanding global death reporting in low and middle-income countries. He is known for leading the Million Death Study, which surveyed 23 million people in India and found tobacco use as a leading cause of death. His study spawned tobacco control policies that saved millions of lives. The award will be presented on Nov. 8 during the association's annual meeting and expo. Congratulations!
4. Dr. Amol Verma named 2023 Temerty Professor in AI research and education
Dr. Amol Verma has been named the University of Toronto Temerty Professor in AI Research and Education in Medicine. Verma is a general internal medicine physician at St. Michael's, as well as the co-lead of GEMINI, a project that collects and analyzes clinical data from more than 20 Ontario hospitals to improve patient care. In this new role, Verma will work with the leadership team to advance the application of AI in medicine, as well as mentor the next generation of AI in medicine clinicians and scientists. Congratulations!
5. Lights Off Campaign survey launches at St. Michael's Hospital
The Sustainability Team has launched an internal survey to help determine which areas of St. Michael's Hospital aren't in use 24 hours a day, seven days a week. The goal of the survey is to install occupancy sensors in 50 rooms throughout the hospital. Occupancy sensors turn off lights in unoccupied areas after hours. A pilot study that involved an occupancy sensor installed in a lunch room saved more than 12 hours of lighting a day. Staff can fill out the survey, which is listed on UnityNet, until Dec. 16.
6. Study finds wastewater surveillance helped identify COVID outbreak at shelter for underhoused
A collaborative study between Unity Health, Toronto Metropolitan University, Toronto Public Health and Environment Ontario found that wastewater surveillance helped identify a COVID outbreak at a Toronto shelter for underhoused men before the residents showed symptoms. The study, published in The Canadian Journal of Public Health, suggests wastewater surveillance gave health officials advanced notification, which led to quicker deployment of enhanced testing. "Wastewater surveillance at the facility level is beneficial, particularly in high-risk congregate living settings such as shelters that house transient populations where clinical testing and vaccination can be challenging," the study's authors said.
7. Assumptions about lethality of air pollution in India may be exaggerated, study finds
A study co-authored by Dr. Prabhat Jha found that high levels of exposure to air pollution in India have a smaller effect on mortality than previously estimated. India has among the highest levels of air pollution in the world, with nearly every person in India living in areas with fine particulate matter levels above the level considered safe by the World Health Organization. The study highlights the fact that most existing studies on air quality and health are conducted in high-income countries, where fine particulate matter levels are lower and patterns of disease are different than low and middle-income countries, the authors said. Jha said that despite the good news, there are many other reasons to act on air pollution in India. "Air pollution worsens child lung health and lowers quality of life, and that is sufficient justification to act," he said.
8. Dr. Beth Leung explains the different COVID-19 treatments available to patients
In a Globe and Mail article, Dr. Beth Leung, clinical pharmacist at Unity Health, explained the different treatments available to patients who contract COVID-19. These treatments will be one of the ways Canada copes with COVID-19 this winter.
9. Dr. Fahad Razak speaks to the Toronto Star about avoiding past pandemic mistakes
As Ontario sees an uptick in COVID-19 cases, it's crucial to keep a close watch on long-term care to avoid repeating past pandemic mistakes, Dr. Fahad Razak told The Toronto Star.
10. Virtual care is here to stay. What role can it play in the future of primary care?
In the third article in a series about primary care, Dr. Tara Kiran wrote in Healthy Debate about the role virtual care played during the pandemic and how it might fit in to a redesigned primary care system. "As we redesign a better primary care system coming out of the pandemic, we need to consider the role of virtual care and what patients will expect," she said.
Previous Ten Great Things articles