Ten great things that happened this week
September 08, 2022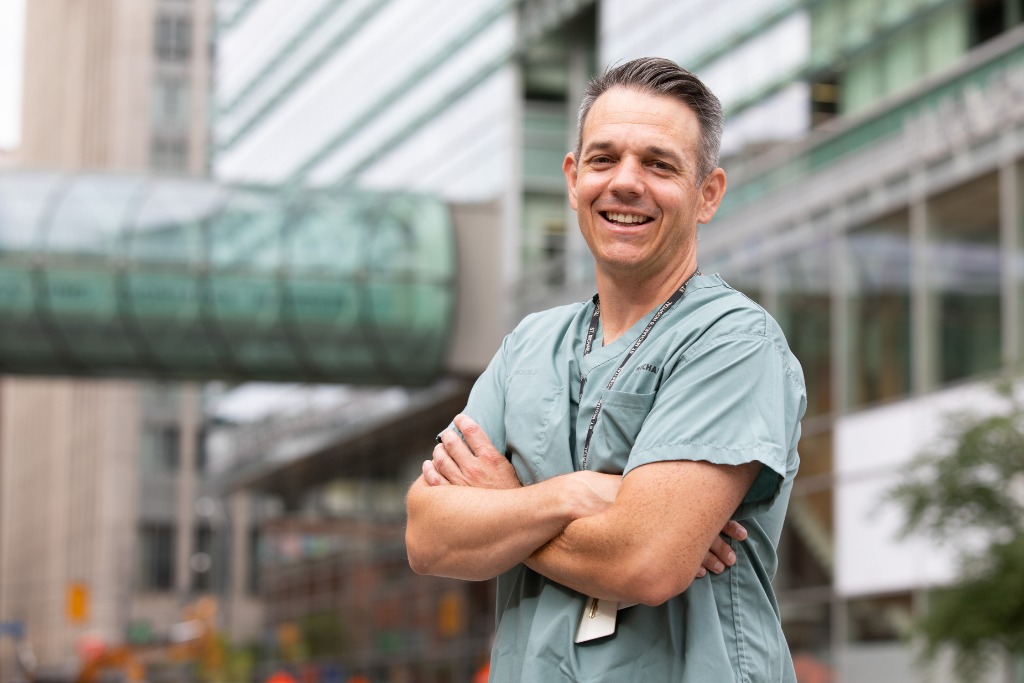 Each week, we share a list of 10 great things that happened at our sites. Do you have a story you'd like to share? Send it to communications@unityhealth.to.
1. Dr. Alun Ackery accepts role of Provincial Medical Director of CritiCall Ontario
Congratulations to Dr. Alun Ackery, Deputy Chief of Emergency Medicine at St. Michael's Hospital, who has accepted the role of Provincial Medical Director of CritiCall Ontario, a provincially-funded organization dedicated to supporting access to and the delivery of urgent and emergent care in the province. The announcement comes as Ontario healthcare leaders search for ways to improve the system.
Since becoming Deputy Chief of Emergency Medicine at St. Michael's Hospital in 2019, Dr. Ackery has shown immense leadership and has made invaluable contributions to Unity Health. Dr. Ackery will step down as Deputy Chief of Emergency Medicine in January 2023, but will continue as an active physician in the emergency department. Please join us in thanking Dr. Ackery for his contributions and congratulating him on his new role.
2. Dr. Anna Banerji and Dr. Shazeen Suleman recognized for excellence in pediatrics
Dr. Anna Banerji and Dr. Shazeen Suleman have been recognized for their achievements in the field of pediatrics. Dr. Banerji has been selected to receive the Special Achievement Award by the American Academy of Pediatrics. The award recognizes her longstanding advocacy and work with Indigenous and immigrant/refugee populations. The award will be presented virtually to her on Sept. 15.
Dr. Suleman has been awarded a Our Shared Values Award, which honours staff, physicians, teams, patient and family partners and volunteers who exemplify a commitment to Unity Health Toronto's values. She is the recipient of the Compassion Award, which recognizes an individual or team that enables health and healing by understanding each person's needs and by providing care with kindness and sensitivity. The award will be virtually presented at the St. Michael's Our Shared Values Awards ceremony on Sept. 29. Congratulations to both!
3. Unity Health scientists elected to The Royal Society of Canada
Congratulations to the Unity Health Toronto scientists who were elected to The Royal Society of Canada's class of 2022! Dr. Laurent Brochard and Dr. Janet Smylie are now Fellows. Dr. Yvonne Bombard, Dr. Sharmistha Mishra and Dr. Duminda Wijeysundera are Members of the College of New Scholars. The Royal Society of Canada is an organization that aims to serve Canadians by recognizing the country's leading intellectuals, scholars, researchers and artists by mobilizing them in open discussion and debate. Well done to all!
4. Unity Health Toronto job fair on Sept. 17
Unity Health Toronto will be at the Healthcare Job Fair on Sept. 17! Register for the fair and learn more about the exciting career opportunities at Unity Health, where healthcare excellence is fueled by world-class education, research and innovation. The fair is at the Sheraton Centre Toronto, and runs from 10 a.m. – 3 p.m. See you on Sept. 17!
5. Come work with us! Unity Health Toronto recruiting for many positions, physicians
Unity Health Toronto is recruiting for many positions across our hospital network, including nursing, medical imaging and occupational therapy. We are also recruiting physicians across a number of specialties, including neonatology, pediatrics, general internal medicine, hematology, oncology, gastroenterology, neurology and nephrology. Learn more about why we're a Top 100 Employer in the GTA and come work with us!
6. Trial co-led by St. Michael's scientist published in the New England Journal of Medicine
A trial co-led by Dr. Subodh Verma that examined the impact of a SGLT2 inhibitor drug on heart failure was recently published in the New England Journal of Medicine. Dr. Verma, scientist at the Keenan Research Centre for Biomedical Science, was one of the national lead investigators on the fifth dedicated heart failure trial that examined the impact of the SGLT2 inhibitor dapagliflozin in people with heart failure and a preserved ejection failure (a condition where the lower left chamber of the heart is not able to fill properly with blood). This type of heart failure accounts for about 50 per cent of the global heart failure burden. SGLT2 inhibitors are a type of drug that lower blood sugar. Prior to SGLT2 inhibitors there have been no medical treatments approved for this condition. The study found that when given to this population, the medication resulted in approximately a 20 per cent reduction in heart failure hospitalization and cardiovascular death rates. The trial provides evidence that the medication can be used to improve outcomes in heart failure. Dr. Verma says the study team expects the trial will change clinical practice guidelines worldwide.
7. Dr. Subodh Verma to speak on panel about SGLT2 Inhibitors and HFpEF
Dr. Subodh Verma will participate in an upcoming panel discussing SGLT2 inhibitors – a type of medication that lowers blood sugar — and heart failure with preserved ejection fraction (HFpEF). Verma will be joined by a panel of experts from Canada, Asia, Scotland and America. The virtual webinar will be held on Sept. 17 from 10 a.m. – 12:05 p.m. ET. 
8. Spotlight on St. Michael's research team investigating plasma alternative
A St. Michael's Hospital research team was spotlighted in Hospital News for its role investigating a powder alternative to plasma. The team, which includes Dr. Katerina Pavenski, Dr. Andrew Beckett and Dr. Andrew Petrsoniak, is participating in a trial to determine if the powder could be a more accessible, more efficient and safer option for trauma patients.
9. How can Emergency Departments mitigate potentially violent episodes? Dr. David Kodama speaks about one possible tool to help
Violent incidents in hospital Emergency Departments have increased during the pandemic. Dr. David Kodama spoke to City News Toronto about a safety dashboard in use at St. Michael's Hospital that helps flag patients who are at risk of becoming violent. "The goal really is twofold," he said. "It's to prevent these events and it's to protect our staff, but also to ensure that each and every one of our patients receive the appropriate care that they deserve."
10. Dr. Joel Ray speaks to Toronto Sun about study examining ED use and maternal, neonatal health outcomes
A new study found that Emergency Department use in Ontario before pregnancy was associated with a higher risk of severe maternal and neonatal health outcomes, including maternal and neonatal morbidity, neonatal death and stillbirth. Study co-author Dr. Joel Ray told the Toronto Sun that doctors should consider taking a proactive approach when dealing with women in the ED and consider "sensitively" speaking with a patient about pregnancy planning and prenatal care.
Previous Ten Great Things articles