Ten great things that happened this week
September 01, 2022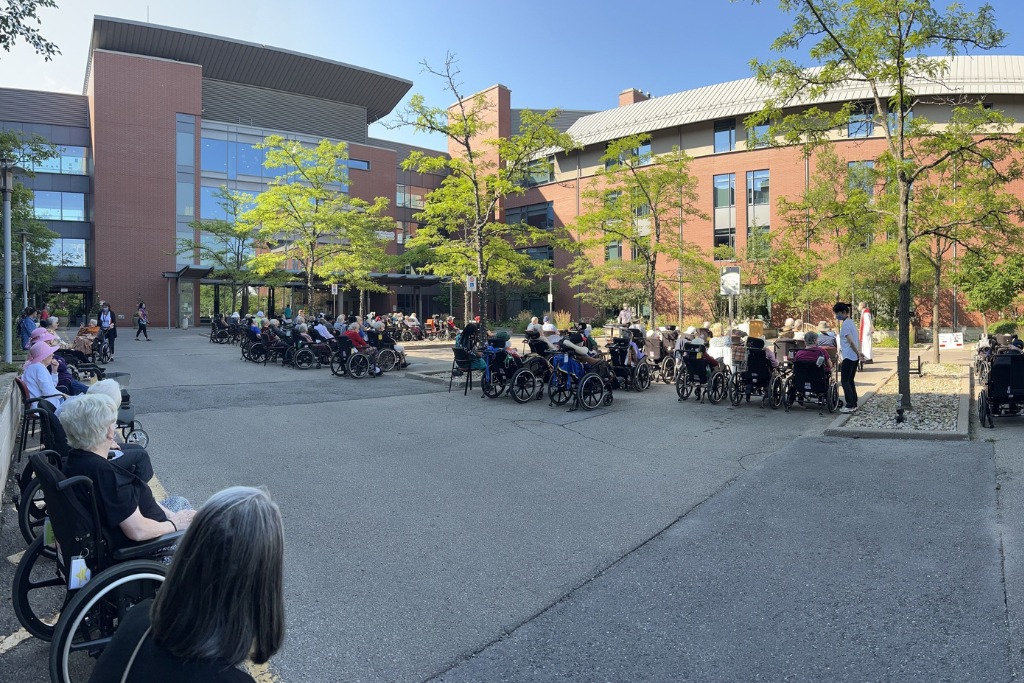 Each week, we share a list of 10 great things that happened at our sites. Do you have a story you'd like to share? Send it to communications@unityhealth.to.
1. Spiritual Care Team hosts outdoor mass at Houses of Providence
The Spiritual Care Team hosted a large outdoor mass at the Houses of Providence, the first outdoor mass held at Providence Healthcare in more than two years. The mass, which was requested by the resident council, was attended by more than 80 residents and held on the grounds of Providence under bright, sunny skies. "The spirit of peace was evident to all," said Executive Director of Mission, Values and Spiritual Care Christopher De Bono.
2. St. Joseph's Renal Program hosts annual patient barbecue
After a four year pause due to the pandemic, the St. Joseph's Renal Program Annual Patient Barbecue resumed! The fun-filled day was held at the Bachir-Yerex Community Renal Centre on Aug. 23. Staff and patients enjoyed the sunny weather, great food and wonderful company. This annual event is the program's way of showing appreciation to patients and the staff who tirelessly provide care and support to the community of St. Joseph's. Thank you to all the staff, physicians, patients and volunteers who came out to the event, we hope you had a great day!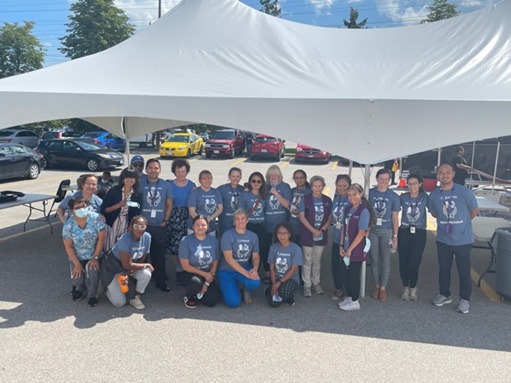 3. New device for treating blood clots helps patients avoid surgery at St. Michael's
We profiled a Unity Health team led by Dr. Andrew Brown, who became one of the first groups in Canada to trial a new technology for treating deep vein thrombosis (DVT). DVT is one of the most common cardiovascular disorders in the world, affecting roughly 200,000 Canadian patients a year. The ClotTriever System is used to treat and remove venous blood clots in patients' arms without surgery or the use of potentially dangerous medications. "There is a lot of hope and optimism with the introduction of these new tools," said Brown. "In our practice we see 20 or 30-year old patients who can no longer walk-up a flight of stairs because they are limited by pain or breathlessness. We now have a tool to treat these patients."
4. Unity Health staff, physicians, researchers and learners recognized in Honour Roll
A total of 33 Unity Health staff, physicians, researchers and learners were recognized in our summer Honour Roll for new appointments, awards, research funding and research chairs. Congratulations to all!
5. Dr. Stephen Hwang recognized for professional excellence in public health
Dr. Stephen Hwang, director of the MAP Centre for Urban Health Solutions and a general internist at St. Michael's, received the Award of Merit from the Harvard T.H. Chan School of Public Health Alumni Association. The award recognizes professional excellence in the field of public health and is the highest honor presented by the school's Alumni Association. Hwang was recognized for his pioneering work in the field of homelessness, housing and health. Congratulations!
6. Dr. Katerina Pavenski elected to Board of Directors of The International Society of Blood Transfusion Medicine
Dr. Katerina Pavenski, head of the Division of Transfusion Medicine at St. Michael's, has been elected to the Board of Directors of The International Society of Blood Transfusion Medicine (ISBT) as the regional director for North Americas. ISBT is a scientific society founded in 1935 that has chapters across the globe. The society works together to share knowledge, improve safety of blood transfusions, and advocate for the welfare of blood donors and patients around the world. Congratulations!
7. Dr. Tara Gomes discusses report on opioid-related deaths in construction industry
Dr. Tara Gomes, epidemiologist at St. Michael's and principal investigator of the Ontario Drug Policy Research Network, participated in a Public Health Ontario talk about a recent report that spotlights the disproportionate rate of opioid-related deaths among construction workers. Nick Boyce, director of the Ontario Harm Reduction Network, and Jase Watford, a former labourer who has battled addiction, presented alongside Gomes.
8. Knowledge Translation Program launches Health Research System Recovery Survey
Unity Health's Knowledge Translation Program has partnered with the Canadian Institutes of Health Research and the Royal Society of Canada Working Group on Health Research System Recovery to launch a study on how to strengthen Canada's health research system post-pandemic. The study team aims to develop actionable recommendations on how the system can be improved. As part of the project, the team is looking to survey research agency leaders, health policy makers and leadership from research institutes. All interested participants should complete the survey by Sept. 15.
9. Dr. Fahad Razak looks ahead to fall flu season on The Agenda
Dr. Fahad Razak, internist at St. Michael's and director of the Ontario COVID-19 Science Advisory Table, appeared on TVO's The Agenda to talk about the current state of the pandemic and what lies ahead for the fall flu season. He warned that hospitals have not had a typical recovery period over the summer and are under immense strain as we head into the fall/winter season.
10. Dr. Aaron Orkin speaks about monkeypox and people experiencing homelessness
Dr. Aaron Orkin, director of population health for Inner City Health Associates Toronto and an emergency physician at St. Joseph's, spoke to The Canadian Press about the unique challenges people experiencing homelessness face, and why this should be recognized in any public health response to monkeypox. "When people facing homelessness contract monkeypox, they face really special challenges in managing it, and it affects their housing security, it affects where they live, it affects their access to income and it's really much more challenging for someone who's homeless than somebody who's independently housed," Orkin said.
Previous Ten Great Things articles