Ten great things that happened this week
August 18, 2022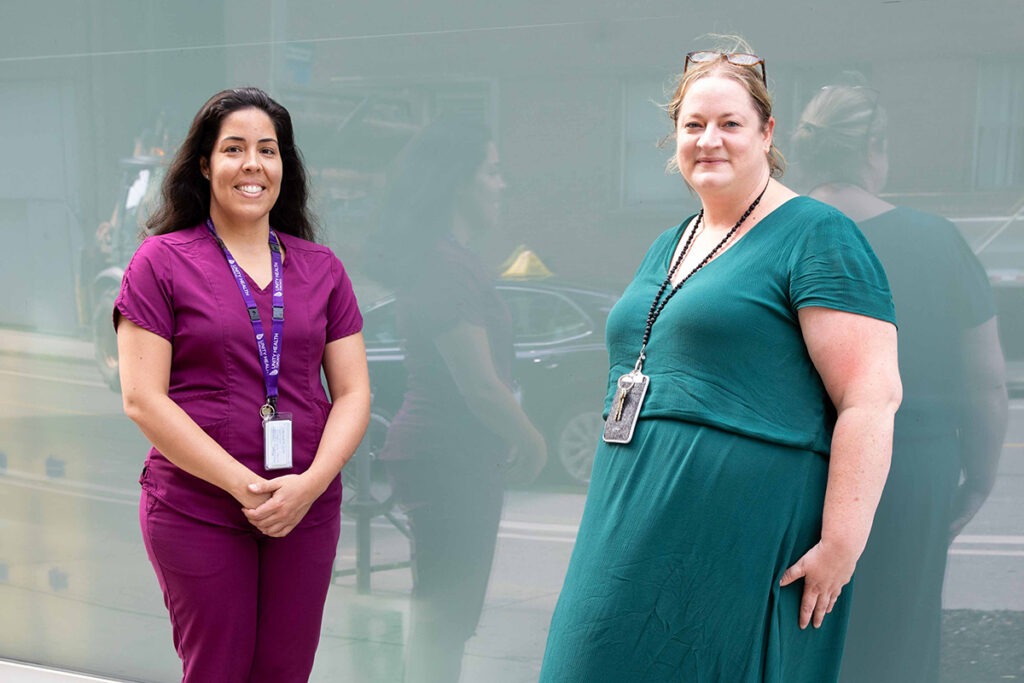 Each week, we share a list of 10 great things that happened at our sites. Do you have a story you'd like to share? Send it to communications@unityhealth.to.
1. How an online breastfeeding course is helping parents in the pandemic
We profiled an online breastfeeding course offered by the St. Michael's Hospital Family Birthing Unit that's been helping parents meet their feeding goals. The course was developed to support parents as breastfeeding resources were abruptly halted during the pandemic. Camila Valente, a lactation consultant who helped develop the pre-natal course, said it's rewarding to see families learning and becoming more confident as they prepare for the birth of their child. "It is really transformative when you see that family building their self-efficacy and reaching their own infant feeding goals," she said.
2. Clinic for high-risk pregnancy launches at St. Joseph's Family Birthing Unit
St. Joseph's Health Centre has launched a new Specialty Pregnancy Care Clinic (SPCC). The referral-based clinic provides specialized care to people experiencing a high-risk pregnancy. Patients who come to the SPCC will be seen by our maternal-fetal medicine specialist and have on-site access to specialty ultrasounds that will guide care planning and interventions. The new clinic fills a gap in access to maternal-fetal medicine specialty care that currently exists in southwest Toronto. The clinic will ensure patients in the community that are higher risk will have the support they need at the Family Birthing Centre.
3. Unity Health physicians, staff members win program awards from the University of Toronto
Several Unity Health physicians and staff members were recognized by the University of Toronto's Department of Family and Community Medicine for their contributions to patients, communities and the department. The Unity Health Program Award Winners include Dr. Karen Weyman, Dr. Fok-Han Leung, Dr. Naheed Dosani, Dr. Sheila Wijayasinghe, Dr. Abbas Ghavam-Rassoul, Dr. Deborah Kopansky-Giles, Dr. Casimir Soare, Dr. Kathryn Dorman, Dr. Tara Kiran and Linda Jackson. Congratulations to all, well done!
4. 'Working in palliative care teaches me about life': A recreation therapist shares her pandemic story
We profiled Melanie Craig, a recreation therapist in palliative care at Providence Healthcare. Craig spoke about the diverse patients she works with, and how much she's learned from her experience with them. "Working in palliative care teaches me about life. I may not be able to tell people exactly when they will die, but I do remind them that anyone of us could die any day," she said. "None of us know what the future holds, so encouraging them to do what they want right now is very important at this time in their life."
5. St. Michael's social workers give birth in department where they work
Melissa Luongo and Kayla Deverson, social workers in the department of obstetrics at St. Michael's Hospital, recently gave birth to their babies in the very department where they work. Luongo welcomed a baby boy in late May and Deverson welcomed a baby girl just a few days later. Coincidentally, both babies were born in the same delivery room at St. Michael's! The happy news was posted on the St. Michael's OBGYN Instagram account. We join the department in congratulating both Luongo and Deverson, and wish them all the best!
6. Study shines light on cancer incidence among Ontarians living with HIV
A study led by researchers from the MAP Centre for Urban Health Solutions examined cancer incidence among Ontarians with HIV between 1997 and 2020 and found that there was a decrease in all cancers among this population. The study also found infection-related cancers decreased and infection-unrelated cancer incidence remained stable over time, but contributed to the greatest burden of disease. Researchers Ioana Nicolau and Dr. Ann Burchell say they hope the study will spark conversations between care providers and patients about cancer risk and HIV.
7. How can young people lead a healthy life? Taking walks, exploring and gardening, says youth council member
In our final video profile for International Youth Day, St. Michael's Hospital Youth Advisory Council Member Vanessa shared her tips for leading a healthy life. "There are so many things that we need to think about, and there are so many activities that we feel we need to accomplish in such a short period of time," she said. "This really causes us to forget when it is necessary to take a break." The St. Michael's Youth Advisory Council is a group of volunteers, ranging in age from their teens to early 20s, who offer the family care team insights about what youth services are needed and where improvements can be made.
8. Op-ed calls for public health measures to contain COVID-19 ahead of winter
In an op-ed published in The Globe and Mail, Drs. Fahad Razak and Arthur Slutsky call for low-burden and effective health measures to contain COVID-19 before winter arrives. High-quality masks used indoors and easily available rapid antigen tests should be implemented before the winter in order to avoid further disruptions to health care services, they said. "We must double down on simple public health measures that can reduce the burden of respiratory viruses and keep our health care system working, right now," the op-ed said.
9. Dr. Stephen Hwang speaks to The Newmarket Era about privately-run group living facilities
Dr. Stephen Hwang, director at the MAP Centre for Urban Health Solutions, spoke to The Newmarket Era about privately-run, for-profit group living facilities. Hwang noted that privately-run facilities often lack the same level of monitoring and standardization that shelters or long-term care homes have.
10. St. Michael's-led research spotlights rise in overdose deaths linked to smoking opioids
Research led by Dr. Tara Gomes, scientist at St. Michael's and principal investigator at the Ontario Drug Policy Research Network, found an increase in overdose deaths related to inhaling opioids during the pandemic. Gomes and her team looked at data from the Office of the Chief Coroner and found that just over one-third of overdose deaths during the pandemic appeared to be due to inhalation drug use, compared to 22.5 per cent pre-pandemic. "Regardless of whether the pandemic is specifically driving this change, the rising prevalence of inhalation as a predominant mode of drug use suggests a need for tailored harm reduction services – including supervised inhalation services – across Ontario," said the report.
Previous Ten Great Things articles