Ten great things that happened this week
August 25, 2022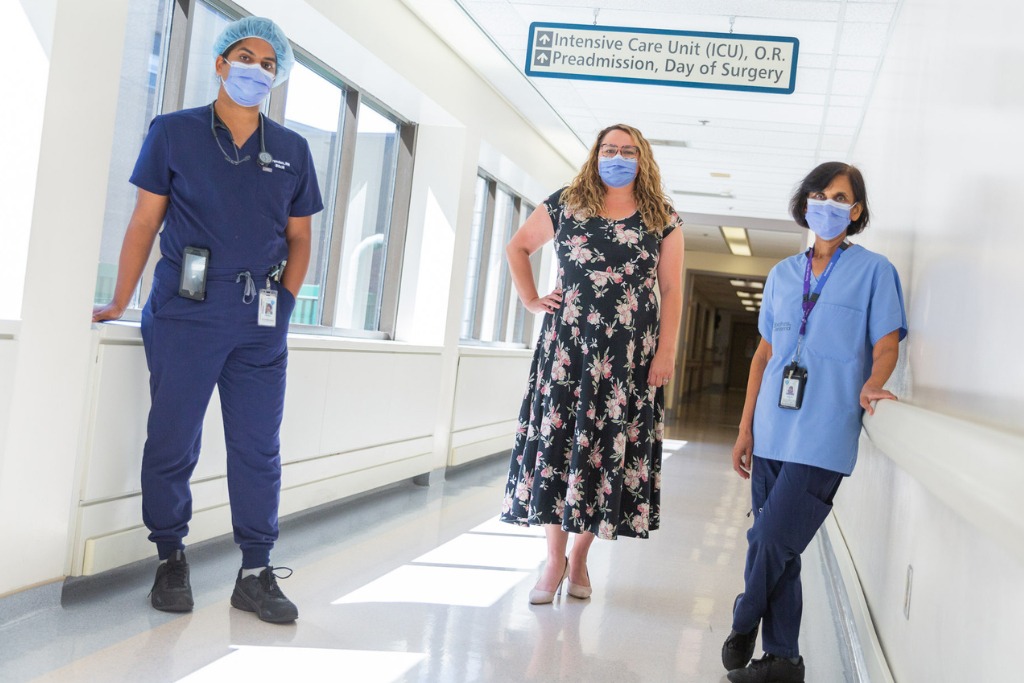 Each week, we share a list of 10 great things that happened at our sites. Do you have a story you'd like to share? Send it to communications@unityhealth.to.
1. How Unity Health is helping train critical care nurses
We profiled a sponsorship program that sees Unity Health Toronto supporting nurses to advance their careers to become specialized in critical care, filling an urgent need in the province. The Critical Care Sponsorship Program supports experienced RNs to become accredited in critical care nursing. Unity Health pays the nurses' salaries while they are in school at George Brown College or the Michener Institute, and covers their class fees in partnership with Critical Care Services Ontario. Participating nurses receive both classroom and hands-on clinical education and are then partnered with an existing ICU nurse at Unity Health until they're ready to care for their own patients. James D'Aloisio, an RN at St. Michael's, completed the program and found the financial support from Unity Health especially important. "I could fully commit to my studies and didn't have to worry about working while I was in school," he said.
2. A St. Joseph's pediatrician shares tips on how families can prepare for back-to-school
As September approaches, we spoke with Dr. Dilip Mehta, director of the CIBC Just For Kids Clinic at St. Joseph's, about how families can prepare for back-to-school after pandemic disruptions. Mehta said the pandemic and online schooling has impacted children's health, from an increase in youth mental health issues to a decrease in physical activity. Parents may also encounter their children refusing to return to the classroom. Mehta said there are several things parents can do to help their children transition to in-person learning, including re-establishing a consistent routine, catching up on their child's vaccinations and visiting the school ahead of the first day of class. It's also important that parents take time for themselves, he said. "Do an activity you enjoy or connect with friends. Your health is important too, and you can't help your children if you are not well. The past two years have been stressful and scary, but kids are resilient and with support they will bounce back for sure," Mehta said.
3. Unity Health researchers awarded more than $4.8M in funding
Seven research teams at Unity Health Toronto have received more than $.4.8 million in funding from The Canadian Institutes of Health Research. The funded projects will investigate a range of medical issues, including assessing kidney disease treatments, the storage and distribution of COVID-19 medication, and the electronic stimulation of facial muscles to treat depression. Congratulations to all of the investigators!
4. Study examines effect of a tailored sepsis treatment protocol
A St. Michael's-led study examined the effectiveness of a tailored sepsis treatment protocol on patient outcomes in a hospital in Ethiopia. Mortality due to sepsis – the body's extreme response to an infection – remains high, with an estimated 11 million sepsis-related deaths globally in 2017. Dr. Lisa Puchalski Ritchie, researcher at the Li Ka Shing Knowledge Institute, and her team designed and tested the effectiveness of a clinical tool that provides a guide to treating sepsis patients. The tool was tailored to meet the needs of the Tikur Anbessa Specialized Hospital in Ethiopia. Ritchie and her team found no improvement in sepsis outcomes, with a slight trend in improvement in odds of survival noted over the course of the year before implementation, and no improvement in survival odds after implementation. Ritchie said the findings highlight that while adapting tools to meet specific hospital needs can offer some solutions, they alone are likely to be insufficient to address the high-mortality burden of sepsis in low-resource settings.
5. Why are opioid-related deaths higher in northern Ontario? Dr. Tara Gomes weighs in
Dr. Tara Gomes, epidemiologist at St. Michael's Hospital, spoke to CBC Toronto about data from the coroner's office that found that eight Ontarians a day are dying in opioid-related deaths. Gomes said the death rates are higher in northern Ontario due to a number of factors, including higher unemployment and a lack of harm reduction services.
6. Drs. Sloane Freeman and Andrew Petrosoniak advise on how to prepare for the fall flu season
Drs. Sloane Freeman and Andrew Petrosoniak spoke at an Ontario Medical Association briefing, where they looked ahead to the fall flu season. Petrosoniak warned that wait times in Emergency Departments will likely worsen, while Freeman said parents should catch up on their child's routine vaccinations before school starts.
7. Dr. Danyaal Raza explains how health care privatization works on CBC's Frontburner podcast
The Ontario government is looking into private solutions to help ease the burden on the health care system. Dr. Danyaal Raza, family physician at St. Michael's Hospital, explains to CBC's Frontburner podcast how privatization of health care delivery works and why there are concerns it could leave some patients behind.
8. Dr. Naheed Dosani speaks to CTV Vancouver on how to solve food insecurity
A new report found that nearly one in six households in Canada experiences food insecurity. Dr. Naheed Dosani, palliative care physician at Unity Health, spoke to CTV Vancouver about the causes of food insecurity and how raising income supports and benefits to low-income Canadians can help fight the problem.
9. Game changer: Dr. Sean Rourke speaks to CBC News about investment in HIV self-testing kits
Dr. Sean Rourke, scientist at the MAP Centre for Urban Health Solutions, spoke to CBC News about the federal government's recent commitment to invest $8 million for HIV self-testing kits. Rourke said the kits will be a game changer for communities that are difficult to reach and that lack access to care. "This offers them an alternative, an option to get a test and really, positive or negative, get people connected to the care they need in their community," he said.
10. Dr. Tali Bogler speaks to City News about the popularity of epidurals for pain relief
Dr. Tali Bogler, chair of family medicine obstetrics at St. Michael's, told City News Toronto that epidurals remain the "gold standard" for pain relief among pregnant people, and is the most common choice for expecting parents.
Previous Ten Great Things articles