Patients with cystic fibrosis can now access a life-changing drug. Here's how the clinic at St. Michael's is helping them access it
February 28, 2022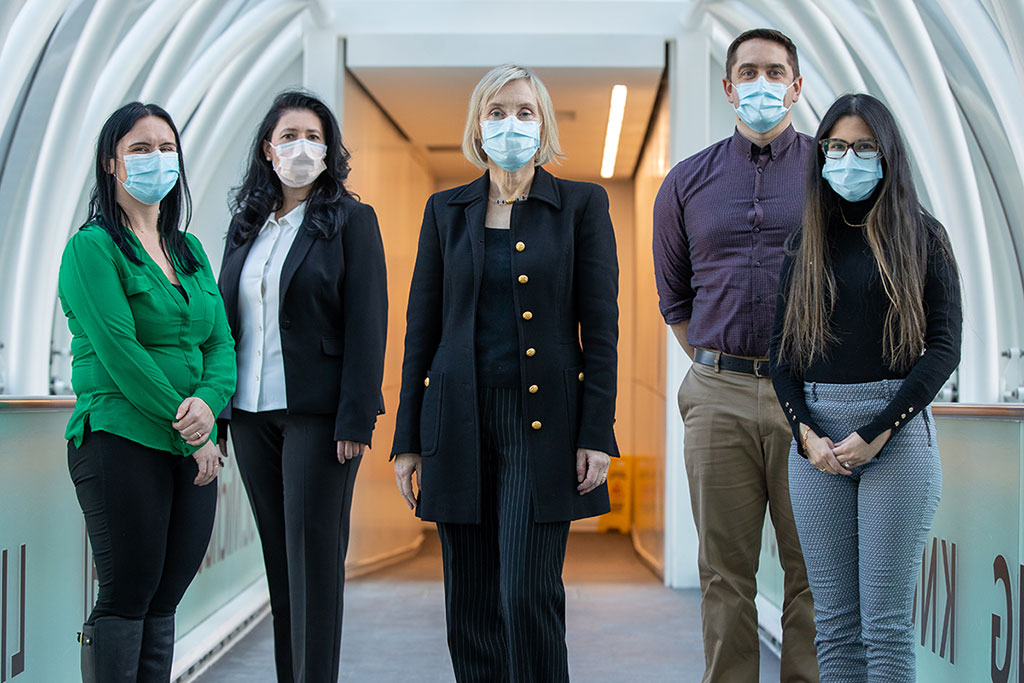 Things are a lot different at St. Michael's cystic fibrosis (CF) clinic these days.
"Normally patients cry because of bad news," says Desa Hobbs, Senior Clinical Program Director of the Heart, Lung and Vascular Program at Unity Health Toronto. "Our clinicians report that they now encounter patients who now cry once they know that they have access to this life-changing medication."
In September 2021, the province of Ontario announced it would provide coverage for Trikafta, a transformational and costly drug that can treat up to 90 per cent of the Canadian CF population who have the most common mutation of this genetic disease. Access to Trikafta was made possible, in part, by the involvement of St. Michael's patients in the drug's Phase 3 clinical trials and by research led by Dr. Anne Stephenson, a respirologist and researcher at St. Michael's Hospital, which showed that delaying access to Trikafta in Canada could result in avoidable deaths and hospitalizations.
"Trikafta is a very effective drug," says Dr. Elizabeth Tullis, Director of the Toronto Adult Cystic Fibrosis Clinic at St. Michael's Hospital. "The medication works throughout the body to correct the basic defect. It actually fixes the problem so, while you're taking it, your body behaves like it doesn't have CF."
Approximately 4,300 Canadians live with CF, which mainly affects the lungs and digestive system. CF is progressive, meaning it worsens over time, and lung damage will eventually lead to premature death.
Since the province's announcement, the team at the clinic – the largest adult CF clinic in North America, following over 650 patients – has been working tirelessly to facilitate coverage through public and private insurance for those patients who are eligible for Trikafta. Support from senior hospital leadership has ensured that the clinic is properly resourced with staff from various health disciplines to keep up with the volume of work, including social workers, pharmacists and drug access navigators as well as support in the Prescription Care Centre.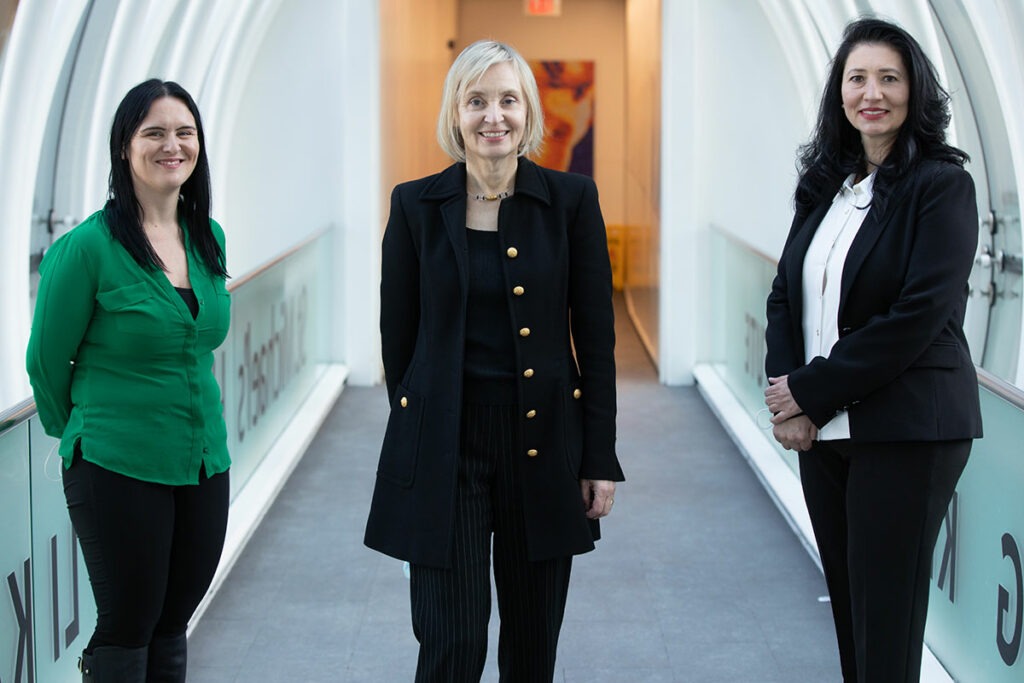 "There is a lot of work involved in arranging access to this medication for each patient, it requires dedicated resources that we don't necessarily have," says Desa Hobbs. "There are many competing priorities, especially given the pressures of the pandemic, but our teams work so very hard to overcome barriers so that they can provide access to Trikafta as soon as possible."
Samantha Davie is a Business Manager at Unity Health Toronto who supports the Heart, Lung and Vascular Program. She oversees the complement of staffing at the clinic and says the ultimate goal of her work is "making sure we're wrapping the care around the patients."
"I view my role as making sure the clinic itself and the clinic staff have what they need to support patients through this transition and to realize the benefits of this drug," she says.
In addition to providing the clinic with additional human resources, new processes were put in place at St. Michael's for the convenience of patients and to keep pace with the frequent tests that patients require to assess response to Trikafta.
To qualify for a cystic fibrosis transmembrane conductance regulator (CFTR) modulator drug such as Trikafta, patients need a sweat test before they begin the medication, within the first few months and then annually. The tests measures levels of salt in the sweat, which correlates to understand whether someone is absorbing the medication properly. Previously, patients at the St. Michael's CF clinic went to SickKids when they required sweat testing for CFTR modulator medications.
"SickKids was enormously supportive, but there was only so many spots," says Dr. Tullis. "We recognized that when Trikafta became available, this was going to be a rate-limiting step – we wouldn't be able to get people on Trikafta because we wouldn't be able to get the sweat tests done at baseline."
St. Michael's secured the funding to buy the equipment and now the laboratory department sends a technician to the clinic to do sweat tests so patients can be tested while they're in their clinic appointment instead of going to a different hospital at a separate time.
A patient's response to Trikafta is also tracked by computerized tomography (CT) imaging. The radiology department at St. Michael's now has two dedicated time slots each week that correspond with the days the CF clinic operates so patients can conveniently get CT scans and the clinic can get the results in a timely way.
"This is part of this one-stop patient care that we're aiming for at St. Michael's," says Dr. Tullis.
One of the challenges at the clinic has been that multiple patients require baseline testing all at the same time. Dr. Tullis says there are some clinic days where 10 patients will begin the drug at once.
"It's a lot of logistics: if you have to get lung function, blood work, sweat test, and CT scan all before you start therapy – then at one month there's safety measurements. You've got to get blood work again, then you've got to look at everyone's blood work and make sure it's okay for them to get their next dose and you've got to do it quickly so they don't have a gap in therapy…"
"The logistics make it frantic, but it's good frantic," she says.
Ultimately, the introduction of Trikafta has been a game-changer for patients with CF.
Though survival for people with CF has improved over the years with better drugs and treatments, the future for CF patients before Trikafta was uncertain. According to the Canadian CF Registry, the estimated median age of survival is now 54.3 years of age. Trikafta is changing that, says Dr. Tullis.
"Now with modulator therapy, people are beginning to feel like the sky is the limit. Patients are planning for previously unconsidered options, such as starting a family," she says, adding that the clinic social workers are helping patients navigate the anxiety associated with planning for a future they previously couldn't have imagined.
Dr. Tullis compares this moment to the excitement in 1989, when the gene responsible for CF was discovered by SickKids researchers. "All the research that's come from that discovery has come full circle and now we have effective treatments for the majority of people with CF," she said.
One of those people is 30 year-old Erika Castrucci. On Christmas Eve 2021, Erika started Trikafta and celebrated access to the medication by blowing out candles on a cake – symbolizing a new beginning. Erika began to immediately feel the medication working and within one month, her lung function increased by nearly 40 per cent.
"Needless to say, I cried in disbelief," said Erika. "To go from knocking on death's door, to breathing as someone unaffected by cystic fibrosis in less than a month is astounding to me. Trikafta and all of its glory will save my lungs from further rapid deterioration," she said.
"Trikafta has given me my life back, something I never thought possible. It has given me the opportunity for the first time ever, to realistically dream of growing old with my husband. To dream possibly even of dancing in the future at both of my sons' weddings. Maybe even the privilege of being a Nanna to my children's, future children. I have no idea what my future holds, but for the first time I'm not afraid," said Erika.
"Thank you Trikafta, you have not cured me of cystic fibrosis, but I now have been given a fighting chance."
By: Jennifer Stranges