Ten great things that happened this week
October 07, 2021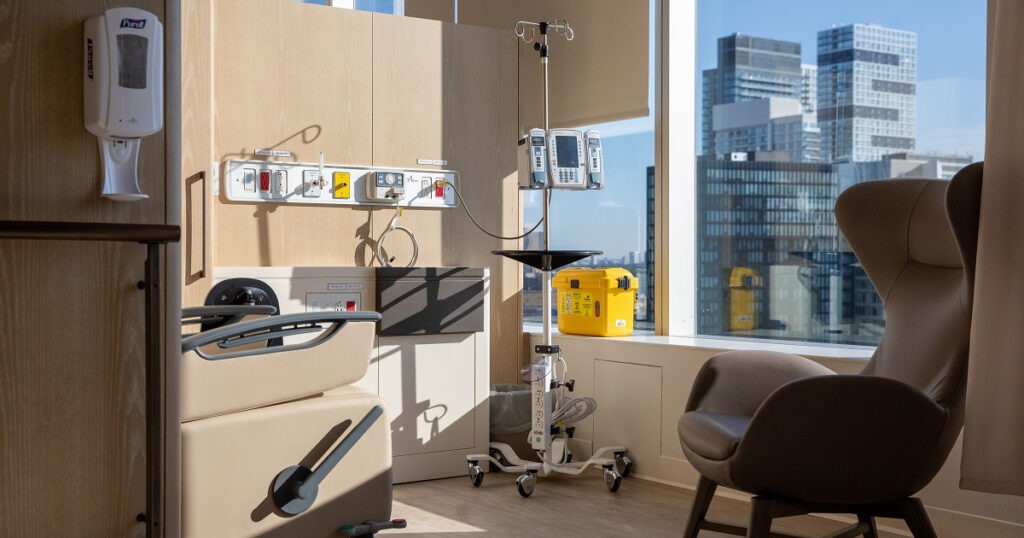 Each week, we're sharing a list of 10 great things that happened at our sites. Do you have a story you'd like to share? Send it to communications@unityhealth.to.
1) St. Michael's Hospital opens $42-million centre for Multiple Sclerosis care and research
Canada's largest clinic caring for people with Multiple Sclerosis (MS) is celebrating the grand opening of the BARLO MS Centre, ushering in a new era of patient care and research at St. Michael's Hospital. The centre, which occupies the top two floors of the hospital's new 17-story Peter Gilgan Patient Care Tower, is a 30,000 square foot, state-of-the-art facility designed to offer coordinated care for patients living with MS, an autoimmune disease of the central nervous system. Learn more about the centre.
2) Unity Health Toronto teams recognize National Day of Truth and Reconciliation
On Sept. 30, teams across our network recognized the inaugural National Day of Truth and Reconciliation. The Parent Advisory Committee at the St. Michael's Neonatal Intensive Care Unit donated custom made "Every Child Matters" onesies to each baby in the unit and also donated funds to Well Living House. The team at St. Joseph's Health Centre's Adult In-patient Mental Health unit (7M) facilitated a reflection group, which included a land acknowledgement, a moment of silence and a reflection of the Turtle Island creation story. The group wrote messages of support on paper orange shirts and posted the messages near the 7M elevator. At the Houses of Providence, residents participated in special mass live streamed from St. Michael Cathedral that incorporated Indigenous practices, watched a documentary about Chanie Wenjack, a twelve year-old boy who died on October 22, 1966, in flight from the Cecilia Jeffrey Indian Residential School near Kenora, and took part in other activities, including having orange shirt posters displayed with hand written messages on each floor.
3) Unity Health's Energy team saves more than half a million dollars in energy costs
With energy management, small changes can make a big difference. Unity Health's Energy Team has been working hard to reduce energy costs, saving more than half a million dollars with some of the small improvements they've made. Read more about their important work.
4) Emily Speelziek shares what she loves about her role at Providence for Occupational Therapy Month
October marks Occupational Therapy Month. To show our appreciation, we're highlighting how staff across Unity Health Toronto have stepped up in unprecedented ways to meet the needs of our patients, residents and families. We asked Emily Speelziek, Occupational Therapist, Geriatric and Medical Rehabilitation at Providence, what she loves most about her role in Occupational Therapy. Read what she had to say.
5) Unity Health marks National Catholic Health Care Week
We're celebrating National Catholic Health Care Week from Oct. 3 to 9. Almost 90,000 Canadians work in Catholic health care organizations across the country, sharing their gifts and expertise, building transformative relationships with those they serve through joy, sorrow, and everything in between.
6) St. Joseph's celebrates 100 years with a special cafeteria menu
In celebration of St. Joseph's Health Centre's 100th anniversary, the cafeteria recently featured a special "Roaring '20s" menu including cod cakes, roast beef au jus and root beer and cola floats for dessert. There was also a special archives display and '100 Year Strong' t-shirts for sale. Check out some pictures from the day.
7) We recognize Sonography Week
Sonographers are a valued part of the health-care system, and use their knowledge, skills and judgment to provide key diagnostic information. We recognize our sonographers for all they do to create the best care experiences for our patients. Happy Sonography Week!
8) We honour the recipients of the 2021 St. Michael's Our Shared Values awards
On Sept. 29, more than 200 staff, physicians and volunteers gathered online for the presentation of the St. Michael's Our Shared Values Awards, which honour a select group of people and teams who exemplify a commitment to our mission and values. Read more about each of the award recipients.
9) St. Michael's pilots new system to make breast biopsies less uncomfortable
It's no secret that mammograms are uncomfortable. To detect early signs of breast cancer, a machine firmly compresses a patient's breast between two plastic plates to flatten and hold the breast still as the X-ray image is taken. The process is longer when the breast needs to be biopsied. Now a new system being trialed at St. Michael's, the first Canadian site to use the system, could improve the patient experience. Learn more.
10) Researchers investigate gender-based inequities linked to homelessness
The COVID-19 pandemic has led to an increase in intimate partner violence, a leading cause of homelessness for women. Dr. Alexa Yakubovich, scientist at MAP Centre for Urban Health Solutions, analyzed this issue in a recent Violence Against Women Journal article. Dr. Yakubovich and co-authors argue that intersectoral action is key to addressing the determinants of gender-based inequities and to strengthening the response to violence and homelessness during the pandemic and beyond.
Previous Ten Great Things articles