Ten great things that happened this week
August 19, 2021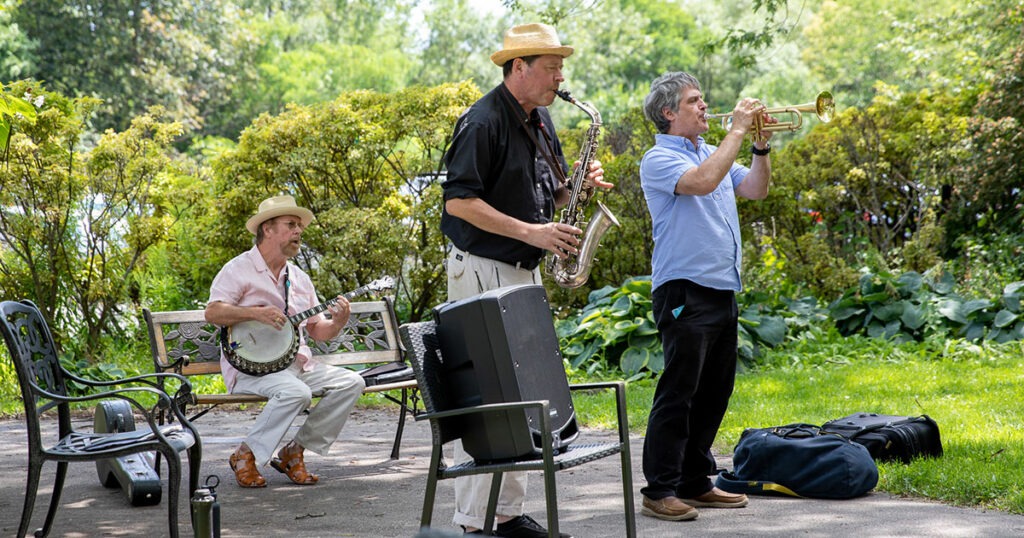 Each week, we're sharing a list of 10 great things that happened at our sites. Do you have a story you'd like to share? Send it to communications@unityhealth.to.
1) Jazz concert wish comes true for a patient in palliative care at Providence
For almost 30 years, Ted Devenish spent his weekends enjoying live jazz music at Grossman's Tavern on Spadina Avenue, near College Street, in Toronto. As a patient in palliative care at Providence Healthcare, Ted worried he wouldn't be able to visit Grossman's again. Earlier this month, Ted's family came up with a creative solution. Since Ted couldn't visit Grossman's, the family brought Grossman's to Ted. Read more.
2) Dr. Tara Kiran pens Toronto Star op-ed on ensuring every Canadian has access to primary care
"Health systems founded on good primary care have better outcomes, lower costs and better equity," write Dr. Tara Kiran and her co-author Dr. Danielle Martin. But about 4.6 million Canadians report that they do not have a family doctor. Dr. Kiran and Dr. Martin outline ways to build a strong primary care system and help meet the challenges arising from the pandemic. Read more.
3) St. Joseph's celebrates its 100th anniversary
This year St. Joseph's Health Centre will celebrate a century of exemplary care. The Sisters of St. Joseph of Toronto founded St. Joseph's Hospital in 1921, in what was once their Sacred Heart Orphanage. Learn more about St. Joseph's rich and proud history of providing exemplary and compassionate care over the past century.
4) Dr. Carolyn Snider discusses physician burnout during the pandemic with the Canadian Press
A pair of surveys conducted by the Ontario Medical Association in 2020 and 2021 suggest physician burnout, characterized by exhaustion and feelings of detachment, was on the rise during the pandemic. Dr. Carolyn Snider, Chief of Emergency Medicine at St. Michael's, shares her experience and discusses how health care facilities can support physician wellness with The Canadian Press.
5) Will Canada follow the United States and begin offering a third shot of the COVID-19 vaccine? Dr. Fahad Razak weighs in
Starting September 20, the United States will begin to offer a third dose of the Pfizer or Moderna COVID-19 vaccines to Americans. Dr. Fahad Razak was on CTV News Channel to discuss why healthy Canadians will not have access to booster shots yet.
6) Dr. Shazeen Suleman leads study on improving access to health care for refugee children and youth
A study led by Dr. Shazeen Suleman and published in Paediatrics & Child Health found that Canadian pediatricians have poor understanding of the Interim Federal Health Program (IFHP) – a program meant to provide temporary healthcare coverage to refugees and refugee claimants. Learn more about the results from the study.
7) Should immunocompromised people get a third shot of the COVID-19 vaccine? Dr. Darren Yuen weighs in
There is now a push in Canada for a third dose of a COVID-19 vaccine for people who are immunocompromised. Dr. Darren Yuen spoke to Global News about the antibody response in transplant patients compared to the general population.
8) The CDC now recommends COVID-19 vaccines for pregnant people. Dr. Tali Bogler explains why
The United States' Centers for Disease Control and Prevention (CDC) is now urging all pregnant individuals to get the COVID-19 vaccine. Dr. Tali Bogler joins CTV News to discuss why pregnant people should get vaccinated as soon as possible and the data behind the recommendation. Watch the segment.
9) Dr. Fahad Razak discusses key considerations for planning an election during a pandemic with CBC News
As Canadians prepare to head to the polls in September, Dr. Fahad Razak says Elections Canada should take into consideration location, riding and public health restrictions in the particular community. He outlines a few steps that can be taken to keep voters as safe as possible. Read more.
10) Dr. Sean Rourke discusses HIV self-testing kits on CANFAR2025 Conversations
"We have the knowledge and the tools, now it's all about the execution." Dr. Sean Rourke spoke with CANFAR National Ambassador Matt Hyams about HIV self-testing kits and how the tool can help people get connected to care. Watch the segment.
Previous Ten Great Things articles