Ten great things that happened this week
September 30, 2021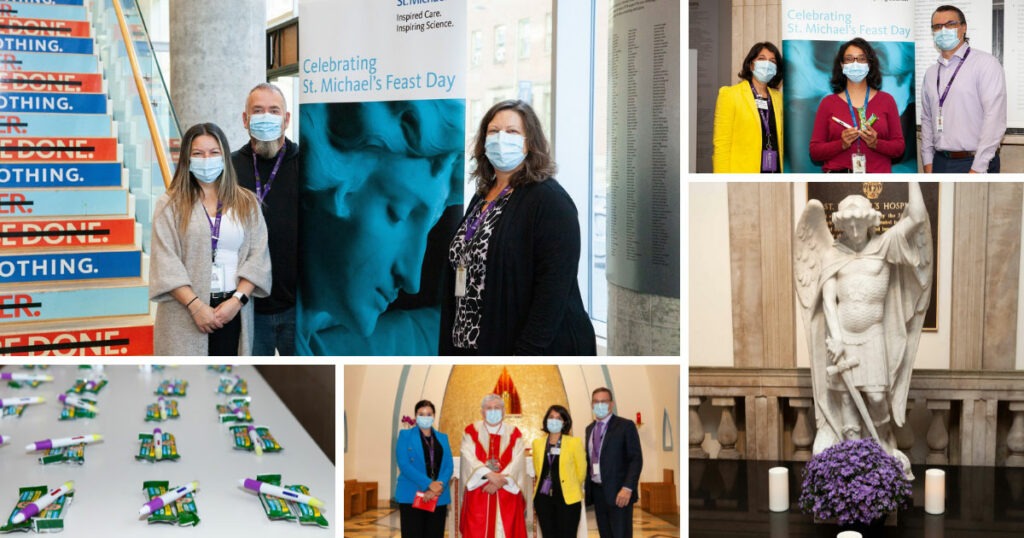 Each week, we're sharing a list of 10 great things that happened at our sites. Do you have a story you'd like to share? Send it to communications@unityhealth.to.
1) We recognize National Day for Truth and Reconciliation
At Unity Health, we are committed to making transformative changes in our relationship with First Nations, Inuit and Métis individuals and in supporting Indigenous-led improvements to health care and care experiences. For National Day for Truth and Reconciliation, Dr. Tim Rutledge, President and CEO of Unity Health Toronto, shared a message to highlight the concrete actions Unity Health is working on, as well as actions we can all make as individuals. Read Dr. Rutledge's full message.
2) We celebrate St. Michael's Feast Day
On Sept. 29, we celebrated St. Michael's Feast Day to recognize the ways in which St. Michael's staff, physicians, learners, patient and family partners and volunteers live our mission and values in their day-to-day work. To say thank you, members of Unity Health's leadership team were on hand for a special welcome.
3) Unity Health researchers find that most adults who are homeless experienced childhood trauma
A new paper led by Michael Liu and Dr. Stephen Hwang found most adults experiencing homelessness have faced an incredible burden of childhood trauma. We spoke with Michael, a research coordinator at St. Michael's MAP Centre for Urban Health Solutions, a medical student at Harvard University and a Rhodes Scholar, about the systematic review and meta-analysis and why he says services must be trauma-informed and there must be a greater emphasis on early-intervention. Read the full story.
4) Dr. David Jenkins inducted to the Canadian Medical Hall of Fame
Congratulations to Dr. David Jenkins, director of the Clinical Nutrition and Risk Factor Modification Centre and a scientist in the Li Ka Shing Knowledge Institute of St. Michael's Hospital, for being one of six new Canadian health leaders to be inducted into the Canadian Medical Hall of Fame.
5) Dr. Jonathan Maguire evaluates when it's best to introduce babies to solid foods
Babies introduced to solid food at six months have more favorable growth and nutrition, according to new research led by Dr. Jonathon Maguire. The paper analyzed almost 9,000 children over 10 years and found that introduction of infant cereal at six months versus four months of age was associated with lower odds of childhood obesity and more favorable eating behavior throughout childhood. Learn more about the study.
6) Dr. Yvonne Bombard investigates how patients prefer to be contacted with updated genomic results
In genetics, there are variants of gene sequences where the disease risk is unclear. Letting patients know about updates in gene variants of uncertain significance can be challenging. A study led by Dr. Yvonne Bombard's lab aimed to understand preferences for being recontacted with updated results. The study, published in Human Genetics, found that participants want to be recontacted, and support an online database to recontact when gene variants of uncertain significance are reclassified.
7) Study highlights the importance of standard public health protection
Early data from a study led by Drs. Darren Yuen, Ron Wald and Catriona Mcevoy suggests two doses of a COVID-19 vaccine may offer some protection for kidney transplant patients, but likely less so than in the general population. The findings demonstrate that risk of infection and poor outcome were predominantly determined by community infection rates and how recent the patient's transplant was. The authors say the findings point to the importance of standard public health protection like masking and physical distancing, regardless of vaccination status. Read the study.
8) We spotlight Unity Health researchers who are part of September's Research Honour Roll
Every month, we celebrate Unity Health researchers who received awards and achievements. Congratulations to all honoured in September, including two recipients of the John R. Evans Leaders Fund from the Canada Foundation for Innovation and one induction into the Canadian Medical Hall of Fame. Read more.
9) How can we make the process for vaccinating children equitable? Dr. Tara Kiran weighs in
For the effort to vaccinate children to be equitable, technology and language shouldn't be barriers to booking appointments, says Dr. Tara Kiran, physician with St. Michael's Academic Family Health Team. She tells the Toronto Star why the student vaccination effort should be primarily schools-based.
10) Dr. Arthur Slutsky spoke to The Globe and Mail about new modelling from Ontario's Science Advisory Table New modelling from the Ontario COVID-19 Science Advisory Table shows Ontario is doing much better overall than Western provinces in combatting the virus, but remains in a fragile situation. Dr. Arthur Slutsky, scientist in the Keenan Research Centre for Biomedical Science, spoke to The Globe and Mail about the progress and cautious approach.
Previous Ten Great Things articles