Ten great things that happened this week
June 02, 2022
Each week, we share a list of 10 great things that happened at our sites. Do you have a story you'd like to share? Send it to communications@unityhealth.to.
1. Dr. Janet Smylie reflects on new role as Strategic Lead of Indigenous Wellness, Reconciliation and Partnerships
We spoke with Dr. Janet Smylie about her new role working on projects that support Unity Health's ongoing efforts to develop a strategy and framework for the advancement of Indigenous health and reconciliation. We spoke to her about what attracted her to the role, the importance of collaboration with Indigenous communities, and the challenges Unity Health faces repairing relationships with Indigenous peoples as a Catholic health care network.
2. Pride Month kicks off at Unity Health
We recognized the start of Pride Month at our hospitals by wishing all 2SLGBTQ+ staff, physicians, learners, volunteers and patients a Happy Pride. Progress Pride flags have been raised at all of our sites, and we've launched an internal PRIDE resource page on UnityNet. There is more content planned to celebrate Pride throughout the month, so be sure to check out our Communications channels. Happy Pride to all!
3. St. Michael's neurovascular team broadcasts procedure at Louvre Museum in Paris
The St. Michael's Hospital neurovascular team was one of the few select sites to participate in the Live Interventional Neuroradiology & Neurosurgery Course (LINNC). The main course, held at the Louvre Museum in Paris, featured leading hospitals broadcasting their cutting-edge cases. The St. Michael's team showed two cases involving the treatment of aneurysms: a robot-assisted WEB device placement for an anterior communicating artery aneurysm and a flow diversion case for an internal carotid artery aneurysm. Dr. Thomas Marotta presented the case in Paris, while Dr. Vitor Pereira and Dr. Julian Spears performed the case at St. Michael's Hospital. They received support from Nicole Cancelliere of the RADIS lab, Dr. Gregory Hare (anesthesiologist), Bryce Hunt (technologist), Sunhee Jang (nurse), and fellows: Dr. Jose Danilo B. Diestro, Dr. Vivek Bodani, Dr. Kislay Kishore, Dr. Richard Olatunji, and Dr. Hidehisa Nishi. Congratulations to all of the team members on the honour and job well done! Access the replay here: https://www.linnc.com/.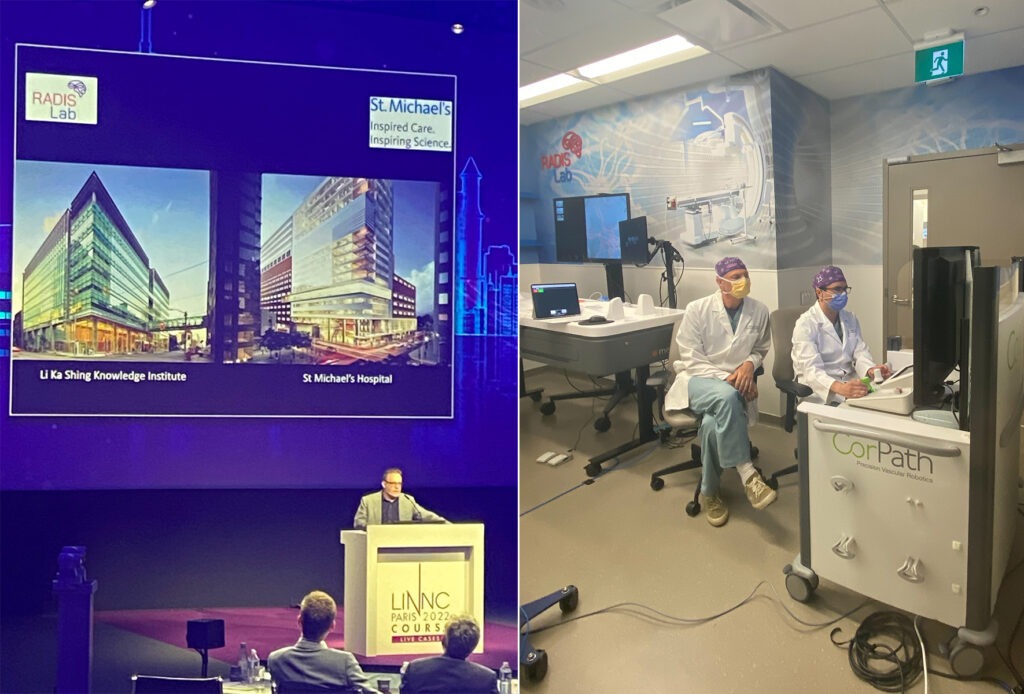 4. Unity Health team raises funds, awareness for Multiple Sclerosis
A crew of Unity Health staff, physicians and learners participated in the Toronto Multiple Sclerosis Walk on May 29. The team name "BARLO MS Myelin Brigade" referenced the BARLO MS Centre at St. Michael's Hospital, Canada's largest clinic caring for people with MS. The BARLO brigade won the award for the largest team, raising $6,110. The team is looking forward to fundraising for next year's walk. Congratulations to all of the team members!
5. Building awareness during Stroke Awareness Month
To recognize Stroke Awareness Month, we highlighted the signs of stroke and when people should call 911. All of our hospitals care for stroke patients, with St. Michael's Hospital being the regional stroke centre within the South East Toronto Stroke Network, and Providence earning Distinction in Stroke Services from Accreditation Canada. On June 1, the CN Tower was lit in red and blue, the colours of the Toronto Stroke Network.
6. Meta-analysis finds targeted radiation therapy may be as effective as standard care for lung cancer patients with brain metastases
A new study led by St. Michael's hospital researchers suggests that a targeted radiation therapy is equitable to the current standard of care for patients whose lung cancer has metastasized to the brain. The study, authored by research student Karolina Gaebe, suggests that implementation of this targeted approach, which is known to have fewer negative cognitive consequences for patients, could potentially improve the patient experience. "For many years, it made sense to treat these patients with whole brain radiation because their survival was quite poor," she said. "For them, long-term consequences of the treatment were not as crucial as reducing the impact of disease in the short-term. But now, as treatments for their lung cancer have improved, these patients are surviving much longer." Gaebe is a student in the lab of Dr. Sunit Das, neurosurgical oncologist at St. Michael's Hospital.
7. Survey highlights pandemic's toll on personal support workers
New research from the Upstream Lab is highlighting the toll of the pandemic on personal support workers (PSWs). The study, which involved a survey of more than 600 PSWs and in-depth interviews, showed that despite the high demand for health services during the pandemic, PSWs reported increased job insecurity. Other PSW concerns included precarious work conditions and fear of contracting COVID-19. "Even when PSWs were heralded as heroes during the pandemic, the treatment they received showed otherwise. Many PSWs continued to face poor working conditions and precarious employment despite supporting the most vulnerable during the pandemic. They deserve decent work conditions and better compensation now," said Pinky Hapsari, first author on the study and research coordinator at the Upstream Lab, housed at the MAP Centre for Urban Health Solutions at St. Michael's Hospital.
8. Unity Health recognizes research excellence in May
Unity Health staff, researchers, physicians, learners and teams across our network were recognized in the May Honour Roll for receiving honors, achievements and awards for their work. Recognitions in the month of May included: several St. Michael's scientists who received Faculty Recognition Awards from the Institute of Medical Science at the University of Toronto, Dr. Yvonne Bombard and her team for receiving funding in the 2022 Accelerator Grant Competition, and Dr. Sunit Das for receiving a grant from Brain Cancer Canada. Congratulations to all those recognized!
9. Dr. Joan Cheng opens meeting for Women in Emergency Medicine
Dr. Joan Cheng, chief and program medical director of the St. Joseph's emergency department, opened the annual committee meeting for the Women in Emergency Medicine Section of the Canadian Association of Emergency Physicians in Quebec City. Dr. Cheng gave a talk called, "Being Visible," and spoke about the importance of social location with respect to expert opinion, why it is important for marginalized groups to highlight their accomplishments, and gave tips on how to do it. Congratulations Dr. Cheng!
10. Dr. Shazeen Suleman calls for higher minimum wage to improve children's health
In an op-ed in the Toronto Star, Dr. Shazeen Suleman, pediatrician at St. Michael's Hospital, called for decent work to help improve children's health. Nearly 25 per cent of children in Toronto live in poverty. Dr. Suleman pointed out that inadequate income can have deep and wide-ranging effects on a child's well-being. She called for a higher minimum wage and paid sick leave to help improve child health across the province.
Previous Ten Great Things articles