Ten great things that happened this week
May 19, 2022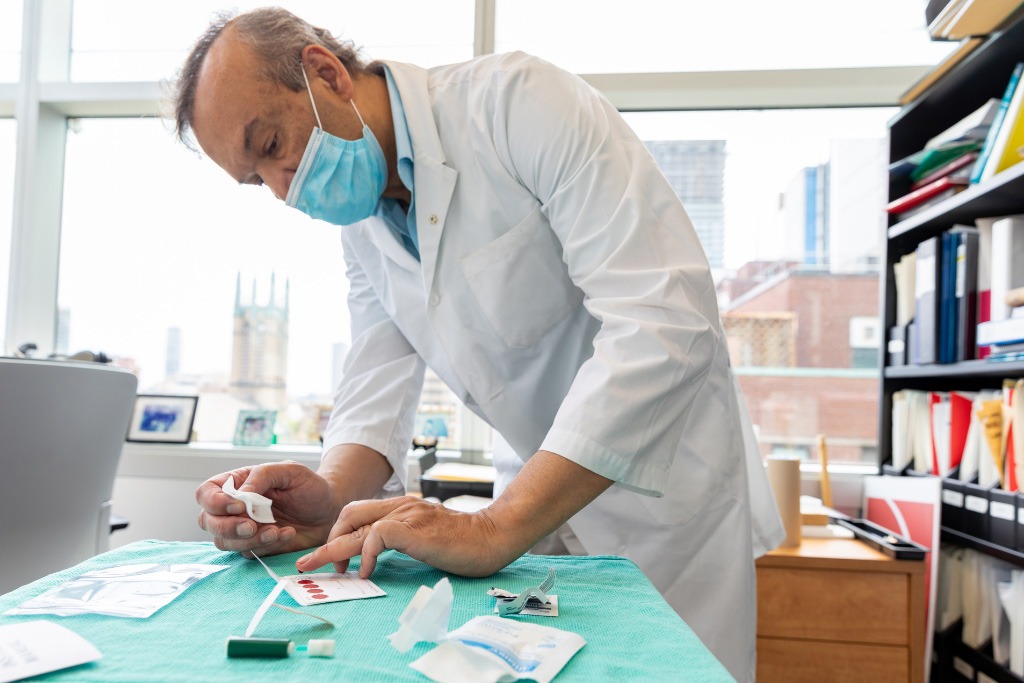 Each week, we share a list of 10 great things that happened at our sites. Do you have a story you'd like to share? Send it to communications@unityhealth.to.
1. St. Michael's-led research shows extent of Omicron infections in Canada
Nearly 30 per cent of Canadian adults – roughly nine million people – were infected during the Omicron wave early in 2022, compared with just 10 per cent who had been infected in previous waves, according to a new study led by Dr. Prabhat Jha, epidemiologist at St. Michael's Hospital and director of the Centre for Global Health Research. The study, published in The New England Journal of Medicine, also found that every dose of vaccine and previous infection boosted immune responses. Canadian adults with three vaccine doses and a past COVID infection had the highest protection.
2. Dr. Doug Campbell answers questions about the 'promising' COVID vaccine for kids under five
Pending authorization from Health Canada, there may soon be a COVID vaccine available for kids under the age of five. Dr. Doug Campbell, director of the NICU and deputy chief pediatrics at St. Michael's, answered questions about the Moderna vaccine that's currently being reviewed. He said the vaccine, which data suggest prompts a good immune response, will be welcome by many families. "It should bring great comfort to parents knowing they are keeping their child safe and preventing spread in the house – and that might be the more important reason why you want to get your child vaccinated as soon as possible," he said.  
3. Unity Health Physicians highlight the importance of primary care
For World Family Doctor Day, we spoke with Drs. Daphne Williams and Dr. Karen Weyman, chiefs of family and community medicine at St. Joseph's Health Centre and St. Michael's Hospital respectively. We asked them about their unique career paths, why they chose family medicine and how they view the role of family medicine in a patient's life. "The pandemic has highlighted that strong primary care is the cornerstone of a strong healthcare system," said Dr. Williams. In an interview with the Etobicoke Guardian, Dr. Tara Kiran spoke about her recent research looking at the impact of the pandemic on family doctors, and why it's critical to address the shortage of family physicians.
4. Unity Health celebrates National Physiotherapy Month
We profiled several physiotherapists and physiotherapy assistants at our hospitals to mark National Physiotherapy Month. Physiotherapists at Unity Health play a key role in helping patients in their recovery journey, especially throughout the COVID-19 pandemic. Irene Nicolakis, physiotherapist at Providence Healthcare's Post-COVID Condition rehabilitation program, said remaining flexible and open to change was key to providing continuous care throughout the last two years. "It is strategies of adaptability, flexibility, change in perspective and continuous learning alongside my supportive colleagues that have allowed me to continue to provide effective patient-centred care, and to persevere as a clinician through these challenging and uncertain times," she said.
5. City of Toronto invests in THRIVE violence-intervention program at Unity Health
Mayor John Tory announced funding to sustain and expand hospital-based violence intervention programs, including the THRIVE program at Unity Health. The Toronto Hospital-based Reducing Injury from Violence Intervention and Evaluation (THRIVE) program at St. Michael's is a new program for victims of violence that coordinates wraparound services and aims to maintain a continuum of care for them after they're discharged from hospital. The funding will go towards two support workers who will work with patients throughout their recovery. Dr. Carolyn Snider, chief of emergency medicine at St. Michael's, said that the hospital sees more than 4,000 patients with an injury due to violence each year, and more than 80 per cent are discharged directly from the ED. "Similar programs such as these have demonstrated a large reduction in recurrent violent injury, increased engagement in education and decreased involvement in the justice system," she said.
6. Toronto Star spotlights COVID risk for transplant recipients, transplant program at St. Michael's Hospital
The Toronto Star spotlighted the COVID-19 risk that transplant recipients continue to face, and the physicians and clinicians at St. Michael's who provide care and guidance for transplant patients . Transplant recipients are more vulnerable to COVID-19 due to the anti-rejection drugs they must take. Transplant Nephrologist Dr. Darren Yuen, Kidney Transplant Nurse Co-ordinator Galo Meliton, and Social Worker Sharon Lee spoke about how they're supporting patients through this difficult time. "They know the nature of their immune system. They know they are not able to fight infections like an ordinary person," said Meliton of the transplant patients he sees. "Just like the fear of (organ) rejection, the fear of infection is always there, lingering in the background." 
7. Study highlights factors leading to hospital readmission for COVID-19 patients
A study co-authored by Dr. Amol Verma offers a closer look at possible factors that may lead to a COVID-19 patient being readmitted to the hospital within a month of initial discharge. The study, published in The Canadian Medical Association Journal, examined over 40,000 adult hospitalizations in Alberta and Ontario during the first part of the pandemic. It found that the combined rate of readmission or death was similar in each province, at 9.9 per cent in Alberta and 10.6 per cent in Ontario. The report also found that readmitted patients tended to be male, older and had other comorbidities. It also found that socioeconomic status played a role.
8. Dr. Ashley Verduyn speaks about the need for more long COVID rehab programs
Providence Healthcare has one of the few rehab programs in Ontario for patients with Post-COVID Condition, also known as "long COVID." Dr. Ashley Verduyn, medical director at Providence, spoke to Cambridge Today about the urgent need to establish more Post-COVID rehab programs. "We have a long wait list now," she said. "We are seeing more people with lingering symptoms of COVID and family physicians are wondering what it is and how they can help their patients."
9. Dr. Gabor Kandel honoured by the University of Toronto
Dr. Gabor Kandel, gastroenterologist at St. Michael's Hospital, has been inducted into the University of Toronto's Department of Medicine Academy of Master Clinicians. The honour recognizes leadership among those clinicians "who have demonstrated consistent outstanding clinical performance and the highest standard of patient care." Congratulations Dr. Kandel!    
10. Two chiropodists reflect on foot care during the pandemic
We spoke with two chiropodists at St. Michael's Hospital in recognition of Foot Health Month. Jessica Rew and Shawna Browne spoke about how COVID-19 has impacted foot care, noting that clinic closures and apprehension about having in-person appointments led to many patients resorting to unsafe self-treatment measures. "As a result, there were an increase in foot complications, such as wounds, infections and in-grown toenails. This has highlighted why regular foot care is essential and access to chiropody services should be made more widely available."
Previous Ten Great Things articles