Ten great things that happened this week
April 28, 2022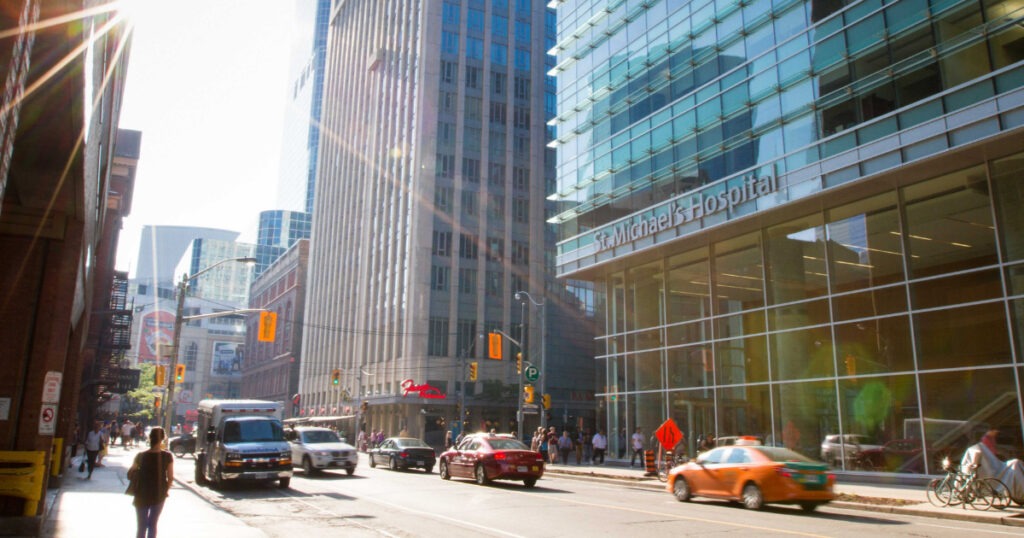 Each week, we share a list of 10 great things that happened at our sites. Do you have a story you'd like to share? Send it to communications@unityhealth.to.
1. Unity Health collaborates with Signal 1 to bring AI solutions to healthcare
Unity Health Toronto is collaborating with startup Signal 1 to improve patient outcomes and transform healthcare using artificial intelligence. Signal 1 will build on and commercialize AI systems that were developed by the Unity Health Data Science and Advanced Analytics team, and that are already in use at St. Michael's Hospital. One of the systems Signal 1 will work to commercialize is CHARTWatch, a tool that uses data to predict which patients will need ICU care. Preliminary data show the tool has led to a significant drop in mortality among high-risk patients. "This is a landmark step for Canadian health care," said Unity Health Toronto CEO and President Dr. Tim Rutledge in The Globe and Mail. "It's a first partnership that will result in scaling up health care innovation that can make a difference globally."
2. Unity Health recognizes community members who improve the patient experience
In honour of Patient Experience Week, we recognized Unity Health community members who've made meaningful contributions to improving the patient experience. This year, the patient experience team is celebrating the idea of small deeds that make a big difference. For example, Mona K., a registered practical nurse at St. Joseph's, was recognized for her willingness to help any patients, even if she is not their primary nurse. "I've never heard her say, 'That's not my patient,'" her team members said. Congratulations to all who help create best care experiences!
3. St. Joseph's volunteer honoured with Governor General Sovereign Medal
George Linton, a longtime volunteer at St. Joseph's, was awarded the Governor General Sovereign Medal for volunteers. For decades, George has brought music and smiles to patients in Toronto-area hospitals by singing and playing guitar for them. He is noted for his wide repertoire of songs and his willingness to learn any song a patient requests. Congratulations George!
4. 'The most exhilarating things you can do': Unity Health celebrates National Volunteer Week
In honour of National Volunteer Week, we profiled three Unity Health volunteers and their volunteer roles at our hospitals. Joanna De Giorgis and her dog Chloe have been volunteering at the Houses of Providence since 2018. Luisa Mispireta has been volunteering at the St. Michael's gift shop since 2018, and Jim Thompson has been volunteering at St. Joseph's since 2014. Joanna spoke about the joy she feels seeing residents interact with Chloe. "I love everything about volunteering, but mostly seeing the smiles on the faces of everyone who comes into contact with my Chloe. There is no price to affix to that joy."
5. Dr. Yvonne Bombard speaks about tackling inequities in genetic testing
For World DNA Day, we profiled Dr. Yvonne Bombard, a genomics researcher and scientist at the Li Ka Shing Knowledge Institute. Dr. Bombard heads up a lab that evaluates the adoption of genomic medicine practices and creates digital solutions to optimize access to genetic testing. She's currently tackling the deeply-rooted inequities that exist in accessing genetic testing and receiving care-altering results. "We know of the power of genomic information and the promise it has to improve patient outcomes and public health," she said. "Our systems just are not yet designed and set up to enable equitable access to it."
6. Spotlight on St. Michael's researchers examining powder alternative to plasma
St. Michael's researchers are participating in a trial to understand whether a powder alternative to plasma could prove to be a more accessible, more efficient and safer option. Dr. Katerina Pavenski, Dr. Andrew Beckett and Dr. Andrew Petrosoniak, researchers at the Li Ka Shing Knowledge Institute, said the trial involves treating trauma patients with massive bleeding with a transfusion of red blood cells. But instead of plasma, they receive products called fibrinogen concentrate and prothrombin complex concentrate. These processed products treat and prevent bleeding. "This could change the way we deliver care to massively bleeding trauma patients," said Dr. Pavenski.
7. Dr. Mark Yudin speaks about normalizing pregnancy and postpartum care for people living with HIV
In honour of Canadian Infertility Awareness Week, Dr. Mark Yudin was profiled for his work providing holistic and knowledgeable care to people living with HIV who are pregnant. Dr. Yudin spoke about the impact of the "Undetectable equals Untransmissible" campaign, and his work co-founding the Positive Pregnancy Program (P3) at St. Michael's Hospital. Since its inception in 2006, P3 has seen more than 300 pregnancies and nearly 350 babies. The program averages 20-30 births per year, and cares for the largest number of parents-to-be living with HIV of any single site in Canada. "We want to normalize pregnancy and postpartum care for people living with HIV," said Dr. Yudin. "This is their pregnancy. This is a happy part of life. Let's treat it that way."
8. 'Fulfill a wish of giving': Unity Health spotlights organ donation
As Be A Donor Month wraps up, we spotlighted Yinka Jinadu and Dr. Michael Hickey. Yinka received a life-changing kidney donation from her father in 2018, and Dr. Michael Hickey is an intensive care and donation specialist at St. Joseph's. Yinka spoke about how organ donation changed her life. "I'm happier. I'm healthier, and that's only possible because of organ donation," she said. Dr. Hickey noted how organ donation also allows people to "fulfill a wish of giving."
9. Dr. Nav Persaud weighs in on universal pharmacare election promises
Dr. Nav Persaud, family physician at St. Michael's and Canada Research Chair in Health Justice, spoke to CBC's Metro Morning about his research that finds that universal pharmacare would reduce overall healthcare costs, as well as save billions on drug prices.
10. Dr. Sheila Wijayasinghe talks about why women's pain is often overlooked
Dr. Sheila Wijayasinghe, family physician at St. Michael's Hospital, spoke to CBC's The Current about why female patients' pain is often overlooked or misdiagnosed and what role physician bias plays.
Previous Ten Great Things articles