Ten great things that happened this week
May 05, 2022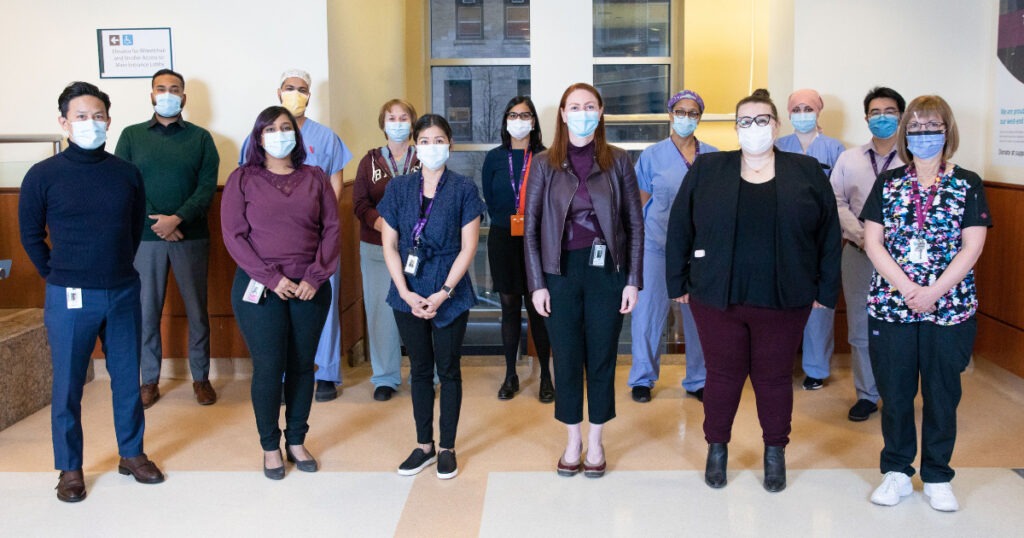 Each week, we share a list of 10 great things that happened at our sites. Do you have a story you'd like to share? Send it to communications@unityhealth.to.
1. Dr. Fahad Razak named new director of Ontario COVID-19 Science Table
Dr. Fahad Razak has been named as the incoming director of the Ontario COVID-19 Science Table. Dr. Razak, an internist and scientist at St. Michael's Hospital, has been a member of the science table since its inception and has contributed to many briefs, including long-COVID, hospital visitor policies, vaccines and therapeutics. He will be replacing Dr. Peter Jüni, who will be leaving Ontario in June for Oxford University. Congratulations, Dr. Razak!
2. Our Shared Values Awards presented at St. Joseph's Health Centre
Dr. Tim Rutledge, president and CEO of Unity Health, and other leaders presented Our Shared Values Awards to St. Joseph's community members who exemplify a commitment to our network's values of Community, Compassion, Excellence, Human Dignity and Inclusivity. Some of the award winners include: Glendale House, which won the Human Dignity Award; Ricky Bhardwaj, who won the Compassion Award; and the Surgical Program, which won the Inclusivity Award. Congratulations to all the winners on a job well done!
3. St. Michael's-led study on impact of vegetarian diet on kids gets global press coverage
A new St. Michael's-led study found that children who eat a vegetarian diet had similar measures of growth and nutrition compared to children who eat meat. The study, led by Dr. Jonathon Maguire, evaluated nearly 9,000 children across Canada between the ages of six months to eight years. Data for the TARGetKids! cohort was collected between 2008-2019. The study garnered global press coverage, including write ups in CNN and The Daily Mail.
4. Spotlight on St. Michael's researchers tackling treatments for Multiple Sclerosis
We profiled Dr. Reza Vosoughi, Director of MS Clinical Trials at the BARLO MS Centre, and Sandra Felix, Research Program Manager for MS Research. Dr. Vosoughi and Felix's team has been researching treatments for primary or secondary progressive Multiple Sclerosis (MS). During the pandemic the research team was able to continue following patients already enrolled in trials for progressive MS. Now, with the pandemic stabilizing, they're able to recruit participants again, and the team has already kicked off three new trials. "There is a major need for research in MS," said Felix. "Now that we can recruit more, the floodgates have opened."
5. 'It's about living well': Three Unity Health palliative care providers reflect on their profession
In honour of National Hospice Palliative Care week, we spoke with Dr. Jennifer Hopfner, Dr. Naheed Dosani and Palliative Patient Care Manager Jacqueline Lumsden about the changes they saw during the pandemic and how they'd like to see palliative care evolve. "I think we need to take a step back and really revisit palliative care and what that means from an equity, diversity and inclusion lens for Black and Indigenous communities and People of Color (BIPOC)," said Jacqueline.
6. St. Michael's Youth Council gets the scoop on youth mental health from a pediatrician
In recognition of Mental Health Week, members of the St. Michael's Youth Advisory Council submitted mental health questions via video to Dr. Jessica Malach, a pediatrician at St. Joseph's Health Centre. The questions spanned a variety of topics, from why sleep is important for mental health, to what doctors do to keep up to date on the mental health needs of children and youth.
7. Dr. Amol Verma recognized for use of data and analytics to impact system-level changes
The Royal College of Physicians and Surgeons of Canada awarded Dr. Amol Verma with an award for Early Career Leadership in Health Policy/Health Systems. The annual award recognizes three Royal College Fellows who have shown outstanding leadership, initiative, service and/or innovation in medical education, health policy and professional practice. Dr. Verma, internal medicine physician at St. Michael's, was recognized for his work using data sets to bring about systems-level change to hospital care. Dr. Verma co-founded GEMINI, a data collaborative driving quality improvement and research that currently holds data from more than 1 million patients across 30 hospitals. Congratulations, Dr. Verma on the award!
8. Dr. Ripudaman Minhas recognized for mental health advocacy
Unity Health Developmental Pediatrician Dr. Ripudaman Minhas was recognized as a mental health advocate by the Council of Agencies Serving South Asians. Dr. Minhas, who was one of six advocates recognized, will take part in a panel discussion on May 25 to discuss mental health supports in the South Asian community.
9. CBC News gets inside look at Toronto's Drug Checking Service
Karen McDonald, operations manager at the Centre on Drug Policy Evaluation, and Dr. Dan Beriault, head of biochemistry at Unity Health Toronto, gave CBC news a behind-the-scenes look at Toronto's Drug Checking Service, a free anonymous service that analyzes samples of unregulated drugs in a bit to reduce harm.
10. Unity Health recognizes National Physicians' Day
Unity Health recognized National Physicians' Day and thanked all of the physicians at our hospitals who work to keep patients and communities healthy. Thank you for your commitment and dedication, particularly throughout the last two years of the pandemic!
Previous Ten Great Things articles