First-of-its-kind inpatient mental health unit opens at St. Joseph's for young adults age 19 to 26
March 31, 2022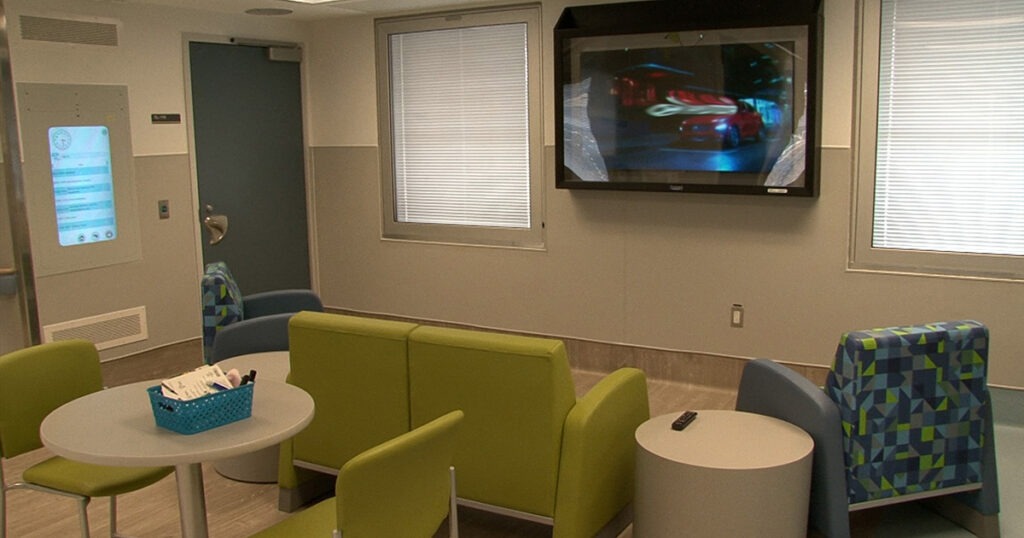 A new inpatient unit at St. Joseph's Health Centre is helping young adults make the transition from adolescent to adult mental health care.
The RBC Mental Health Short Stay and Transitional Aged Youth Unit (MHSSU-TAY) provides age-appropriate and therapeutic services to young adults age 19 to 26 – a critical time for young people, marked by major life changes and an increased risk for mental health challenges. The six-bed unit, which features modern decor and views of Lake Ontario, is the first of its kind in a Toronto hospital setting.
"We often hear from our young adult patients that the transition from child to adult mental health care is very abrupt," said Dr. Rayanne Elias, Medical Director of the MHSSU-TAY and physician in the Department of Psychiatry at St. Joseph's. "Child mental health care is well-structured, there's lots of programming, while adults are given less oversight. This new unit fuses components of both programs to improve the transition for our young adult patients."
The idea for the unit came about several years ago after the Mental Health Commission of Canada highlighted the need to better support this unique population. St. Joseph's sees more than 60,000 mental health visits per year, many of them young adults, and the hospital's mental health leadership jumped at the opportunity to help.
With support from the St. Joseph's Health Centre Foundation and many generous donors, the new unit opened on March 1. The new space is small, intimate, and designed to instill a sense of safety. It includes an activity room, TV room, six private patient rooms and smart TVs.
"We tried to be mindful of this group's preferences and abilities," said Krista Couture, Patient Care Manager of the Mental Health Program at St. Joseph's. "No one wants to be admitted to hospital but this population, in particular, really doesn't like being here. We wanted to create a space where they felt comfortable, welcome and their needs were catered to."
This dedication to patient preferences extends to unit programming, which includes one-on-one support and groups with a mental health clinician, a mindfulness exercise every evening and ample time for socialization with peers. These activities, which were developed with input from transitional aged youth, their families, community members and Patient and Family Advisors, are meant to help patients work through their mental health challenges while developing the skills they'll need in adulthood.
"This group is in a discovery phase where they're entering the workplace, experimenting with different life choices and they may not have much oversight from adults," said Couture. "They have adult expectations but not necessarily an adult mindset. We've tried to find a balance between providing some structure and oversight, while also allowing them to set their own boundaries."
In the month since the unit opened, feedback from patients and families has been overwhelmingly positive. Patients say they appreciate the autonomy and the various technologies, while families report feeling comforted knowing that their loved ones are in a therapeutic environment.
This unit was made possible thanks to support from the RBC Foundation, PricewaterhouseCoopers and its partners, Cheese Boutique, Solidifi, The Mackay Family and Macdero Construction and the St. Joe's Plate Committee, its sponsors and attendees.
"Our donors have made incredible investments in helping us improve how we offer care for our west-end community, including those who require mental health support," said Maria Dyck, President of the St. Joseph's Health Centre Foundation. "Our teams are highly-skilled in treating people with mental illness and now, they have the tools, education, resources and space to support our young adults."
For Dr. Elias, it's this privilege of getting to support young adults during such a pivotal time in their lives that makes her most excited for the future of this new unit.
"With any new hospital project, there's a unique opportunity to improve outcomes and experiences for our patient populations," she said. "While these young adults present to St. Joseph's in such distress, it also signals a window for change. To know that we can help them with their trajectory, to ease them into adulthood and be able to live happy and fulfilling lives is extremely gratifying."
By: Anna Wassermann