Ten great things that happened this week
December 09, 2021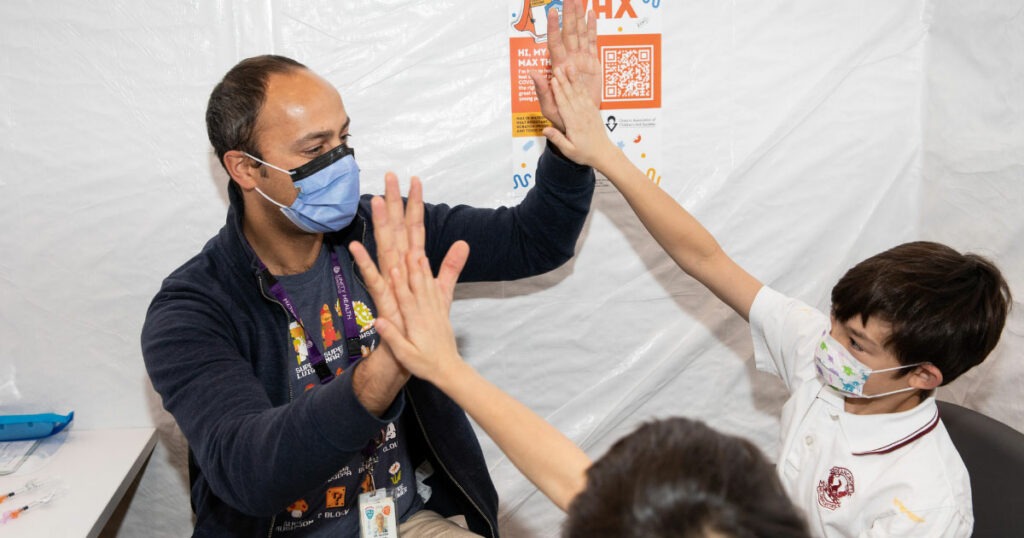 Each week, we share a list of 10 great things that happened at our sites. Do you have a story you'd like to share? Send it to communications@unityhealth.to.
1. Unity Health Toronto recognized as a Greater Toronto Top Employer
Unity Health Toronto has been recognized as one of Greater Toronto's top employers of 2022. The designation highlights the network's commitment to wellness, culture and community. In making the list, MediaCorp judged Unity Health Toronto on several criteria including: physical workplace, work atmosphere, benefits, vacation, and training and skills development. Michelle Williams, Clinical Leader Manager of the Cardiac Intensive Care Unit at St. Michael's, spoke about her 20-year career at Unity Health. "People stay here because of the teams they work with," she said. "They're like a second family."
2. Unity Health Toronto's new Executive Director of Mission, Values and Spiritual Care shares his plan for his first 100 days
Christopher De Bono, Unity Health Toronto's new Executive Director of Mission, Values and Spiritual Care and recent Vancouver transplant, reflected on what it means to come back to the city where he grew up and how social justice has been a consistent thread throughout his career. "It's really important for me to understand what people are experiencing (their joys and struggles) and where Unity Health is excelling so that I have a deep understanding of the organization I'm joining." Read the Q&A.
3. Unity Health research finds ovary removal with hysterectomy in pre-menopausal women raises mortality risk
A new study of over 200,500 women who had a hysterectomy for non-cancerous reasons found an increased risk of death in women under 50 years of age when the ovaries and fallopian tubes were removed during the surgery. The study, which was published in the BMJ, did not find the same association in women over 50. The findings suggest that surgical removal of the ovaries and fallopian tubes, known as bilateral salpingo-oophorectomy (BSO), may have risks for younger pre-menopausal women. BSO, which is offered to patients undergoing hysterectomy to prevent ovarian cancer, is the most common major surgery for non-pregnant women worldwide, according to the OECD. In Ontario alone, roughly 12,000 women undergo hysterectomy for non-cancerous gynecologic conditions each year. Read the study from Unity Health and ICES.
4. The St. Joseph's COVID-19 Vaccination clinic pulls out all the stops for kids
We got a behind-the-scenes look at St. Joseph's COVID-19 vaccination clinic for kids, which has been welcoming children between the ages of 5-11 for a little over a week. When planning the children's clinic, staff thought about how to make it welcoming for young kids, said Santina LeBrun, operations lead for the clinic. "Our goal was to brighten up the space so kids feel safe and comfortable from the moment they arrive."
5. Which COVID-19 booster shot should you get? Dr. Prabhat Jha weighs in
Dr. Prabhat Jha, director of the Centre for Global Health Research, explained to CBC News how the latest evidence suggests the brand of booster shot (Moderna or Pfizer-BioNTech) may not matter. "We've got randomized trial evidence and real-world evidence that it really doesn't matter what booster you get or your third dose that you get."
6. The Compass Clinic for children gets a new name — and two St. Michael's doctors share what inspires their work
Dr. Ryan Giroux and Dr. Shazeen Suleman spoke about their work at The Compass Clinic, formerly known as The Newcomer to Canada Clinic, a healthcare centre that offers trauma-informed, low-barrier, and culturally safe care to children and families. Using a multidisciplinary model of care, the clinic serves families who are new to Canada, Indigenous families, and families that require interpretation, immigration/settlement support, and school advocacy and navigation. Dr. Giroux and Dr. Suleman also spoke about how their unique backgrounds led them to pediatrics. "I felt I had a responsibility to my Métis community and the wider Indigenous community in general to focus on Indigenous health," said Dr. Giroux. "With my lens and my own lived experience that I bring to medicine, it's one way to help build connections and reconcile the things that happened in our collective pasts."
7. Dr. Jeanette Bowles explains why criminalizing drug possessing has "failed"
As Toronto's Board of Health moves to ask the federal government to decriminalize possession of small amounts of illegal drugs, Dr. Jeanette Bowles spoke to CBC's The Current about how the criminalization and punishment of drug possession has failed. "It's at a point where it needs to end and we need to take a different approach in order to address many of the harms of drug use," she said. Listen to the segment.
8. How has the pandemic impacted people's plans for children? Dr. Tali Bogler shares her experience
Nearly one in four Canadians aged 15 to 49 have changed their fertility plans because of the pandemic, according to a recent StatsCan paper. Dr. Tali Bogler, chair of family medicine obstetrics at St. Michael's Hospital, spoke to Global News about how the pandemic has impacted her patients. "I'm seeing young couples who have gone through job insecurity and job loss and are delaying (their plans for children) maybe a year from now, two years from now," she said.
9. How will the new Omicron variant shape the pandemic in Canada? Dr. Peter Jüni looks at the early data
As scientists and researchers work to understand the new Omicron variant of the coronavirus, Dr. Peter Jüni, epidemiologist at St. Michael's Hospital, explained in The Globe and Mail what the data tells us so far. While the new variant is spreading, serious cases in South Africa appear to be primarily among unvaccinated people. "These are preliminary data, but what we see is that there is still a high extent of protection against hospital admissions for fully vaccinated people," he said.
10. Dr. Karim Ladha calls for more research on the impact of marijuana on sleep
A new study is calling into question the commonly-held assumption that marijuana use helps you fall asleep. Dr. Karim Ladha, anesthesiologist and clinician-scientist at St. Michael's Hospital, explained to CNN why more research on the effects of cannabis on sleep is needed. "Patients are spending money and time and resources to obtain cannabis right now to help with sleep," Ladha said. "I think as the medical community, we need to do everything we can to make sure that we enable our patients to make the best possible decisions for their health."
Previous Ten Great Things articles