Ten great things that happened this week
December 16, 2021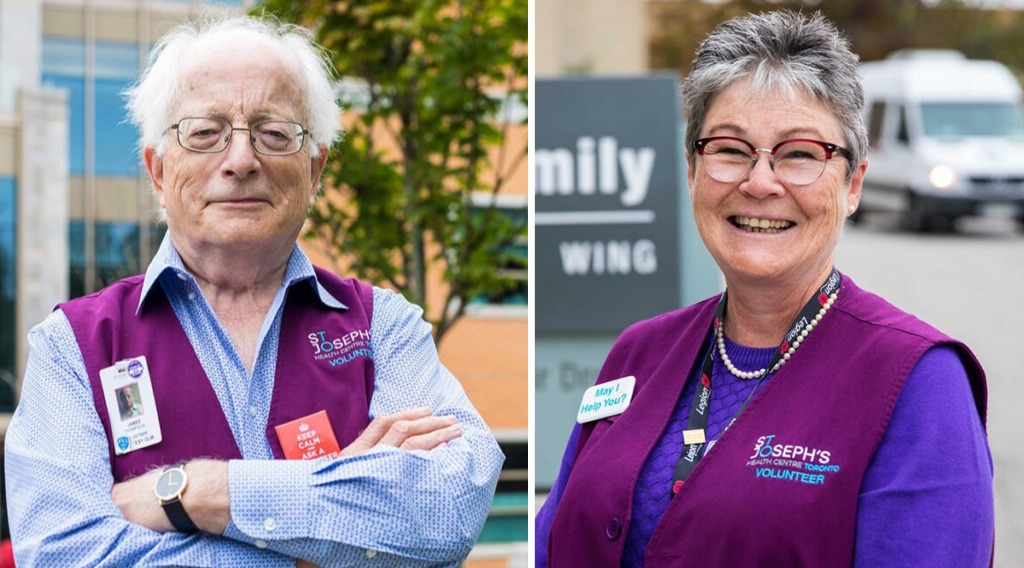 Each week, we share a list of 10 great things that happened at our sites. Do you have a story you'd like to share? Send it to communications@unityhealth.to
1. Unity Health Toronto volunteers share their passion for giving back
After an 18-month pause, volunteers have returned to Unity Health Toronto. Seasoned volunteers Jim Thompson and Brenda Lupinski spoke about their connections to St. Joseph's Health Centre and what they love most about volunteering. "Volunteering is the most exhilarating thing you can do," said Thompson. "You meet so many different people and at the end of the day you've not only helped someone but also made them feel better." Read the story.
2. Dr. Kim Connelly shares his vision for the Keenan Research Centre for Biomedical Science
In a Q&A, Dr. Kim Connelly, the new executive director of the Keenan Research Centre for Biomedical Science, spoke about his upbringing in Australia, his personal connection to cardiology and his goal to encourage researchers to work together. "Over the years, lots of good collaborative opportunities have come up and I've realized you need to have a seat at the table to encourage those and enact change." Read the Q&A.
3. What qualities do you need to screen visitors during a pandemic? Jamar Stanton explains why patience is key
In a year-end series featuring Unity Health Toronto staff, Jamar Stanton, visitor screener and operations lead at Providence Healthcare, shared his thoughts on patience when dealing with members of the community. "I could be at the front entrance and someone can come in and their family member could have just passed away, but I still have to screen them and ask them questions," he said. "But I let them know, 'I don't fully understand what they're experiencing, but I hope everything is OK and I wish the best for your family.'" Read the profile.
4. St. Michael's Hospital research lays out roadmap to a more equitable pandemic recovery
Dr. Nav Persaud, a St. Michael's Hospital family physician and Canada Research Chair in Health Justice, spoke to the Toronto Star about how to make the pandemic recovery more equitable. Dr. Persaud and researchers from the MAP Centre for Urban Health Solutions recently put forth 13 recommendations on how to build equity into the recovery. The recommendations include publicly-funded medications, basic income cash transfers, and universal parental and paid sick leave. Read the story.
5. Dr. Chi-Ming Chow and Dr. Tara Gomes explain the health impacts of opioid use
While opioid-linked deaths tend to dominate the headlines, the toll of opioids on users who survive is often overlooked. Dr. Chi-Ming Chow, a cardiologist at St. Michael's Hospital, and Dr. Tara Gomes, scientist at the Li Ka Shing Knowledge Institute and PI of the Ontario Drug Policy Research Network, explain some of the long term health impacts of opioid use to The Globe and Mail.
6. Does discharging patients before noon impact hospital capacity? Dr. Amol Verma weighs in
The issue of whether discharging patients before noon impacts the number of patients a hospital can treat is highly debated. Dr. Amol Verma, clinician-scientist at St. Michael's Hospital, explains to The Hospitalist how data from a recent study he co-authored suggests morning discharges alone don't improve efficiency.
7. A St. Michael's income security health promoter shares what she'll take with her into 2022
In a year-end profile, Laura Boodram, an income security health promoter with the St. Michael's Family Health Team, reflects on how she and her colleagues continued to serve families in need throughout the pandemic. "I've learned to do things a little differently and pivot however I needed to, to make things work," she said. "This year, everything was so fluid and everybody worked together so well; our team grew stronger over time." Read the profile.
8. Dr. Thomas Bodley recognized for interventions to reduce number of blood draws
Dr. Thomas Bodley, a former ICU resident at St. Michael's Hospital, was awarded the Wisely Champion Award from the American Society of Hematology. Dr. Bodley was recognized for his work to reduce serial blood draws in the St. Michael's ICU. In a paper he co-authored, the St. Michael's team was able to reduce the amount of blood taken from patients each day by 15 per cent, as well as reduce the number of discrete blood draws per patient per day. Read more about the recognition.
9. Dr. Ripudaman Minhas speaks about the pandemic's impact on kids
Dr. Ripudaman Minhas, a developmental pediatrician at St. Michael's Hospital, spoke at an Ontario Medical Association webinar about the impact of the pandemic on children. During his talk, Dr. Minhas spoke about the importance of keeping schools open and safely operating, and "making space" for children's feelings at home. Read more.
10. Unity Health physicians and staff share insights about caring for families through the pandemic
Several Unity Health Toronto staff and physicians shared personal stories about providing care to families throughout the year in the 2021 University of Toronto Family Medicine Report. Unity Health Community members shared their experiences on topics ranging from providing care to homebound patients, to improving the overall patient experience. 
Previous Ten Great Things articles