Ten great things that happened this week
October 14, 2021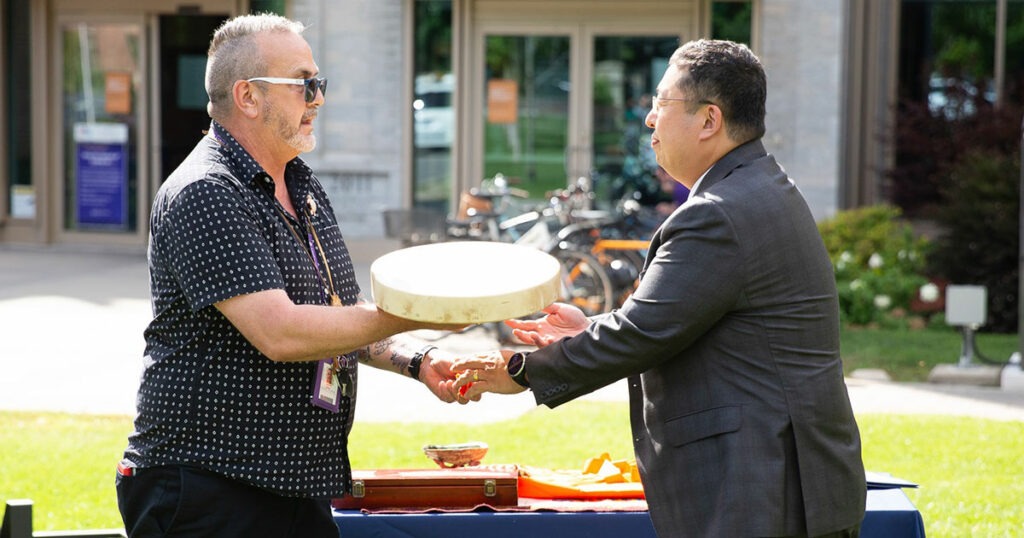 Each week, we're sharing a list of 10 great things that happened at our sites. Do you have a story you'd like to share? Send it to communications@unityhealth.to.
1) Unity Health gifted ceremonial drums to support Indigenous patients
Thanks to a gift from the Indigenous Cancer Program, Indigenous patients and families can now access a drum for ceremonial and spiritual practices at Unity Health. The drum is an important ceremonial tool in many First Nations, Inuit and Métis traditions, used to facilitate healing and realignment of an individual's mental, spiritual, physical and emotional health. Learn more about the gift.
2) Unity Health celebrates Interprofessional Practice Week
The week featured guest speakers, fun team events and virtual awards ceremonies across all three sites highlighting the unique contributions of our Interprofessional Practice teams. Thank you to our health disciplines teams for your immense contributions to Unity Health! Check out some pictures from the week.
3) Christy Pickles shares what she loves most about Occupational Therapy
In recognition of Occupational Therapy Month, we are spotlighting a few of our amazing Occupational Therapists who work to promote the health and well-being of our patients. This week, Christy Pickles, Clinical Leader Manager, Emergency Department at St. Michael's, shares what she loves most about Occupational Therapy.  
4) We recognize Emergency Nurses Week
Unity Health celebrated our emergency nurses for their incredible work and dedication. Thank you to all of our emergency nurses who work tirelessly to support our patients and provide high-quality care each and every day. Happy Emergency Nurses Week!
5) Dr. Jiwon Oh discusses how the BARLO MS Centre will advance MS care with CTV News
The new BARLO MS Centre at St. Michael's Hospital is designed to offer coordinated care for patients living with MS. Dr. Jiwon Oh, Medical Director of the BARLO MS Program, speaks with CTV News Toronto about how the new clinic will advance MS care, education and research.
6) We spotlight Dr. Bruno R. da Costa's latest research
Topical medication for pain relief may be safer and more effective than opioids in treating knee osteoarthritis pain, according to a meta-analysis by Unity Health Toronto researchers. Researchers found that regardless of preparation or dose, opioids did not significantly relieve pain for osteoarthritis patients. We spoke with the study's lead author, Dr. Bruno R. da Costa, Acting Director of the Applied Health Research Centre (AHRC) at the Li Ka Shing Knowledge Institute of St. Michael's Hospital, about the findings.
7) Study suggests high-dose of readily available blood thinner reduces risk of death for moderately ill COVID-19 patients
A high dose of an inexpensive and globally available blood-thinning medication reduces the risk of death in hospitalized patients who are moderately ill with COVID-19, suggests a new study led by St. Michael's Hospital. We spoke with Dr. Michelle Sholzberg and Dr. Peter Jüni, co-leads of the study, to learn more. Read the story.
8) Dr. Larissa Matukas spoke to the Winnipeg Free Press COVID-19's impact on medical labs
All medical labs have struggled during the COVID-19 pandemic, Dr. Larissa Matukas, Director of Microbiology at Unity Health Toronto, tells the Winnipeg Free Press. She explains why planning for situations where labs have to ration testing and find efficiencies is critically important for patient care.
9) How has the COVID-19 pandemic reshaped family planning? Dr. Tali Bogler weighs in
A report from Statistics Canada points to the onset of the COVID-19 pandemic contributing to steep fertility declines in 2020. Dr. Tali Bogler spoke with The Globe and Mail about the worries of parents as they planned families during the pandemic.
10) Dr. Jesse Jenkinson highlights the importance of supportive housing
Encampments exist because there's nowhere else for people to go, says Dr. Jesse Jenkinson, Postdoctoral Fellow, MAP Centre for Urban Health Solutions. She tells Global News Halifax that the increasing encampment evictions across Canada highlights the need for governments to invest in supportive housing.
Previous Ten Great Things articles