Unity Health gifted ceremonial drums to support Indigenous patients through their healing journeys
October 13, 2021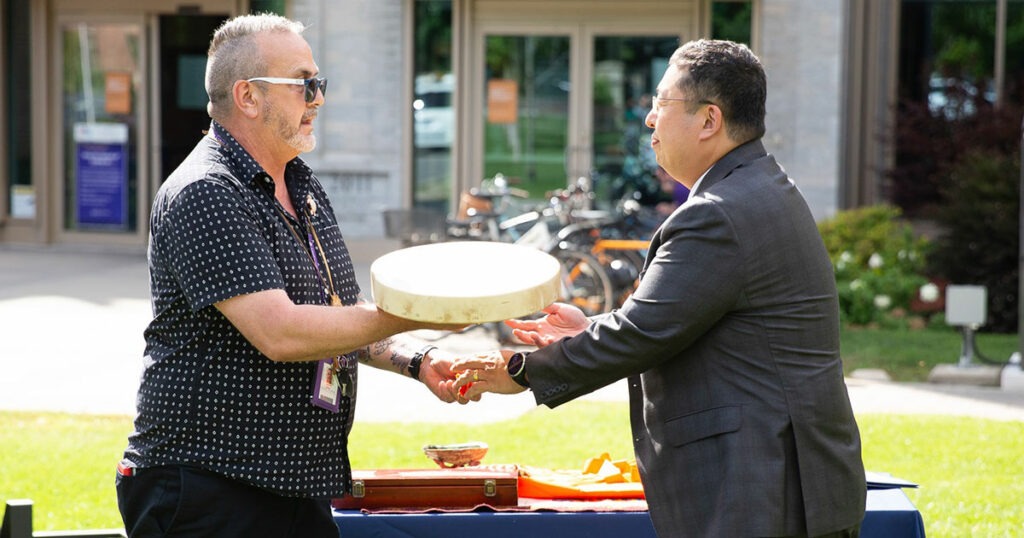 The drum is an important ceremonial tool in many First Nations, Inuit and Métis traditions, used to facilitate healing and realignment of an individual's mental, spiritual, physical and emotional health. Thanks to a gift from the Indigenous Cancer Program, Indigenous patients and families can now access a drum for ceremonial and spiritual practices at Unity Health.
Leonard Benoit, Indigenous Patient Navigator with the Indigenous Cancer Program, presented the drums in ceremonies at each of our sites and explained the significance for attendees.
"The drum represents the heartbeat of mother earth and the first sound we hear when we come into the world," he said. "Each drum has its own unique medicine to support healing and serves as a constant reminder of our responsibility to mother earth and lifelong connection to all living things."
Benoit added that giving a drum as a gift is meant to express thanks, acknowledge good work or recognize an important relationship.
The ceremonies brought together members of Unity Health's executive leadership team, Oncology Program and Patient Relations team, as well as staff from the Toronto Central Regional Cancer Program and Indigenous Cancer Program.
"It's an honour that we're being entrusted to care for these drums,"said Allison Needham, Director of Anti-Racism, Equity and Social Accountability at Unity Health. "We're grateful for this important relationship with the Indigenous Cancer Program and for this gift, through which we can provide culturally-responsive support throughout patients' healing journeys."
Dr. Tim Rutledge, President and CEO of Unity Health, was also on hand to thank the Indigenous Cancer Program for their gift and reiterate Unity Health's commitment to truth and reconciliation.
Dr. Rutledge said that "Indigenous people continue to face systemic barriers in accessing health care services. At Unity Health, we're on a journey to repair and build relationships with Indigenous people and take tangible actions to gain the trust and confidence of the Indigenous communities we serve."
"We're honoured to receive these ceremonial drums, which will help improve the care experiences for Indigenous patients and families," he added.
For Needham, whose work supports Unity Health's priority of creating more equitable and anti-oppressive spaces, these drums are a step towards more equitable supports for Indigenous people.
"There was a time when using these drums was illegal in Canada," she said. "By thoughtfully creating low barrier access to ceremonial drums, we recognize the value of Indigenous healing practices."
Benoit says that he's pleased to see this transformation happening in health care right now.
"Our ceremonies are taking their rightful place and being recognized, especially in how they connect to wellness," he said. "This drum will hopefully reach many of our community members accessing health care at Unity Health, and become part of their journey, honouring the Indigenous path of wellbeing."
At the end of the ceremonies, attendees tied orange ribbons around trees in memory of the many Indigenous children who lay in unmarked graves on the grounds of former Indian Residential Schools.