An update on our efforts to improve the experiences of Indigenous people within our organization
September 30, 2022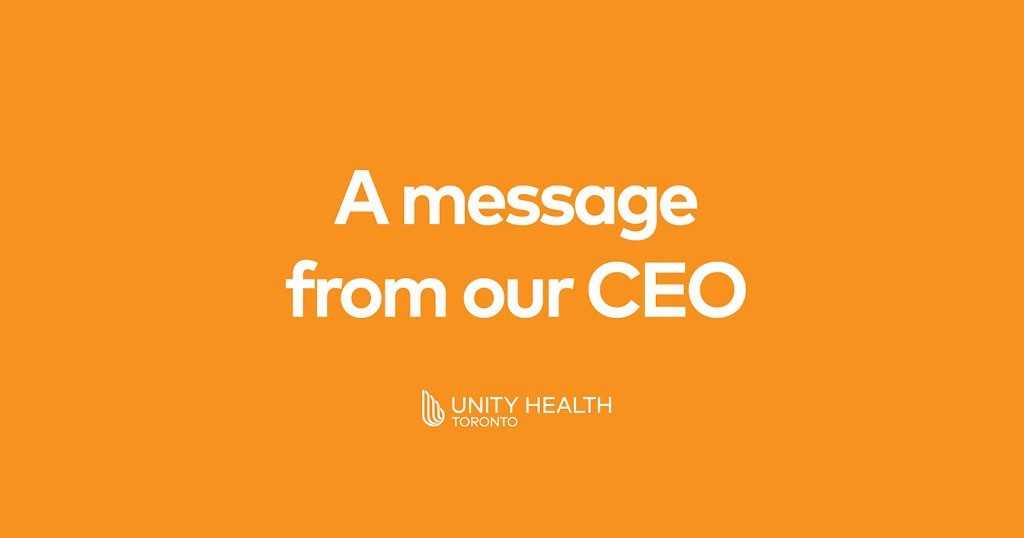 Today is National Day for Truth and Reconciliation – also known as Orange Shirt Day. It's a day to recognize the profound impact of the residential school system, to honour the survivors and their families and to remember the many children who never made it home, including the thousands of children who lie in unmarked graves. It's also a day to commit to action that responds to the past and ongoing injustices experienced by First Nations, Inuit and Métis peoples in Canada.
A year ago today, I shared a message with all of you, outlining several actions that Unity Health has committed to taking as we work towards improving the experiences that Indigenous people have within our organization. As the executive sponsor for this work – and for our broader anti-racism, equity and social accountability efforts – I'm accountable to all of you, our staff, patients and communities, to make sure that this work continues. Today, as we reflect on National Day for Truth and Reconciliation, I'd like to provide an update on our efforts and let you know what we hope to accomplish in the year ahead.
What we accomplished in 2021-22
Last year, Unity Health made four commitments and achieved the following three:
We announced Dr. Janet Smylie as the Strategic Lead of Indigenous Wellness, Reconciliation and Partnerships at Unity Health, addressing our commitment to filling a temporary advisory leadership role that would help lay the foundation and develop a strategy and framework for the advancement of Indigenous health and reconciliation across the organization.
We welcomed Derek Chum, a member of the Moose Cree First Nation, to our Unity Health Board of Directors.
We addressed our commitment to continuing to support Indigenous-led efforts to fight COVID-19, one example of which is our work assisting at Auduzhe Mino Nesewinong – Place of Healthy Breathing (Anishnabeek), an Indigenous-led comprehensive First Nations, Inuit and Métis-specific COVID-19 response program for First Nations, Inuit and Métis peoples in Toronto.
The commitments we made last year were informed and directed by First Nations, Inuit and Métis individuals and organizations. No one knows what Indigenous people need more than the Indigenous community.
Where we came up short
The fourth commitment we made last year was to create Indigenous sacred spaces at Unity Health to support Indigenous spiritual practices and ceremony for patients, caregivers, staff, physicians and learners in their wellness and healing journeys. We continue to work with Indigenous communities on how best to identify and design these spaces.
Concrete actions that Unity Health will be taking in 2022-23
As with any change improvement and reconciliation efforts, it can be easy to lose focus and momentum. To ensure that this doesn't happen, and to reiterate our commitment to transformative changes in our relationship with Indigenous peoples, the following are three steps that we pledge to take this year:
Develop a strategic human resources plan to guide recruitment efforts and staffing decisions across the network. To become a preferred place for Indigenous people to seek care, we need to recruit a team of people – including Elders, care navigators, cultural coordinators and clinical leaders – who can advance transformational change. This plan will help us do that.
Build Indigenous care pathways to guide our teams and provide transparency to Indigenous patients and families who come to us seeking care. Defined Indigenous-specific referral pathways can be helpful as they provide comfort and build on the notion of trust relationships.
Work with the First Nations, Inuit and Métis Community Advisory Panel (FNIM CAP) at Unity Health to continue to strengthen and harmonize Indigenous leadership and initiatives across the organization, making sure that each of these are aligned with the needs and priorities of the Indigenous peoples of Toronto.
Concrete actions for individuals
As we advance our efforts as an organization, we need to remember that change starts with each of us as individuals. The following is a list of recommendations from First Nations, Inuit and Métis leaders for anyone who wants to engage on the journey of self-reflection and acknowledgement:
Find a buddy and commit to reading and discussing the summary report of the Truth and Reconciliation Commission. Consider sharing the summary report with your family, friends and communities or posting a link to the report on your social media profiles.
Take the San'yas Indigenous Cultural Safety Training course. This course has been extensively evaluated and the findings show that health care professionals who've taken this course are more likely to be recommended by standardized Indigenous patients to Indigenous friends and family members compared to those who haven't. To date, approximately 400 staff, physicians and board members at Unity Health have completed the course, with 100 more enrolled in the upcoming cohort. Read more about their experiences.
Health care workers can review these tips for moving beyond apology and feelings to actions that address Indigenous health inequities.
Attend events celebrating Indigenous people, if the community is willing to share. After the event, reflect on your experience.
As individuals and as an organization, we still have a long way to go. We live in a society that craves quick fixes but after decades of injustices, we can't expect to dissolve inequities and reconcile relationships with Indigenous people in only a year. This is an ongoing journey and while on a day-to-day basis, we'll experience both successes and failures, please know that we're absolutely committed to this work for the short and the long term.
Sincerely,
Tim Rutledge
President and CEO
Unity Health Toronto