Ten great things that happened this week
July 07, 2022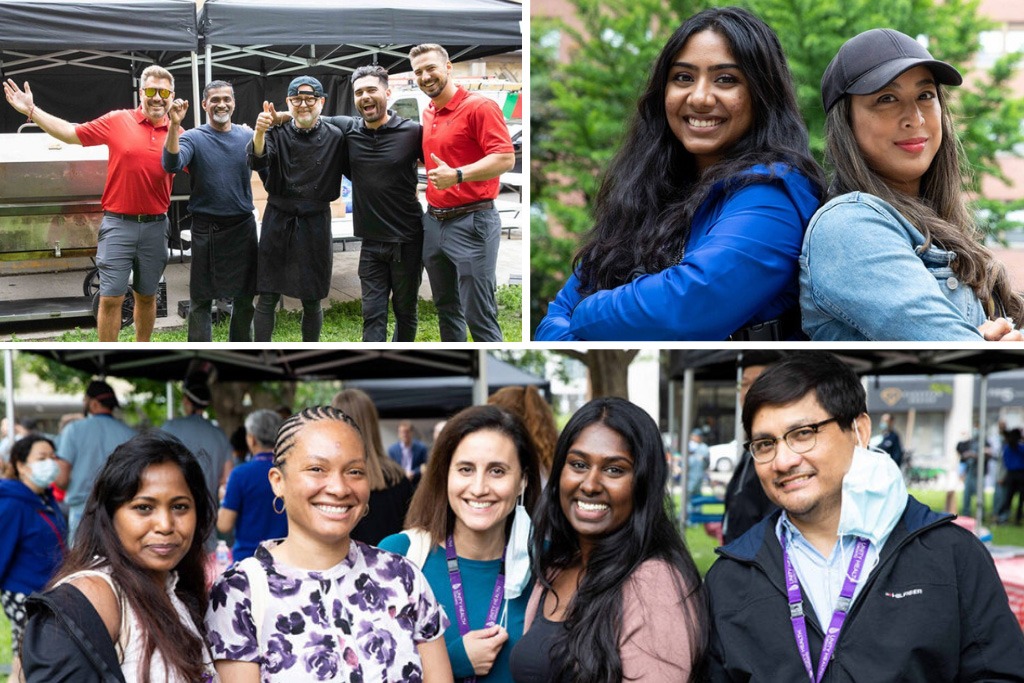 Each week, we share a list of 10 great things that happened at our sites. Do you have a story you'd like to share? Send it to communications@unityhealth.to.
1. Two members of the REDI Task Force share why it's critical to approach research with an equity lens
We spoke with Galo F. Ginocchio, Research Coordinator at St. Michael's Emergency Department and MAP Centre for Urban Health Solutions, and Dr. Cheryl Pritlove, Scientist at the Applied Health Research Centre, about their work on the Research, Equity, Diversity and Inclusion (REDI) Task Force.  "If we don't create more diverse, equitable and inclusive spaces in the fields of medicine and health science, then the biology, lived experiences, needs and preferences of many members of our society will continue to be inadequately and inappropriately represented in the science that ultimately informs healthcare and its delivery," said Pritlove. The REDI Task Force is committed to ensuring all research at Unity Health is approached with an equitable lens, and that equity, diversity and inclusion (EDI) are guiding principles.
2. Meet the team bringing joy, thanks and recognition to Unity Health
We spotlighted the Leadership and Organizational Development and Volunteer Services team that helps organize major celebrations, events and career development opportunities at Unity Health Toronto. Recently, the team coordinated the summer People Appreciation Barbecues at St. Michael's and St. Joseph's, and are finalizing plans for the barbecue at Providence. Tanya Sudarshan, Leadership and Organizational Coordinator, and Hailey Garcia-Gonzalez, Leadership and Organizational Development Specialist, are the dream team that worked to bring the barbecues to life. Planning these events have been ongoing since February. "These recognition events reinforce that each member of our community is valued at this organization," said Garcia-Gonzalez.
3. Unity Health welcomes new and returning residents
Unity Health welcomed 112 new and 545 returning medical residents to our hospitals. Residents play a crucial role in providing tens of thousands of hours of patient care every year while continuing to learn. Welcome to Unity Health Toronto, we hope you enjoy your residency!
4. Unity Health-led analysis reveals Omicron's toll on seniors and low income neighbourhoods
An analysis led by Unity Health researchers revealed Omicron's toll on seniors and low-income neighbourhoods in Ontario. The analysis, led by Dr. Sharmistha Mishra, found that more than 3,700 seniors over the age of 60 passed away due to Omicron, more than the previous two COVID waves combined. It also found that COVID death rates in Ontario's lowest-income neighbourhoods were roughly double those in the province's richest areas. The findings show a consistent pattern of inequity across the province, Mishra told The Toronto Star. "It begs the question: Among whom are we flattening the curve?" she said.
5. Analysis finds injection to treat knee osteoarthritis has little effect on pain reduction
A new systematic review is shedding light on a common treatment for knee osteoarthritis. The analysis, led by Dr. Bruno da Costa, found that viscosupplementation has little effect on pain reduction and may cause harm. The treatment, which is administered via an injection in the knee, has been questioned for some time and has varying recommendations for use. Da Costa, who is the acting director of the Applied Health Research Centre, and an international team of researchers reviewed studies of the treatment from the last 50 years. They found that the treatment and placebo have led to the same level of pain reduction. In some trials, the treatment led to a higher risk of adverse events. The findings do not support broad use of this treatment for knee osteoarthritis, they said.
6. Dr. Carolyn Snider outlines factors driving record high wait times at Emergency Departments
Dr. Carolyn Snider spoke to The Toronto Star about the record high wait times at Ontario Emergency Departments and the factors behind the trend. The average wait time to get admitted to a hospital in Ontario via the Emergency Department was 20 hours in April, up from 16 hours in 2017-2018. Snider, Chief of Emergency Medicine at St. Michael's, said hospitals are seeing a large increase in the number of patients while they also face a critical shortage of RNs and attempt to decrease surgical backlogs. She said the issues aren't unique to any one institution or hospital.
7. Dr. Heyu Ni recognized for excellence in research and innovation
Dr. Heyu Ni was recognized by the University of Toronto's Laboratory Medicine and Pathobiology Department for his long-term research program in platelets and thrombosis. Ni, Physician and Lab Director at the Keenan Research Centre for Biomedical Research, was awarded the Richard G. Hegele Award, recognizing faculty members for their original research, innovation or creative professional activity that improves understanding of mechanisms of disease or advances clinical practice.
8. MS Society of Canada spotlights Dr. Kristen Krysko and Dr. Raphael Schneider
The Multiple Sclerosis Society of Canada included Dr. Kristen Krysko and Dr. Raphael Schneider, Neurologists at St. Michael's Hospital, in its list of Five MS Researchers To Get Excited About. Drs. Krysko and Schneider spoke about their research interests and why they're passionate about their work. "I most enjoy the direct connection between my research and treating women with MS," said Krysko, who focuses on women's health and pregnancy in people living with MS. "When I see challenges in the clinic, I can design research studies to help answer the questions raised."
9. Dr. Yvonne Bombard explores opportunities and challenges of digital health tools in genetics-related care
Digital health is gaining momentum across all disciplines, including genetics with new digital support tools in genetics-related care emerging over the past few years. In a new paper, Dr. Yvonne Bombard, Genomics Health Services Researcher and Scientist at the Li Ka Shing Knowledge Institute, explores the opportunities and challenges of these new tools. She and the other authors propose a research agenda to ensure digital health-enabled genomics are sustainable and are equitably deployed in clinical care.
10. St. Michael's Hospital turns 130 years old
St. Michael's Hospital celebrated its 130th birthday on July 1. Thank you to all the staff, physicians, learners and volunteers who have contributed to the exceptional patient care at St. Michael's!
Previous Ten Great Things articles