Ten great things that happened this week
June 30, 2022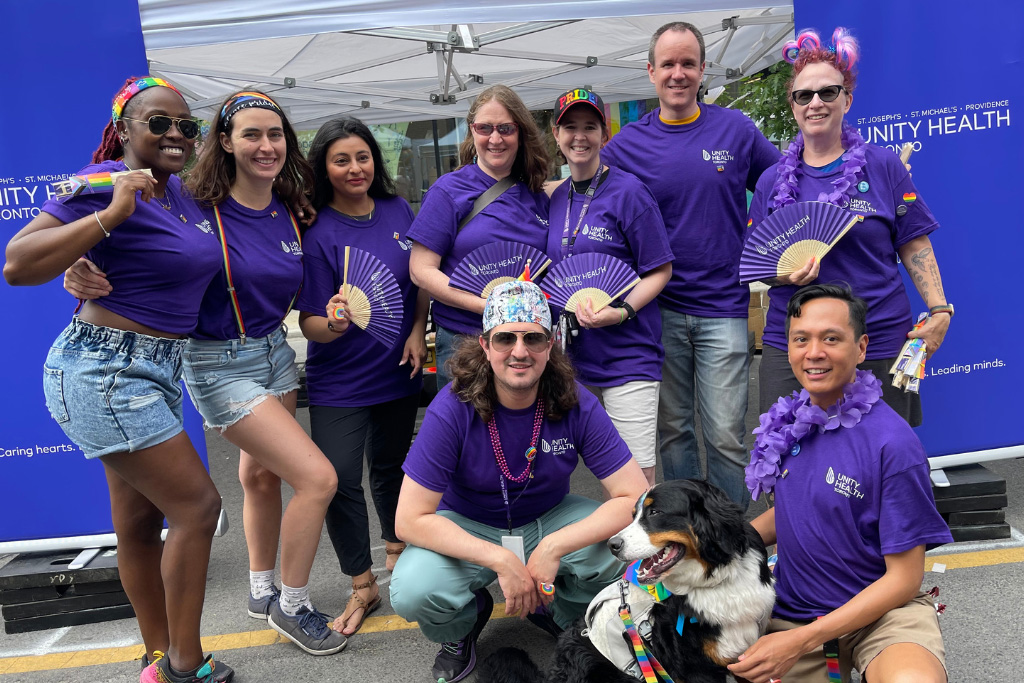 Each week, we share a list of 10 great things that happened at our sites. Do you have a story you'd like to share? Send it to communications@unityhealth.to.
1. Canada had second-lowest rate of COVID-related deaths among G10 nations, St. Michael's-led study finds
A new study led by St. Michael's researchers found that Canada had the second-lowest rates of COVID-19 infection and deaths among the G10 countries. The analysis examined how Canada compared to peer countries in terms of public health measures and outcomes throughout the pandemic. It found that Canada had among the strictest public health measures of all the countries, the highest vaccination rate and the second-lowest number of excessive mortality deaths. The study also compared the economic performance of the countries, and found that Canada was in the middle of the pack in terms of inflation and unemployment, and lowest for GDP growth. Dr. Fahad Razak and Dr. Arthur Slutsky, both Unity Health physicians and researchers, were co-authors of the study. Razak told CTV News it's important that policy makers recognize the contributions of all Canadians in our relative success and re-engage with the public as we face new challenges.
2. Unity Health celebrates 2SLGBTQ+ community at Pride
Unity Health staff, physicians, learners and volunteers came together to celebrate the 2SLGBTQ+ community during the Toronto Pride Street Fair. The team was on hand at the Unity Health booth to meet with community members and answer any questions they may have. Kudos to all who attended and helped spread the love!
3. Dr. Donna Ouchterlony appointed to the Order of Canada
Dr. Donna Ouchterlony, director of the Head Injury Clinic at St. Michael's Hospital, has been appointed to the Order of Canada. Ouchterlony became director of the clinic in 1997 and has since helped build it into the largest centre specializing in head injuries in Ontario. She was recognized for her pioneering approaches and commitment to the prevention, diagnosis and treatment of brain injuries. Congratulations!
4. St. Michael's-led study finds higher risk of hospitalization and ED visits for cannabis users
Visits to emergency departments and hospitalizations are 22 per cent higher among cannabis users compared to individuals who do not use cannabis, a new St. Michaels-led study finds. The study, led by Dr. Nicholas Vozoris and ICES, suggests an association between cannabis and negative health events. Cannabis has been legal for recreational use since 2018. The study compared the health outcomes of nearly 4,800 self-reported cannabis users with the outcomes of more than 10,000 people who reported having never used cannabis, or having used cannabis only once and more than 12 months ago. The researchers also controlled for more than 30 variables, including alcohol and illicit drug use. "Some individuals may perceive that cannabis has some health benefits and is otherwise benign," said Vozoris. "Our research highlights to those using – or considering to use – cannabis, that this behaviour is associated with important negative health events."
5. Dr. Amol Verma appointed to Expert Panel on Health Data Sharing
Dr. Amol Verma, internal medicine physician, scientist and co-lead of the GEMINI hospital data network at St. Michael's Hospital, has been appointed to the Expert Panel on Health Data Sharing at the Council of Canadian Academies (CCA). The CCA is an independent, not-for-profit organization that supports evidence-based, expert studies to inform public policy development. Dr. Verma's work is focused on studying and improving hospital care using data from electronic health records. He and members of the panel will work together to inform decision-makers and governments on how to maximize the benefits of health data sharing.
6. Dr. David Lipson spotlights the role of physiatrists in stroke care
In our continuing recognition of Stroke Awareness Month, we profiled Dr. David Lipson, physiatrist at Providence Healthcare. Physiatrists play a critical role in stroke care, conducting detailed assessments of each stroke patient to identify all neurological and musculoskeletal impairments. "Stroke patients often experience physical and medical complications that are specific to the post-stroke population," Lipson said. "Physiatrists are well-versed in the identification of these problems and provide management when they occur."
7. Knowledge Translation Program shares how the patient perspective counts
How can research be more meaningful to patients? For the Knowledge Translation (KT) Program at the Li Ka Sing Knowledge Institute the answer is including them from the very beginning. KT has developed a new program called Partners in Research, which developed an online course to help patients and researchers collaborate on projects. A recently published paper examined the Partners in Research program and found that the online course increased knowledge in patient-oriented research for patients and researchers. We spoke with the co-authors of the paper, Patient Family Partner Lorraine Bayliss and Dr. Christine Fahim, about why it's important to build partnerships with patients when planning and conducting research.
8. 'Committed to progress': Maisie Brown reflects on the meaning of Pride
In the final installment of our Pride reflections, Maisie Brown, project manager at St. Joseph's Health Centre, spoke about the importance of celebrating the roots of Pride as a protest movement headed by Black and Indigenous people of colour, as well as trans and gender non-conforming activists. "There is a lot that's still imperfect about how we celebrate Pride," Brown said. "But actions like seeing your place of work raise the Pride flag are an important step in the right direction."
9. Education Portfolio staff head to Toronto Islands for social event
It was a gorgeous day on the Toronto Islands, where Education Portfolio staff held a social event to cap off Education Week. Team members enjoyed the sunny weather, ferry ride and the lakeside views, while catching up with colleagues over pizza and drinks. Congrats to the team on a successful Education Week!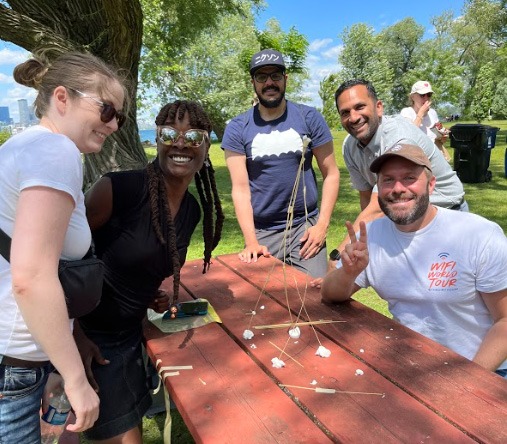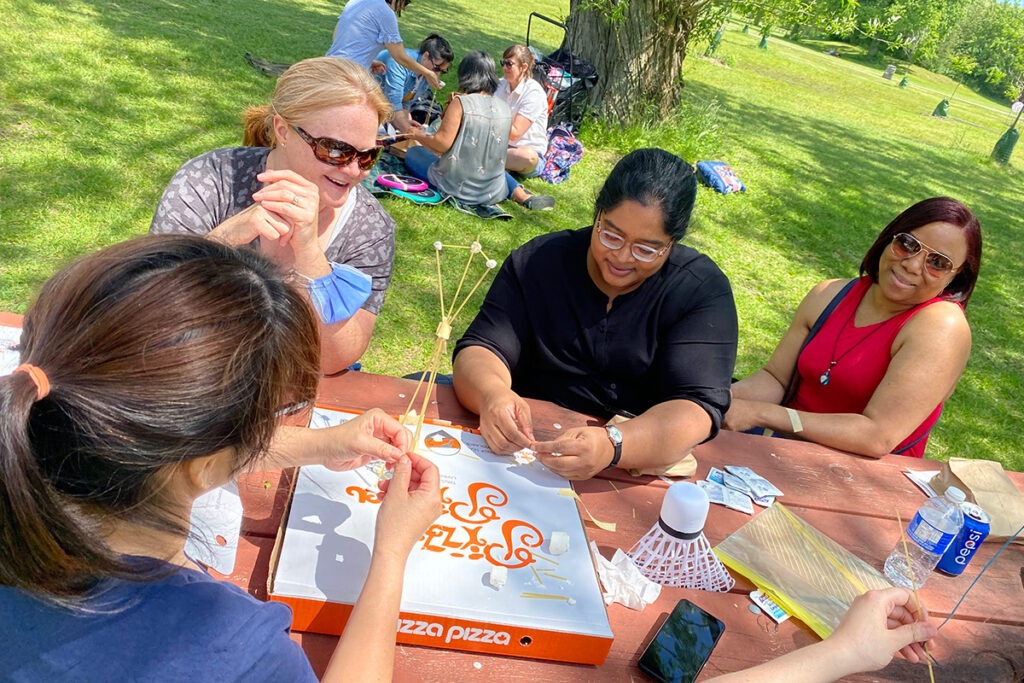 10. Dr. Darrell Tan calls for financial support for patients who acquire Monkeypox
There are more than 200 confirmed Canadian cases of Monkeypox, a disease where patients are asked to self-isolate for weeks. Dr. Darrell Tan, infectious disease specialist at St. Michael's, told CBC News that there must be more support for patients with Monkeypox to help them successfully isolate, whether that's more sick leave from their employers or financial support from the government. "Things that can allow folks to successfully isolate at a time when they want to do the right thing, they want to protect their friends and family from getting something that they just suffered through," Tan said.
Previous Ten Great Things articles