Ten great things that happened this week
June 23, 2022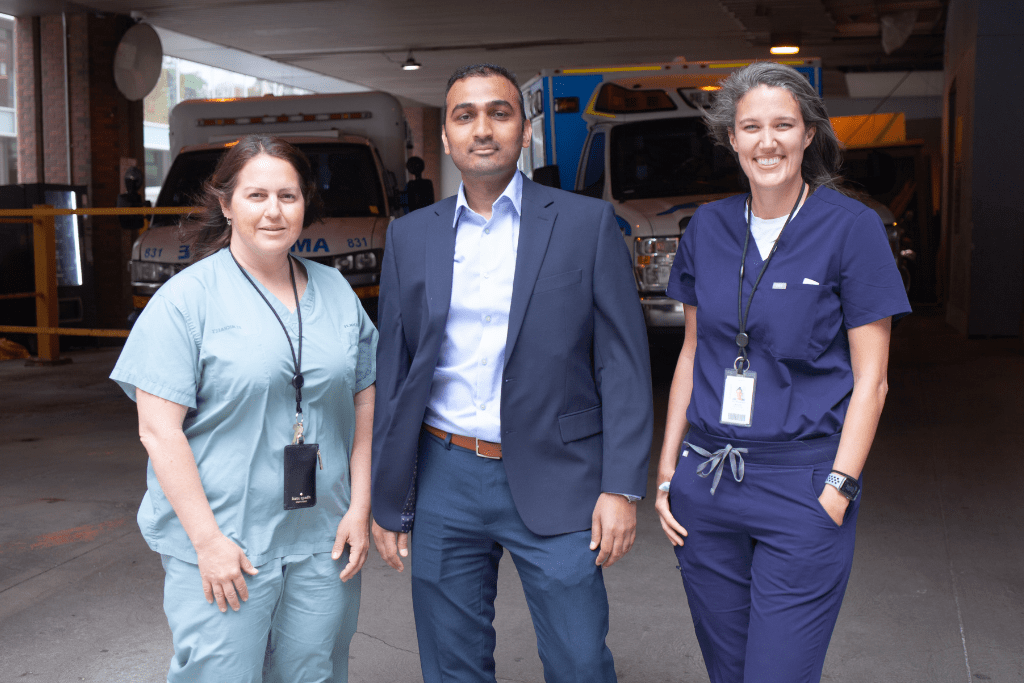 Each week, we share a list of 10 great things that happened at our sites. Do you have a story you'd like to share? Send it to communications@unityhealth.to.
1. Unity Health gears up to represent at Pride weekend
Unity Health will be formally participating in Pride Toronto for the first time this weekend. Our participation will be in the form of a hospitality and recruitment booth at the Pride Street Fair. This is an opportunity to support 2SLGBTQ+ staff, physicians, learners and patients and to demonstrate that Unity Health is a great place to work and receive care. We welcome you to drop by our booth to say hi and celebrate Pride!
Times: June 24 (4 pm – 8 pm), June 25 (12 pm – 8 pm) and June 26 (12 pm – 8 pm)
Location: The Unity Health booth (B26) can be found on Church Street between Charles Street East and Isabella
2. Dr. Atif Zafar lays out his vision for equitable stroke care at St. Michael's
Dr. Atif Zafar, Medical Director of the St. Michael's Stroke Program, shared his goal of making the hospital and Unity Health a global leader in personalized, equitable stroke care. Zafar spoke about how the program is streamlining processes and creating new clinics to provide best care experiences to stroke patients. Lee Barratt, nurse practitioner, shared how she and other team members helped spearhead a Direct to CT process, which helps stroke patients receive life-saving care faster. "Our vision is to build St. Michael's, not into a Canadian or North American leader, but a global leader, an entity that leads the world into transitioning into equitable, personalized stroke care," Zafar said. "We want every patient to get the care that's malleable and flexibly-aligned for that individual."
3. After 204,000 swabs, St. Joseph's COVID-19 Assessment Centre closes its doors
After two years of COVID-19 testing, the St. Joseph's COVID Assessment Centre (CAC) is closing its doors amid declining demand for services. In total, the St. Joseph's CAC performed more than 204,000 nasal swabs within its walls, and administered thousands more via community outreach. We spoke with team members who worked at the CAC for their thoughts on contributing to the historic effort. "As cliché as it may sound, I'll remember how I worked through the toughest periods at the assessment centre and came out alright," said Brian Dearden, CAC screener. "I was proud to be jumping into action, to be part of a talented team of nurses, doctors, and other support staff coming together to serve a greater purpose."
4. Sun shines over St. Joseph's Health Centre for summer BBQ
St. Joseph's Health Centre staff, physicians, learners and volunteers came together for the staff appreciation BBQ to enjoy the rays, lunch and ice cream truck offerings. Unity Health team members picnicked on the grounds near the Our Lady Mercy wing, and caught up with colleagues and friends over some yummy treats. The final staff appreciation BBQ will be at Providence Healthcare on July 28. We'll see you there!
5. Unity Health partners with Toronto Dementia Research Alliance
Unity Health has partnered with the Toronto Dementia Research Alliance (TDRA), a network of other hospitals and learning institutions that work to better understand, prevent, and treat dementia. The new partnership will allow Unity Health to increase collaborative research efforts, clinical trials and translational research, as well as expand our own investigations. "At Unity Health, Brain Health and Wellness is one of the four core pillars of our Research and Innovation strategic plan," said Dr. Ori Rotstein, vice-president, Research and Innovation at Unity Health Toronto. "This partnership will allow us to build on our excellence in this area and expand the opportunities for dementia research across the city. We are thrilled to join our esteemed colleagues in this collaboration and create the best care experiences possible for dementia patients through world-class research."
6. Dr. David Jenkins inducted into Canadian Medical Hall of Fame
Dr. David Jenkins, physician and scientist at St. Michael's Hospital, was inducted into the Canadian Medical Hall of Fame. Jenkins was recognized for his exceptional nutritional research and creating the glycemic index – a system that rates carbohydrate-containing foods by how much it raises blood glucose after it is consumed. Since its creation in 1981, the glycemic index has become an important tool to help reduce the incidence of diabetes, stroke and cardiovascular disease. "Dr. Jenkins' work represents the triumph of diet as part of preventative health care," said the Canadian Medical Hall of Fame. Congratulations, Dr. Jenkins!
7. Dr. Shane Journeay recognized for research excellence and leadership
The Department of Medicine at the University of Toronto recognized Dr. Shane Journeay by awarding him the Reseach/Quality Improvement of the Year Award. Journeay, physiatrist and Director of Academics and Research at Providence Healthcare, was recognized for his valued research contribution in the division of physical medicine and rehabilitation, as well as his leadership at Providence. Congratulations, Dr. Journeay!
8. Unity Health staff, physicians and learners recognized with Education Awards
We wrapped up Education Week with virtual award ceremonies to recognize the winners and nominees of the 2nd Annual Unity Health Education Awards and the 17th Annual Medical Education Achievement Day at St. Michael's. The awards recognized excellence in range of categories, including administration, advocacy, and nursing, physician and health discipline education. Congratulations to all of the award winners and all those nominated!
9. St. Michael's Emergency Department fundraises to recognize National Indigenous Peoples Day
The Emergency Department at St. Michael's Hospital is fundraising in recognition of National Indigenous Peoples Day (June 21). The ED is collecting donations for Anishnawbe Health Foundation and Friends of Ruby, two local care organizations that serve Indigenous communities and 2SLGBQTIA+ youth. The ED has also purchased two pieces of art from Indigenous artist Michel Dumont. The art will be placed in the ED physician and RN lounges, where they will inspire daily self-reflection, learning and unlearning in regard to care for Indigenous patients. Learn more and donate to the fundraiser, which ends on July 1.
10. Dr. Sean B. Rourke joins panel discussion on LGBTQ+ health care
Dr. Sean B. Rourke, scientist with MAP Centre for Urban Health, joined a panel of Ontario physicians and care providers to discuss improving access to 2SLGBTQ+ health care. He spoke about the I'm Ready program, which provides access to free HIV self-testing kits to people across Canada. The program recently expanded to provide people with COVID testing kits and N95 masks.
Previous Ten Great Things articles