Ten great things that happened this week
June 16, 2022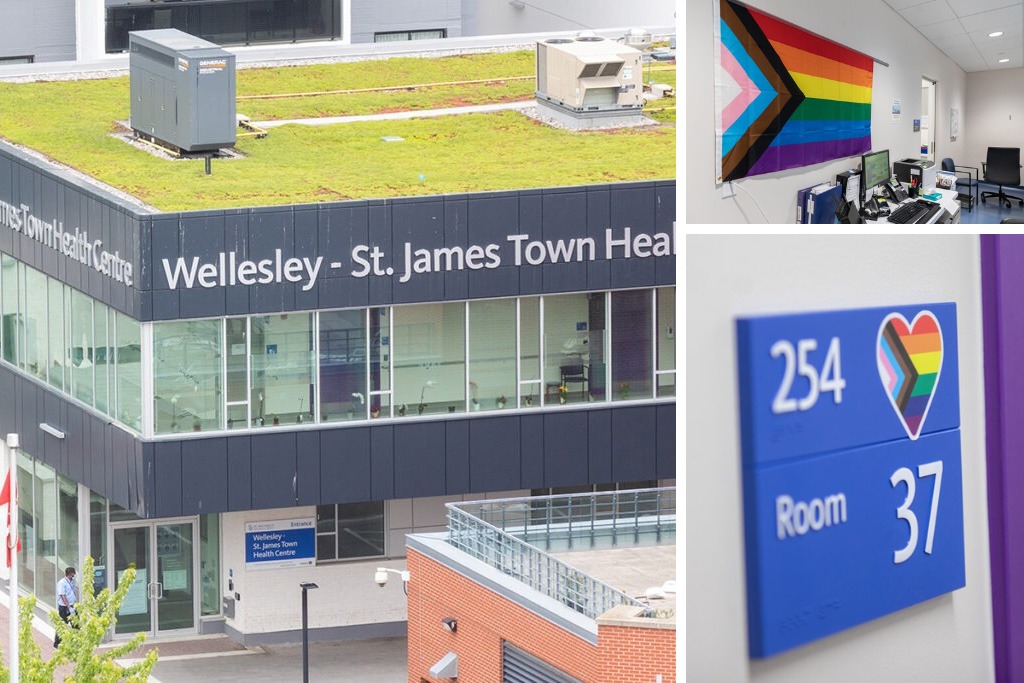 Each week, we share a list of 10 great things that happened at our sites. Do you have a story you'd like to share? Send it to communications@unityhealth.to.
1. For Pride Month, a spotlight on the Wellesley-St. James Town Health Centre
As part of our Pride Month celebrations, we profiled the Wellesley-St. James Town Health Centre and the work staff and physicians there are doing to build trust with 2SLGBTQ+ patients. The clinic, which merged two previous health centres, provides care for more than 13,800 patients and offers specialized programs, including prenatal and post-natal care, a designated HIV program, addictions support, transgender and non-binary care, and mental health programs. Patients are welcomed to the centre with 2SLGBTQ+, transgender and non-binary flags and gender neutral washrooms, and many staff have participated in Indigenous Cultural Safety training. "We have to acknowledge that many of our patients face discrimination and stigma, either in their personal lives, home lives or society in general, but also in the health care system," said Dr. Gordon Arbess, a family physician who started his career at the Wellesley Hospital, which joined St. Michael's in 1998, and now works at the centre.
2. Dr. Amol Verma awarded CIHR Early Career Trailblazer Award
Dr. Amol Verma, scientist and internal medicine physician at St. Michael's Hospital, was awarded the CIHR Early Career Trailblazer Award, which recognizes his contributions to public health research, along with his outstanding leadership and innovative contributions, particularly in the field of data analytics. Verma is a co-founder of GEMINI, a program that collects, formats, standardizes and analyzes clinical data from hospitals to improve healthcare delivery. Since its inception, GEMINI has become the largest network of its kind in Canada, covering 33 hospitals and 60 per cent of the province of Ontario. Congratulations Dr. Verma!
3. Dr. Naheed Dosani recognized with honourary degree from Ontario Tech University
Ontario Tech University recognized alumnus Dr. Naheed Dosani with an honourary Doctor of Laws degree. Dr. Dosani, who is a palliative care physician at St. Michael's Hospital, gave a convocation address to new graduates, speaking about challenging structures, racism as a public health issue, housing as a human right, and making compassion contagious. Congratulations Dr. Dosani and all new grads!
4. Stroke and Neurovascular Health Equity Clinic provides follow-up care to patients experiencing marginalization
Dr. Alexandra Muccilli, neurovascular and autoimmune neurologist, and Dr. Atif Zafar, medical director of the Stroke Program, launched the Stroke and Neurovascular Health Equity Clinic at St. Michael's Hospital. St. Michael's Hospital serves one of the poorest urban areas in the country. Due to various factors, up to 20 per cent of patients with no fixed address were missing their appointments at the outpatient Stroke and Neurology Clinic. Drs. Muccilli and Zafar identified a need for an innovative approach to providing post-acute neurological and stroke care. Their goal was to facilitate follow-up attention which would otherwise prove difficult to access. Having received support from contacts in shelters, COVID-19 distancing hotels throughout the city, and from colleagues at Unity Health Toronto, Drs. Muccilli and Zafar are succeeding in improving extended access to care to people who are homeless.
5. Grills fired up at St. Michael's Hospital for summer barbecue
After a two-year hiatus due to the pandemic, St. Michael's Hospital hosted the return of its summer barbecue to show appreciation for staff, physicians, learners and volunteers. The grills were fired up to serve our community members, who came out despite a bit of rainy weather. Thank you to all who planned the event and stay tuned for bars at St. Joseph's and Providence!
6. Unity Health team members included in CIHR's Top 10 Articles of the Year
Several Unity Health physicians and researchers were recognized by The CIHR Institute of Health Services and Policy Research (CIHR-IHSPR) and Canadian Association for Health Services and Policy Research for publishing a Top 10 Article of the Year. Articles that were recognized looked at a wide range of issues, including managing diabetes among patients who are experiencing homelessness, patient priorities in the transition from hospital to home, and anti-racism interventions in healthcare settings. Congratulations to all those recognized on a job well done!
7. Unity Health partners with University of Toronto's Data Sciences Institute
Unity Health Toronto has partnered with the Data Sciences Institute at the University of Toronto. The partnership will help support Unity Health researchers, giving them new opportunities to apply for grants and support, training, and networking opportunities. "At Unity Health, we are a leader in the use of data and advanced analytics in healthcare delivery and research," said Dr. Ori Rotstein, vice-president of Research and Innovation at Unity Health Toronto. "Partnering with the DSI will enable Unity Health to continue to harness the power of data science to improve care. This collaboration will enhance our work with our partners to apply big data to advance the health of our communities locally, nationally and globally."
8. Unity Health staff, physicians lace up for healthcare workers' safety
A number of Unity Health staff and physicians joined other frontline workers for a five-kilometre run to raise awareness about healthcare workers' safety. Studies show that healthcare workers face increased risks of verbal and physical assault in the workplace. Look out for future runs and other ways you can help draw attention to this critical issue.
9. Dr. Ryan Giroux gives talk about Indigenous child health
Dr. Ryan Giroux, paediatrician at Unity Health Toronto, gave a talk to the McMaster University Pediatric Residency Program about Indigenous child health. Dr. Giroux works at the Compass Clinic, a health centre that provides care to children, youth and their families, as well as helping them access and navigate services.
10. 'This is long overdue': Dr. Dan Werb speaks to Wired Magazine about decriminalizing drug possession
In an interview with Wired Magazine, Dr. Dan Werb, director of the Centre on Drug Policy Evaluation at St. Michael's Hospital, spoke about the move to decriminalize the possession of small amounts of certain illicit drugs in B.C. He said because the threshold for decriminalization was set at the low amount of 2.5 gram, the policy could unintentionally make things worse by turning the supply more potent and dangerous. It could also disproportionately target people who need a higher amount of a substance to sustain their use. "You can build policies, and they can be really progressive policies. But if you don't build them in the right way, you can actually increase the level of inequity across society," he said.
Previous Ten Great Things articles