'A hospital at its best': After more than 204,000 swabs, the St. Joseph's COVID-19 Assessment Centre closes
June 20, 2022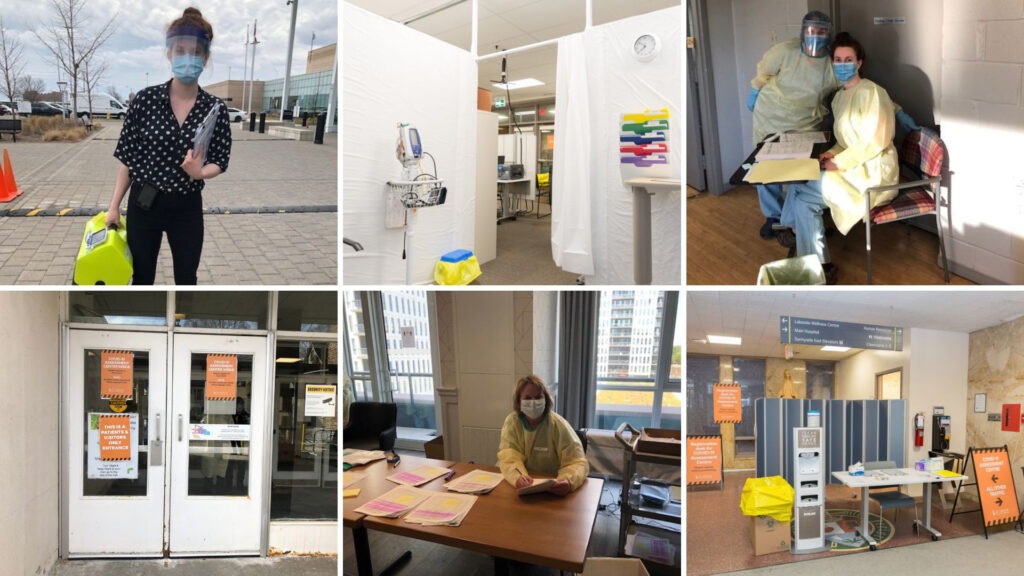 Some remember the St. Joseph's COVID-19 Assessment Centre an early source of hope. Others recall its ability to create order during the chaos.
Now, after two years and more than 204,000 swabs and thousands more administered through community outreach, the St. Joseph's COVID-19 Assessment Centre has closed its doors amidst declining demand for its services. We asked those who worked to contain the spread of COVID-19 to look back on their roles in the historic effort and all they learned along the way.
From those who greeted clients to those who sanitized the space after they left (and everyone in between), here is what they had to say:
"In a time of crisis, the staff really cares about what they do and working as a team truly makes the dream work.
When my day was over I would head to the parking garage, and I would notice the long line-ups of people waiting to be tested, regardless of the weather. The lines oftentimes lead into the parking garage along Sunnyside Avenue, sometimes to the Melynk entrance. I'd call the evening operations leader to give him a heads-up that we may need extra staff to support with the cleaning. I was very proud to know that my staff was part of the team helping to keep everyone safe and healthy.
My frontline staff did not hesitate to jump in and help. They did not worry about their personal safety and they worked as hard as anyone else to support the assessment centre.
I want to say thank you and I am proud to work with a great team of people who really cares, from the cleaners, porters, operational leaders, to our administrative assistant and the leadership team."
Flodina Charles, Manager of Environmental Services & Patient Transport
"Working at the St. Joseph's Health Centre COVID-19 Assessment Centre, I learned about the powerful effect of simply being kind. Many people coming in for testing may be doing so under difficult circumstances. They might be worried about an immunocompromised family member, worried about losing income from having to miss work, or worried about their own personal health.
I can still recall several patients who were coming to us the day after losing a spouse or a parent. Even though I wasn't able to do much more than offer my condolences, I could see the difference it made when I did. When emotions are running high, a kind word or small gesture of empathy can make all the difference in somebody's day.
As cliché as it may sound, I'll remember how I worked through the toughest periods at the assessment centre and came out alright. At our height, we were seeing about 550 to 600 patients a day, and patients could be waiting in line for up to five hours. Things were stressful, to say the least, for everyone involved.
I had to try and keep our line moving as quickly as possible while also pacifying frustrated patients and communicating with the rest of the team. It was a lot to balance every day, and some days were much more difficult than others, but I was able to manage all the same. As I relocate to another hospital entrance, I feel confident that I can handle anything that comes my way.
Over the years when I'd seen emergencies in the news – earthquakes, tsunamis, epidemics like Ebola – I'd often experience a sense of powerlessness. It felt like there wasn't really anything that I could do to help as an individual. When the opportunity to work in the assessment centre came along, I was glad that I could contribute directly, and also see the immediate effects of my contribution. I was proud to be jumping into action, to be part of a talented team of nurses, doctors, and other support staff coming together to serve a greater purpose.
I'm also proud that I was able to help relieve those around me of their stresses and worries, if only for a moment. In the early days of the pandemic, our operations were changing daily, sometimes hourly, and it was a time of great anxiety for staff and patients alike.
Patients especially could be quite nervous. We still didn't know the true scale of COVID-19's ability to spread, and new symptoms were being investigated every week. However, I learned that one of the easiest ways I could calm others in such times was to project calmness myself. It felt good to hear a nurse or registration clerk laugh at one of my dumb jokes. I also had a number of patients tell me that how coming to the assessment centre was initially a harrowing experience, but seeing how I was able to speak calmly and cheerfully in the midst of everything made them feel like things were going to be alright. Hearing those words impacted me greatly, and I'll never forget them."
Brian Dearden, COVID-19 Assessment Centre Screener
"In my time working with the St. Joseph's Health Centre COVID-19 Assessment Centre, I learned that collectively and collaboratively, anything can be achieved when everyone is working towards supporting the same Big Hairy Audacious Goals. (BHAG)
I will remember the people. Working and collaborating with staff at all levels, in various departments. We were tired and drained but everyone kept encouraging each other, even when it felt like there was no light at the end of the tunnel. Work is work, and as healthcare professionals, we will always do what needs to be done. When you are working with individuals who truly care, it makes a huge difference.
There are several proud moments from the past two years. The hiring of staff to support the areas was unprecedented. We were required to hire and train twenty new staff members, in short order. Working with our Human Resource partners, we were able to effectively onboard and train these individuals to support the assessment, and then later on, the vaccine clinic. The culture in the COVID-19 Assessment Centre and the vaccine clinics became one of a 'can-do attitude with a smile,' as we all knew that those coming in were scared and worried.
Relationships are very important. If you value people, they will value, trust and respect you. We were required to be nimble and quick and pivot on a dime. Everyone was on board and willing to do what needed to be done each and every time we were required to adjust our sails. With good leadership, open and transparent communication, we made an enormous difference to our community, our patients, our staff and the organization.
Marilyn Sawh, Manager, Patient Registration, Digital Records and Partnerships
"I was here from the beginning. When COVID-19 hit, we were all pulled into a room and worked through our pandemic plan. The idea of an assessment centre was raised.
You had thirty, forty, fifty leaders in the room and not one person at the time ever brought up the idea of going home. No one said that they felt this would be too risky for them.
It really was a great example of how healthcare professionals, when needed most, went into the fire as opposed to thinking about themselves. You could really see how important their profession was to them. This was their moment to really prove exactly why they're in this profession: to save lives.
From my own team, we came up with a plan. We had to develop new protocols for how we were going to replenish those areas because at the time, in March 2020, we didn't know the severity of the virus yet.
When I asked the team "Who wants to do this?" There was not a single person who said, "I'm not doing that." Everybody essentially volunteered, which shows the attitude at Unity Health. It was clear from the leaders that we were all in this together, I think that trickled down to the whole team who had to physically do the work.
These people were really at the time heroes because they went into the fire when a lot of people would run out. It was a crazy time and it was really incredible to watch everyone step up when it needed to be done. You were pushing away volunteers instead of having to recruit them. That's really what I remember about it the most.
Honestly, setting all that up now seems like a decade ago, not two years ago. Unity Health has been a great place to work during this time. The collaboration and teamwork shown during that time hasn't changed in the last couple years, it's still just as strong as it was.
Brian Duffy, Site Manager for Supply Chain and Measure Quality and Transformation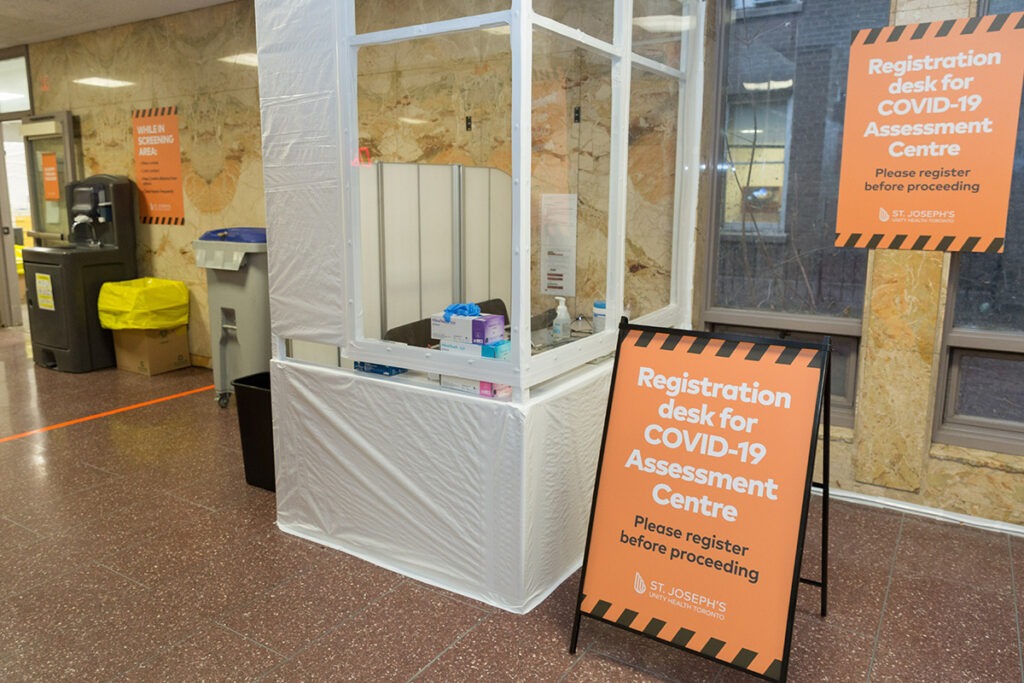 "During the initial setup and construction of the COVID-19 Assessment Centre, I learned so much about the value of teamwork and collaborations across departments. The initial setup was so successful because we had an interdisciplinary team from across the site that banded together and willed the center into existence during a very unpredictable and scary time. It was a testament to what can be achieved when we work together towards a common goal.
I will never forget that, despite the challenging times and unpredictable nature of the pandemic, so many people who worked with the centre still found moments of levity and joy. The initial setup was very taxing and grueling but I have fond memories of laughing or smiling with co-workers while we set up the centre.
We had less than a week to set up the clinic, from our initial concept drawings to our "go-live" date. It was incredible that our team was able to turn the space around in such a short amount of time. I was so proud to be a part of such a dedicated and hardworking team. I feel a kinship and bond with everyone that was involved with that setup and construction because we faced an incredible challenge, and overcame it together.
Working on opening the centre gave me a sense of purpose during a very uncertain time. I will never forget how rewarding that was. Over the past two years I have often pointed to the setup of the COVID-19 Assessment Centre as a moment when I was able to contribute positively towards the fight against COVID-19. I'm so glad that it was a part of my pandemic journey."
Alanna Loewen, Project Coordinator, Redevelopment
"The St. Joseph's Health Centre COVID-19 Assessment Centre was an excellent opportunity to see how people could adapt and react to the needs of the St. Joseph's Health Centre community and community at large so Santina LeBrun (operations lead for transition planning) and Laurie Jenkins (senior director of access and transitions) in particular, they were fantastic to work with.
As we went up and down through the pandemic's waves, they were able to withstand and persevere and innovate. One innovation was the use of the ID NOW, a rapid testing system.
Initially, you would have to take two swabs and then the assessment centre staff would take one of them with a shoe-box sized machine to get an early result. So, to be able to essentially bring a new testing mechanism that has never been seen at St. Joe's, in just two weeks' time, is just amazing.
It was the adaptation and innovation to provide high quality results. The rapid testing images, which we replaced with the ID NOW for many of our employees, were inferior to the rapid molecular testing that we implemented.
They just had a 'sure, we'll get it done,' approach to everything, including providing this rapid testing and extra fast results. They were also willing to step up in terms of outbreak investigations for staff workers on very short notice. It was a really professional outfit and it was also very community focused.
Dr. Greg German, Physician, Laboratory Medicine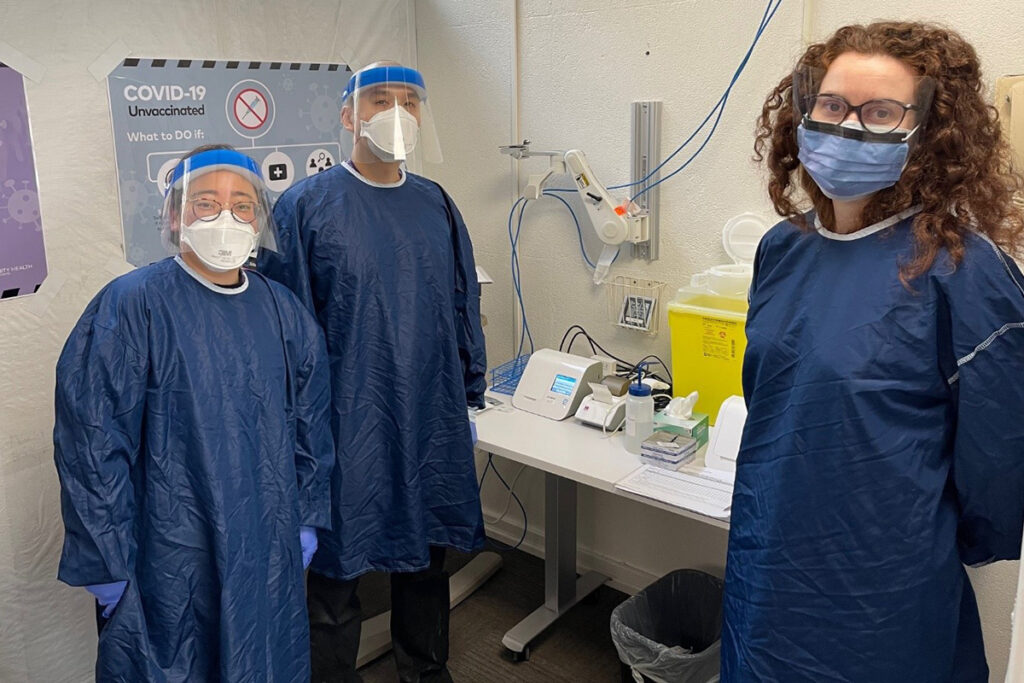 "As the medical head of microbiology at Unity Health Toronto, it was critical to ensure that our procedures for specimen collection, transportation and the indication for testing for COVID-19 were appropriate. As the old saying goes: "Garbage in, garbage out." That is, if the specimen was not collected or transported properly to the lab for testing, or the reason for testing was inappropriate, the test would be compromised and an incorrect result could be issued or the result could be delayed.
We would meet weekly to review operations and opportunities for improvement. This was my favorite time of the week. Even though there was often an issue to address, I also knew this team would work together and include all voices to find a solution that was agreeable to all, including our patients.
It is because of this collaboration that we not only served our community, but we also served our research aspirations by utilizing the COVID-19 infrastructure to enroll patients to participate in studies evaluating alternative specimen collections, such as saliva instead of nasopharyngeal (NP) swabs. It is because of this research collaboration that we could implement and offer less invasive and more comfortable specimen collection methods, especially for our pediatric clients.
I will forever be grateful to the St. Joseph's Health Centre COVID-19 Assessment Centre team with whom we worked so closely to meet our patients' needs. I've always felt that this teamwork truly reflected our vision at Unity Health Toronto: "The best care experiences.  Created together."
Dr. Larissa Matukas – Director of Microbiology
"While working with the SJHC CAC team, I learned about the importance of strong relationships and trust when working with cross-functional teams. There were always updates and changes to be made to processes, reporting requirements, technology, resourcing, etc., but having trust in the people that are a part of your team means that those changes are never going to be as overwhelming as they may seem.
My scope of work is project-based and often for a temporary period, but as a result of working with the SJHC CAC team, I now have new friends and people that I look forward to working with again in the future.
I was most proud of how quickly we were able to get the booking tool built and ready for launch over one weekend. It took a wide variety of specialties and groups, but we all came together to get something done in a critical time of need. As a bonus, it was something that we were able to leverage many times over in the following months."
Alexandra (Lexie) Brand, Project Manager, Information Technology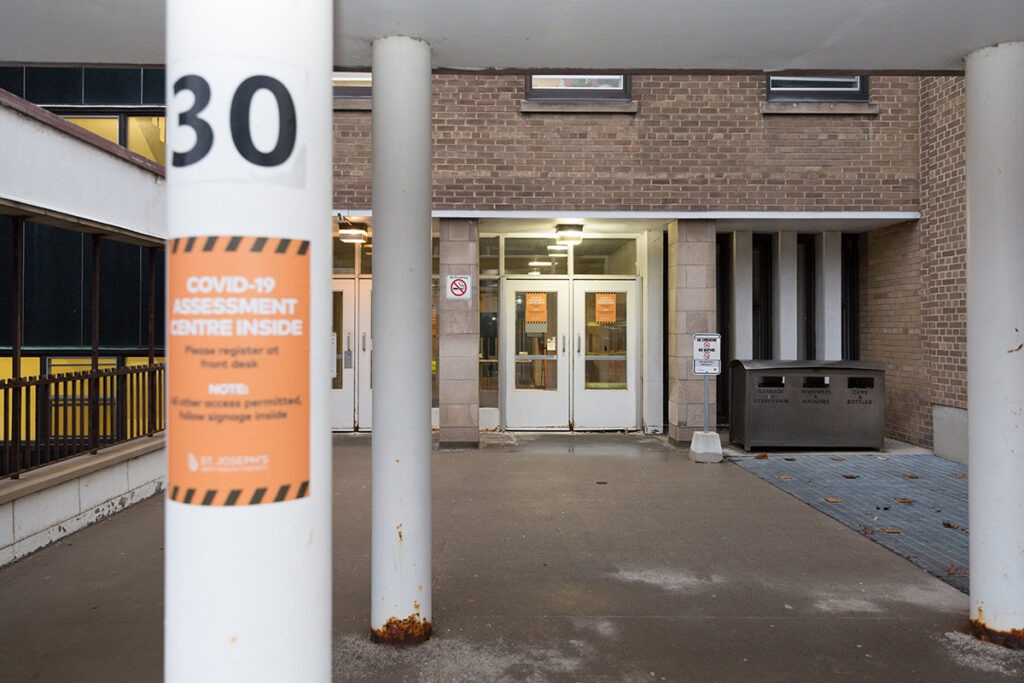 "The most memorable part of the St. Joseph's Health Centre COVID-19 Assessment Centre was the sheer volume of people that were tested and the quality of care they received. The team at the assessment centre supported the community during this pandemic."
Cheryl Croutch, Director of Corporate Health, Safety & Wellness
"I learned that the COVID-19 assessment centre was an example of St Joseph's Health Centre being a community hospital at its best. Everyone who lived or worked in the neighbourhood seemed to rely on the assessment centre at some point to stay on track with their lives, myself included.
One thing I will remember about the assessment centre is that every time my daughter needed a COVID test to get back to daycare, the staff made what could have been a very unpleasant experience a positive one, with their kindness.
I also asked my daughter what her best memory was and she didn't hesitate: "The pediatric masks! Because they had dinosaurs!"
It was an incredibly safe place. There was little to no COVID-19 transmission to our staff, which was quite remarkable given the volume of COVID-19 patients they were seeing."
Dr. Mark Downing, Associate Medical Director of Infection Prevention and Control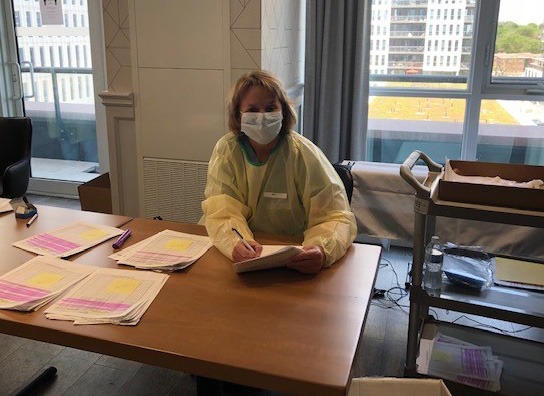 "I learned that we can do anything when we work as a team in times of crisis. I could not believe that within days our gym had transitioned into a COVID-19 Assessment Centre. We had huge lines of people, afraid that they may have COVID-19, lined up around the block.
Nurses from all specialties, including myself, were suddenly faced with learning new skills and ways of communicating with an anxious general public during a pandemic. It is a credit to the whole team that the COVID-19 Assessment Centre became such a well-oiled machine.
I will remember the people that I was working with. We were often very stressed with the huge responsibility of trying to keep long-term care residents safe, with regular PCR testing and vaccinations as fast as possible.  We never knew what the next day would bring but we always found time to laugh and support each other.
I am most proud of how we put together a great team of nurses, doctors, pharmacists and IT people for our outreach to long-term care homes. I learned more about working with an inter-professional team than I have in all the years that I have been a nurse practitioner. We all had a common goal and everyone had a role to play. We knew that we were doing something important for our community when we saw the relief on the faces of the long-term care home staff and residents upon our arrival. They would often provide us with food. There was even a huge sign in one of the care home's parking garage, thanking us when we were leaving.
The absolute best moments were always spent with the residents themselves. They were so lonely and being quarantined from their friends and family. It was great to see each of our team members taking the time to talk to them and look at pictures of grand-children or places that they had travelled before COVID-19.
I was very grateful to have the chance to actively contribute, in a small way, in our community's fight against COVID-19."
Jill Campbell, Nurse Practitioner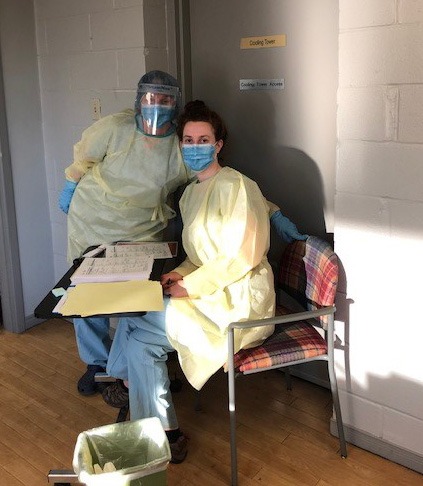 "St. Joe's has a lot to be proud of with the COVID-19 Assessment Centre. Early in the pandemic we responded to a call for testing support. Within record time, we opened a public COVID-19 assessment centre with seven testing stations, including redeployed staff and physicians, and we didn't look back.
The can-do attitude of the team not only serviced hundreds of individuals a day, but they also mobilized outreach teams to support testing in other settings overwhelmed with COVID-19 outbreaks and in need of support.
At its peak well over 600 walk-in patients were seen daily. When requested, the team established an online booking system within three days to smooth out waiting times and improve the patient experience.
In the midst of it all the team welcomed a research cohort into the centre to support a research project, another worthy endeavor in the fight against COVID-19.
There is a lot to be proud of. I think our initial and ongoing response to ensure access to necessary testing was there for our community, and it is something that we should be very proud of."
Dale Clement, Vice President, Clinical Programs, St. Joseph's
"Leading this team for the past 14 months has been a privilege. Their creativity and commitment is unparalleled and their ability to constantly pivot and adapt to the pandemic has been remarkable.
This level of teamwork is something that is usually seen in high performing teams that have worked together for many years and decades. The fact that this small but mighty team could organize and mobilize themselves so quickly is a testament to their leadership and to the commitment of all those involved. I've never seen anything like it before and doubt I will again."
Laurie Jenkins, Senior Clinical Program Director of Access and Transitions, Clinical Programs
"As a family physician by training, I didn't have much familiarity with clinical flow and design. Thanks to the amazing operations team, I learned a lot about the many details, relationships, and infrastructure elements that need to be in place for our patients to have a smooth clinical experience!
I will always remember how our local community of family physicians stepped up to provide continuous staffing starting during a really uncertain and risky time in the pandemic. This group stayed fully engaged and committed for over two years and multiple waves which each brought new challenges.
I am so proud of the COVID-19 Assessment Centre team we built: clinical, administrative, and operational. We all learned from each other and helped one another thrive. I'm also proud of how we were able to care for a vulnerable population (people experiencing homelessness) with efficiency, practicality, and compassion whenever COVID-19 testing was needed.
The COVID-19 Assessment Centre played an extremely important role in the West Toronto community. Patients found their way here and family doctors outside of St Joseph's Health Centre referred to our clinic easily when needed. The service was professional, friendly, and reliable. I truly believe we made things just a little easier for our community during a very challenging time.
Dr. Nadine Laraya, Family Physician and St. Joseph's Health Centre COVID-19 Assessment Centre Co-Medical Director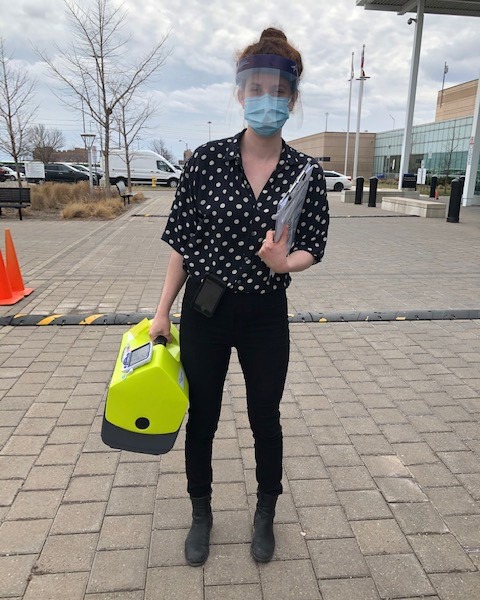 "The initial stages of the pandemic brought communities together across the globe, with COVID-19 assessment centres really being the first centres of hope. Testing and identification of the SARS-CoV-2 virus was instrumental in creating order out of chaos and providing peace of mind to patients around the world. Working in the COVID-19 assessment centre has shown me the incredible dedication healthcare workers have to their jobs. I have truly learned that nurses are some of the most empathetic people out there.
My favourite memory of working in the assessment centre was organizing outreach to our long-term care and retirement home partners. Working with healthcare teams from across the city to help this vulnerable population was extremely fulfilling.
I am most proud of the impact the COVID-19 assessment centre has made on our community. As a lifelong Roncesvalles resident, I felt extremely proud to be directly involved with a service that supported many of my neighbours and their families through this trying time.
Santina LeBrun, Operations Lead, St. Joseph's COVID-19 Assessment Centre
"The COVID-19 assessment centre reminded me of why we all went into health care. It gave us a chance to serve our community. I learned that a committed team can accomplish almost anything, even in really hard times. I also learned that the community counts on St. Joseph's Health Centre, and that St. Joseph's Health Centre steps up to deliver when our patients and their community really need it.
I will remember the camaraderie at the centre, especially in the early days. The St. Joseph's Health Centre COVID-19 Assessment Centre was built so quickly, in response to such overwhelming pressures, fears and uncertainties. I will remember the outpouring of generosity from nurses, doctors, administrators, lab personnel, caretakers, and more who showed up and created a program out of nothing, then kept it going through wave after wave of new cases, new procedures, and new demands.
I'm just proud that I had a chance to get involved. The COVID-19 Assessment Centre would have been built and would have soared with or without me, and this was an extraordinary team.  I'm just glad that I got to make a contribution to the effort."
Dr. Aaron Orkin, Emergency Physician and COVID-19 Assessment Centre Co-Medical Director
By: Talar Stockton and Ana Gajic