These family doctors say strong family medicine is the 'cornerstone of a strong health care system'
Meet the doctors leading Unity Health's Academic Family Health Teams and Departments of Family and Community Medicine
May 19, 2022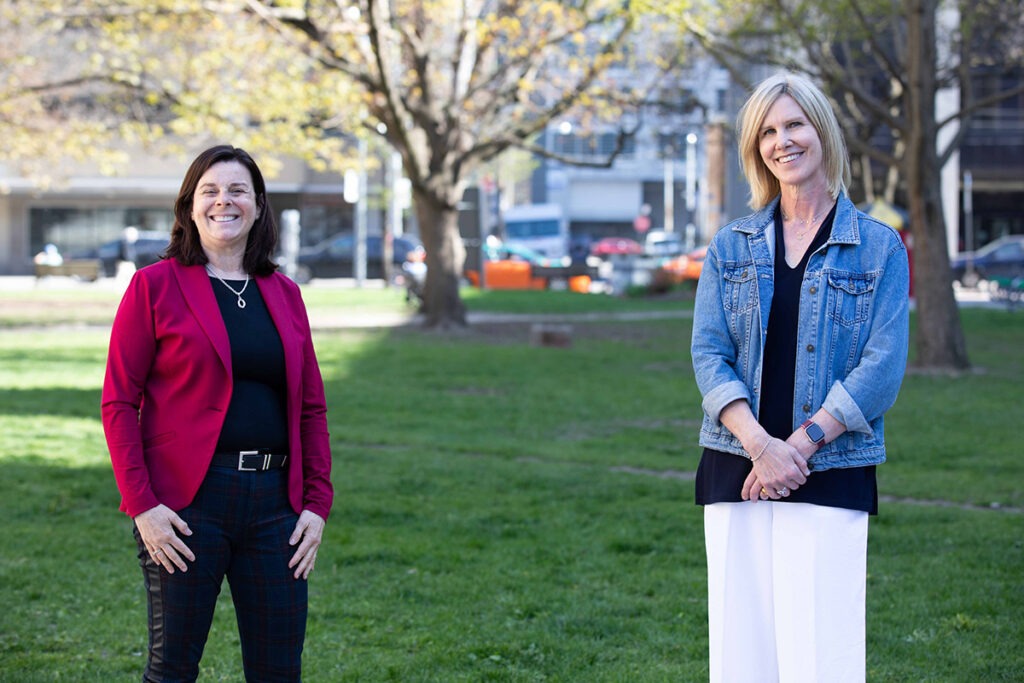 Unity Health is proud to have two academic family health teams serving approximately 56,000 patients each year. Having a family doctor can lower a person's risk of hospitalization, emergency department use, and even reduce their mortality rate, yet nearly 15 per cent of Canadians do not have access to a regular primary care provider.
To mark World Family Doctor Day, we spoke with Dr. Daphne Williams and Dr. Karen Weyman, two primary care doctors who were both learners at the same hospitals where they now lead their departments. They spoke about their career path, philosophy on primary care and why they both believe 'strong family medicine is the cornerstone of a strong health care system.'
Tell me about yourself how you got into medicine.
Dr. Daphne Williams, Chief and Medical Director of Department of Family and Community Medicine at St. Joseph's Health Centre: I actually did my family medicine residency here at St. Joseph's and never left. I've worked as an academic family doctor here and was delivering babies until the end of 2021 when I made the decision to stop that part of my practice – which is bittersweet. I've been Chief of the department since December 2020.
I wanted to be a physician when I was in high school but to be honest, I didn't get in when I first applied to medical school. I ended up doing an MBA with a focus in health care administration. I then worked at Sunnybrook and North York General Hospital with a number of wonderful family physicians and it was there that I really saw the benefit in the relationships that these family doctors had with their patients and the variety in their careers. I was really drawn to it. I ended up applying one more time and got in to McMaster. Once I started, I knew I wanted to specialize in family medicine and include obstetrics in my practice. I so appreciate the long-term relationships that are developed with patients and I loved that I could follow my patients when they got pregnant through to the delivery of their baby and share in that experience with them and their family. I have now delivered babies of those patients that I delivered!
Dr. Karen Weyman, Chief of Department of Family and Community Medicine at St. Michael's Hospital: I started my journey by wanting to be everything but a family doctor. My mother was a general practitioner, and so were my aunt, uncle, and even my grandfather! When I studied medicine at the University of Toronto, I was someone who loved every single rotation – but when I got to family medicine, I felt like I had arrived home. It combined all my interests. I actually did my clinical clerkship as a medical student at St. Michael's Hospital. I came in resisting family medicine, but I came full-circle and I knew it was the specialty for me. I didn't want to give up practicing women's health and didn't want to say goodbye to patients when they turned 18.
Like Daphne said, the relationships mean so much, including long-term relationships with patients and the team members. I like the challenge of seeing patients with undifferentiated problems and working with others to figure out what is going on. In addition, the focus on the social determinants of health and upstream prevention is a big part of family medicine and something else that drew me to a career in family medicine. Another thing that brings me great joy is the academic piece – I was always drawn to academic family medicine and knew that I wanted to teach and work at an academic site. I love working with learners and have had the privilege of doing so for over 30 years. I personally cannot imagine a more meaningful career.
What's your philosophy on family medicine and how do you see it in the bigger picture?
Dr. Daphne Williams: The pandemic has highlighted that strong primary care is the cornerstone of a strong healthcare system. When people are sick, if they're fortunate enough to have a family physician, we're usually the first health care provider they go to. We have that ability to provide care in a way that is different than if a patient were going into an emergency department where the care team doesn't always know them and their social context. We know what's going on in their lives, what supports they may or may not have, what financial resources they may or may not have, and can manage challenging clinical issues like child and youth mental health, addictions, dementia, pain management and chronic pain, and frail older adult care.
A strong primary care system can improve access for those who most need it – people living with mental illness and addictions, those living in rural and remote settings, and other vulnerable populations including low-income patients, Indigenous populations, and new immigrants and refugees. Family doctors care not just for the individual, but really the entire family, and can connect them with the most appropriate care both within the family medicine team and in the community.
Dr. Karen Weyman: I agree completely. Team-based primary care needs to be prioritized because without strong primary care, the health care system doesn't work. We know that countries that have better health outcomes are the ones that have made a strong investment in primary care – it's foundational.
I think our lens considers the context of a person – their family system, social context, and I think that's a key differentiator – we have that privilege of knowing and understanding people and often their families over time. The kind of care you can provide is different, it's holistic and we address the physical, social, and psychological contributors to health. We are not experts in one specific area of medicine, but we are generalists who because of our relationships over time and the trust that develops, can provide patient-centred care that is unique from other parts of the healthcare system. It allows us to work in partnership with patients to help them get the best care possible in collaboration with healthcare and community partners.
Dr. Daphne Williams: Once you support patients in navigating the system and advocate for them, you really realize the value of family medicine to the entire healthcare system. It's often the more marginalized populations that don't have access to family medicine – and they're often the ones who need it more than some who do have access. This is something we need to work to change.
What would you say to a medical resident or student who is considering family medicine as a specialty?
Dr. Daphne Williams: I think in the past family medicine has been viewed as not as scholarly or academic, but a lot of family doctors lead the way in terms of education, research, scholarship and quality improvement. There are so many incredible academic family physicians both at St. Michael's and St. Joseph's. It's important for students to know they can do comprehensive medicine as well as research, teaching and additional specialty training, including Addiction Medicine, Palliative Care, low risk Obstetrics, Care of Older Adults, Women's Health, and Emergency Medicine – a career in family medicine allows for that. And of course the patient and family relationships that you are privileged to be a part of for literally decades is a special part of family medicine.
Dr. Karen Weyman: Family medicine is the right fit for someone who is interested in generalism and a relationship-focused career. You can have an extremely rewarding career as a family doctor and be involved in comprehensive care embedded in a community and can also have areas of focused practice in combination, like Daphne who did obstetrics as part of her family medicine career. There are so many opportunities one can be involved in, and these can change over time. Many people will say they're attracted to family medicine because of the continuity of relationships – and I agree this is very special part of being a family doctor. I know how much I've grown as a person from these relationships with patients – and it is also a very enriching and stimulating career intellectually. Being a family doctor is fulfilling on so many levels.
Any final thoughts?
Dr. Karen Weyman: Every Canadian should have access to a family doctor, but for that to happen we need more family doctors to take care of all the people in Canada. We also need to invest in team-based primary care for all Canadians and continue to work towards a more integrated healthcare system between primary care, specialty care and community care. One of the things that we know is extremely protective against burnout is doing meaningful work. Family medicine is challenging work, but it's also deeply meaningful work. I feel very grateful for the privilege of being a family doctor.
By: Jennifer Stranges