This powder could stop bleeding earlier for trauma patients. Here's how
April 26, 2022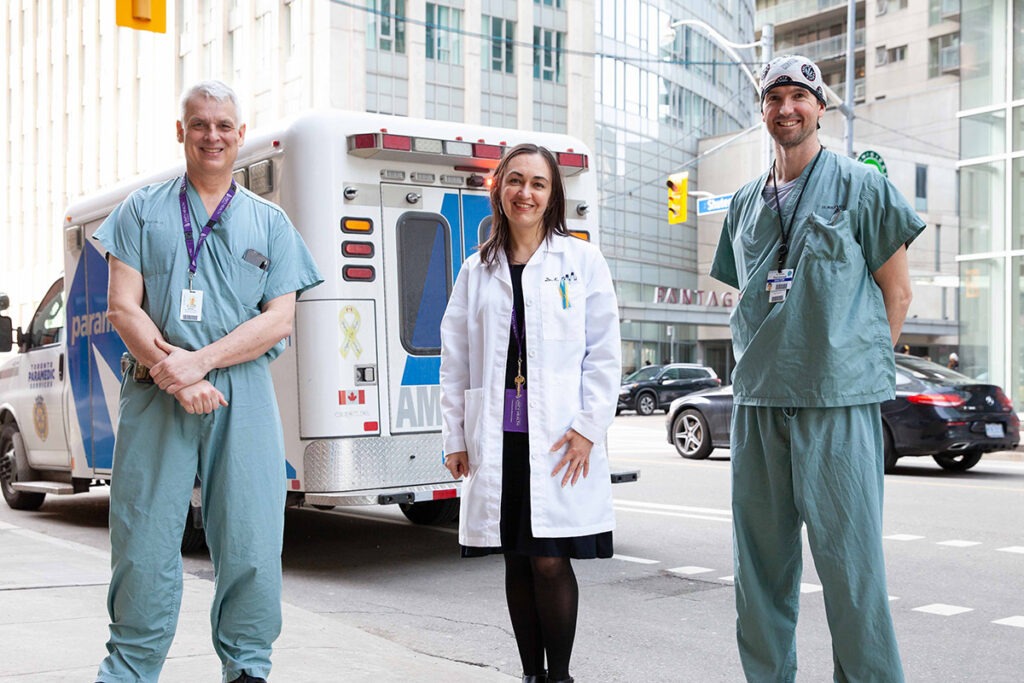 Diseases don't stop in a pandemic. Neither do our researchers. In this series, we highlight Unity Health research projects that have persisted despite lockdowns, work-from-home arrangements and a global focus on another disease entirely. Here are their stories.
Research goals: To study an alternative approach to resuscitating trauma patients with massive bleeding
Project leads: Dr. Katerina Pavenski, Dr. Andrew Beckett and Dr. Andrew Petrosoniak, researchers at the Li Ka Shing Knowledge Institute
Currently, a patient who is suffering from a large amount of bleeding due to trauma receives red blood cell and plasma transfusions. Plasma is challenging to deliver quickly to the patient and unavailable in remote areas: it must be stored at -20 degrees Celsius in special freezers, expires in one year, and takes at least 20 minutes to thaw. As determining a patient's blood group also takes time, universal donor plasma is commonly used but only 4 per cent of donors are from this group, making it a scarce resource. It can also cause transfusion reactions.
Dr. Pavenski, Dr. Beckett and Dr. Petrosoniak, with the research teams in transfusion, trauma and the emergency department, are leading the St. Michael's portion of a trial to understand whether an alternative to plasma could provide a more accessible, more efficient and safer option. The trial is co-led by Kingston Health Sciences Centre and Sunnybrook Health Sciences Centre.
In this study, trauma patients with massive bleeding still receive a transfusion of red blood cells. But instead of plasma, they receive products called fibrinogen concentrate and prothrombin complex concentrate. Manufactured from human plasma, the processed products treat and prevent bleeding.
"This could change the way we deliver care to massively bleeding trauma patients," Dr. Pavenski said. As a white powder that is diluted in water at the patient's bedside, the products can be stored at room temperature for years and quickly administered at the scene of the trauma. They can be administered faster, stopping bleeding earlier and potentially decreasing mortality. The added bonus, she says, is these products are also safer.
"We are bringing resuscitation straight to the patients at the site of injury. You can do this in an ambulance, you can do this at the side of the highway."
While the signals in preliminary studies have been positive, this large trial is needed to show whether the factors could replace plasma as a standard of care in Canada and beyond.
Although traumas decreased during the pandemic due to less travel, commuting and entertainment opportunities, the trial was permitted to continue and is well on its way to recruiting the trauma centres it requires. The plan is for 11 trauma centres across Canada with about 350 patients enrolled.
So far, trauma centres in Toronto, London, Hamilton and Kingston are up and running. On the horizon, Dr. Pavenski hopes to participate in a similar trial in cardiovascular surgery at St. Michael's and is excited to reopen some of the studies that paused during the pandemic.
"It's the teams on the ground that have made this happen," Dr. Pavenski said. "I could not wish for better teams: the transfusion lab, the emergency department, the trauma team, our clinical research coordinators. And of course, patients and their families. Without their understanding none of this is possible."
More Unity Health research project stories
By: Ana Gajic