Ten great things that happened this week
October 21, 2021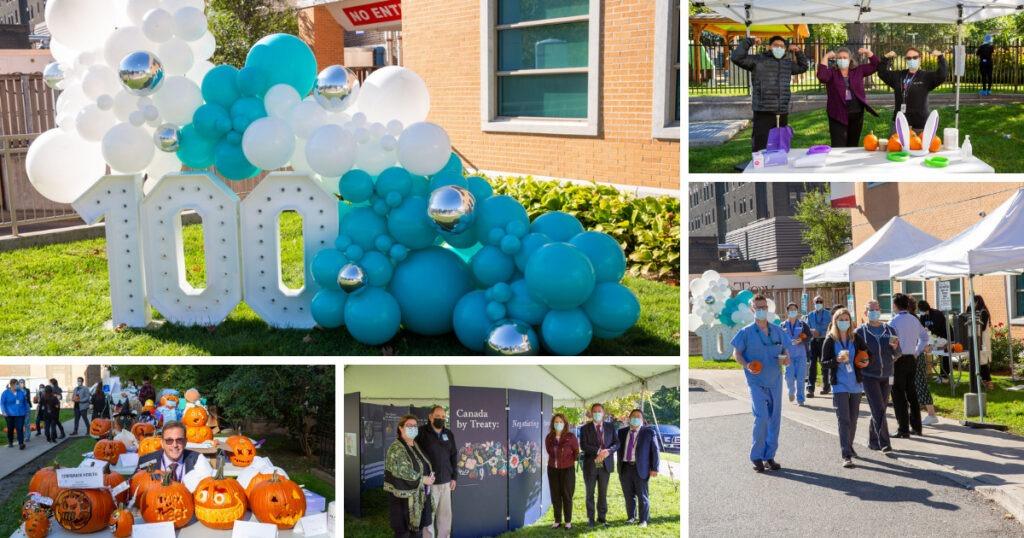 Each week, we're sharing a list of 10 great things that happened at our sites. Do you have a story you'd like to share? Send it to communications@unityhealth.to.
1) St. Joseph's celebrates its 100th birthday with a Fall Festival
Founded in 1921 by the Sisters of St. Joseph of Toronto, St. Joseph's Health Centre admitted its first patient on Oct. 19. Staff, physicians, and volunteers celebrated this year with an outdoor, 100th Birthday Party Fall Festival and enjoyed visiting stations around the grounds of the health centre. A big thank you to everyone who helped to make this a wonderful celebration and a special thank you to the planning sub-committee!
2) Unity Health researchers receive $1.29 million in funding from Health Canada
A study run by the Knowledge Translation Program has received $1.29 million from Health Canada to investigate how to optimally implement, scale up and sustain rapid antigen testing for flu and COVID-19 testing in congregate settings. The study will fill a key gap in knowledge about how best to operationalize such testing in congregate settings, where rapid testing can identify respiratory infection early and stop their spread. Dr. Sharon Straus, director of the Knowledge Translation Program, and her team will work with 60 shelters, five retirement homes and five long-term care homes to evaluate the feasibility and barriers of rapid antigen testing for COVID-19 and the flu.
3) Lin Tang speaks about her role at Providence for National Infection Control Week
For National Infection Control Week, we're celebrating our infection, prevention and control (IPAC) colleagues and their tireless efforts to keep our patients, residents and staff safe. Lin Tang shares some insight in her role as Manager of IPAC at Providence and what she's learned during COVID-19. Learn more.
4) We recognize Pharmacy Technician Day
We celebrated and recognized our Pharmacy Technicians for their contributions every day, and especially during the COVID-19 vaccine rollout. Unity Health Toronto Pharmacy Technicians were instrumental in delivering more than 305,000 doses at our clinics and through our community partners. Thank you to all our Pharmacy Technicians for all you do! Check out some pictures from Pharmacy Technician Day.
5) We speak with Kathleen Lai for Occupational Therapy Month
As a Float Occupational Therapist at St. Michael's, Kathleen Lai supports various inpatient wards across the hospital, including orthopaedics, heart and vascular and nephrology. Although the pandemic has changed some of the regular routines and activities, Kathleen finds fulfillment and meaning in supporting her patients' recovery. For Occupational Therapy Month, we spoke with Kathleen to learn more about her role.
6) Study examines underemployment and mental health inequities between immigrant and Canadian-born workers
What is the connection between underemployment and mental health, particularly for immigrant workers versus Canadian-born workers? A new paper led by Dr. Farah Mawani, social and psychiatric epidemiologist at Unity Health, examines.
7) Healthy Debate spotlights physician-in-chief Dr. Sharon Straus
Dr. Sharon Straus's interest in caring for the elderly started when she was young. In an interview with Healthy Debate, Dr. Straus, physician-in-chief and director of the Knowledge Translation Program at St. Michael's Hospital, recalls being first inspired by her great-grandfather, a veteran of the First World War. It was then that she became mindful of the quality and nature of elderly care. Read more about Dr. Sharon Straus and her career.
8) Drs. Fahad Razak, Amol Verma and Arthur Slutsky pen an op-ed on the value of data in The Globe and Mail
The pandemic has shown us the value of timely data, writes Dr. Fahad Razak, Dr. Amol Verma and Dr. Arthur Slutsky. But as we move forward, we need broader and more holistic kinds of data to inform, justify and clearly communicate policy choices. Read their op-ed in The Globe and Mail.
9) Dr. Tali Bogler speaks with Global News about the importance of support persons during pregnancy ultrasounds
Having consistent support during pregnancy is critical, says Dr. Tali Bogler. She speaks with Global News about the importance of partners or support persons attending pregnancy ultrasounds. Watch the interview.
10) How does the COVID-19 shot differ for kids and adults? Dr. Shazeen Suleman weighs in
COVID-19 vaccines could be made available to kids aged as young as five in Canada in the coming months. But, what's the difference between the COVID-19 vaccine for adults and children? Dr. Shazeen Suleman, pediatrician at Unity Health, weighs in on Global News.
Previous Ten Great Things articles