'Music heals': Medical resident plays violin concert for patients at St. Michael's Hospital
September 19, 2023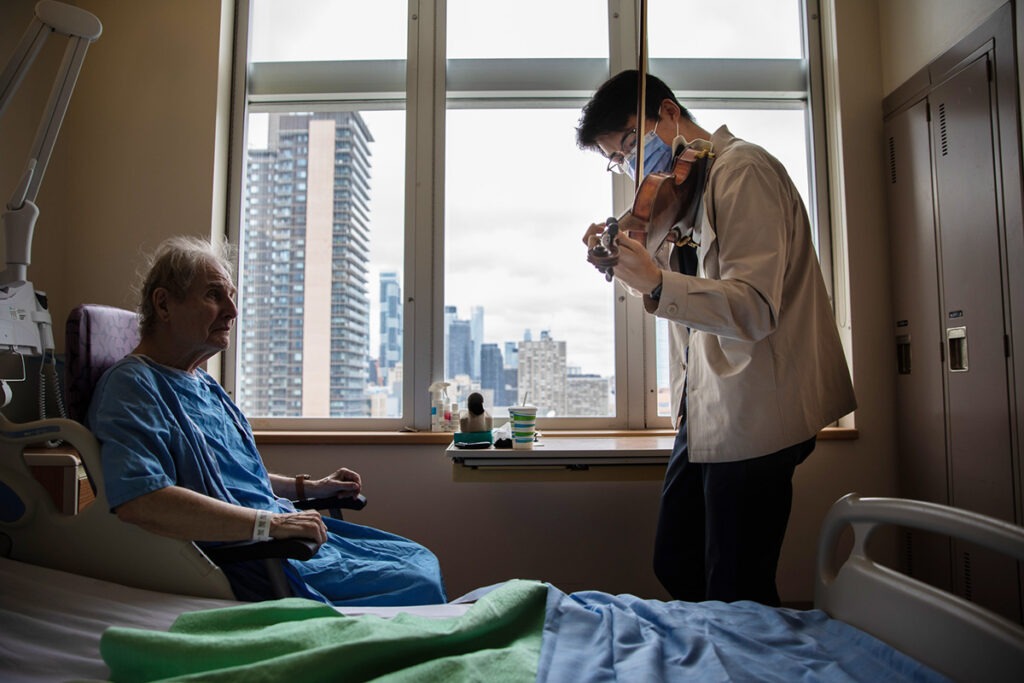 Sign up for the Unity Health Toronto newsletter, a monthly update on the latest news, stories, patient voices and research emailed directly to subscribers. If you haven't subscribed yet, you can do that by clicking here.
On a sunny summer morning on the 14th floor of St. Michael's Hospital, the sound of violin music echoes through the busy hallways. Dr. Yuchen Dai, an internal medicine resident at the University of Toronto and classically-trained violinist, is going around to each room to play live music for the older adult patients and their visitors.
"How about some Chopin?" Dai asks one patient, who has agreed to hear some music.
"Chopin it is," the patient replies, as he sits up to get a better view of the bedside concert.
"I think you'll recognize it!" Dai says, as he starts playing Chopin's famous Nocturne Op. 9, No. 2. As the music fills the room and corridor, other staff and physicians gather by the door side to get a glimpse of Dai playing his violin.
When the song ends, Dai thanks the patient for his time and continues on to the next room where he plays the Love Theme from the film Cinema Paradiso, followed by Amazing Grace, a request from one of the patients.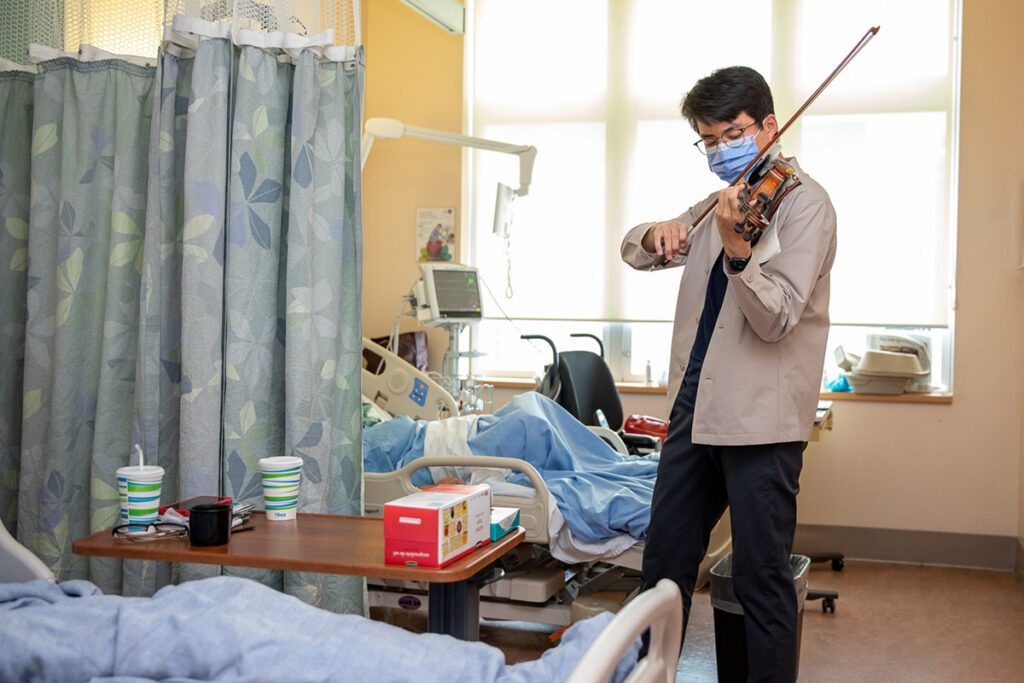 The mini concerts were organized for patients on the Acute Care for the Elderly (ACE) Unit – an inpatient unit dedicated to providing elder-friendly care for patients over the age of 70 who have multiple chronic health conditions.
"Music heals at its core — even a couple of minutes of music by the bedside," said Dai. "Patients on the unit can often experience loneliness. It's difficult for the families to be by the bedside all the time. Just having that stimulus in the room, I saw a lot of patients smiling and clapping along, which I always love to see."
Dr. Jennifer Watt, geriatrician at St. Michael's and physician with the ACE Unit, said music therapy has numerous benefits for older patients, including improving mood and engagement with in-hospital rehabilitation. For those with dementia, music can also improve their interactions with family, friends or caregivers, she said.
Studies have also shown that familiar music can activate areas of the brain, including those involved with emotion, the processing of language, movement and memory.
Watt said patients already often listen to pre-recorded music to help them relax, participate in therapy or reminisce. She was excited to give them the opportunity to listen to live music, which can be more engaging and immersive.
"While we typically think of learners, like Dr. Dai, providing traditional medical care such as taking histories and performing physical examinations, our learners have many talents," she said. "It's wonderful to see them improve the patient experience by sharing their talents."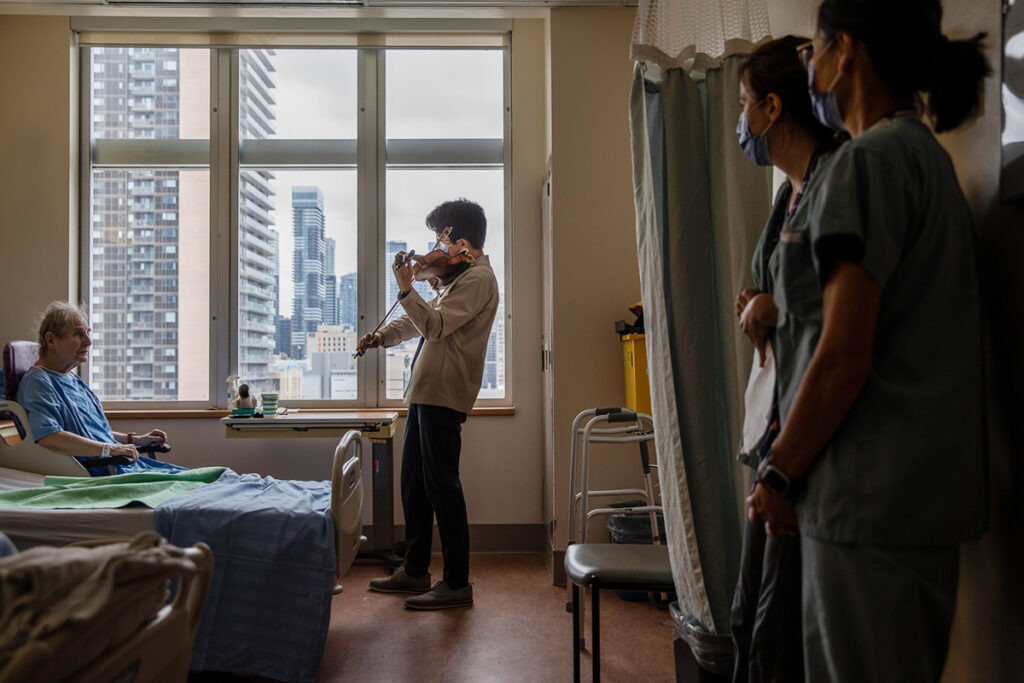 Merging music and medicine
Dai, a first-year Internal Medicine resident, studied violin performance for his undergrad after picking up the instrument when he was six. As a young child, he originally wanted to play the piano. But as his family was preparing to immigrate to Canada at the time, they encouraged him to choose a more portable instrument.
"I chose the violin and I've loved it ever since," he said.
As his skills developed, Dai played concerts in Europe and Canada with his quartet and the National Youth Orchestra of Canada. He followed up his Bachelor of Music degree with medical school at the University of Ottawa.
In May 2023, Dai toured Romania with the World Doctors Orchestra, a non-profit orchestra comprised of physician-musicians from around the world. The orchestra performs four concerts a year, raising funds for medical aid projects.
Dai is now completing his Internal Medicine residency at the University of Toronto while finding ways to incorporate his passion for music with his work.
"The staff here have always been so supportive, not just for the patients, but also for all the new learners," he said. "Whenever I have ideas, whether it is treatment recommendations for a patient or putting on a show like today, I always feel comfortable telling the staff and we try to make it work. Hopefully we can do it again soon."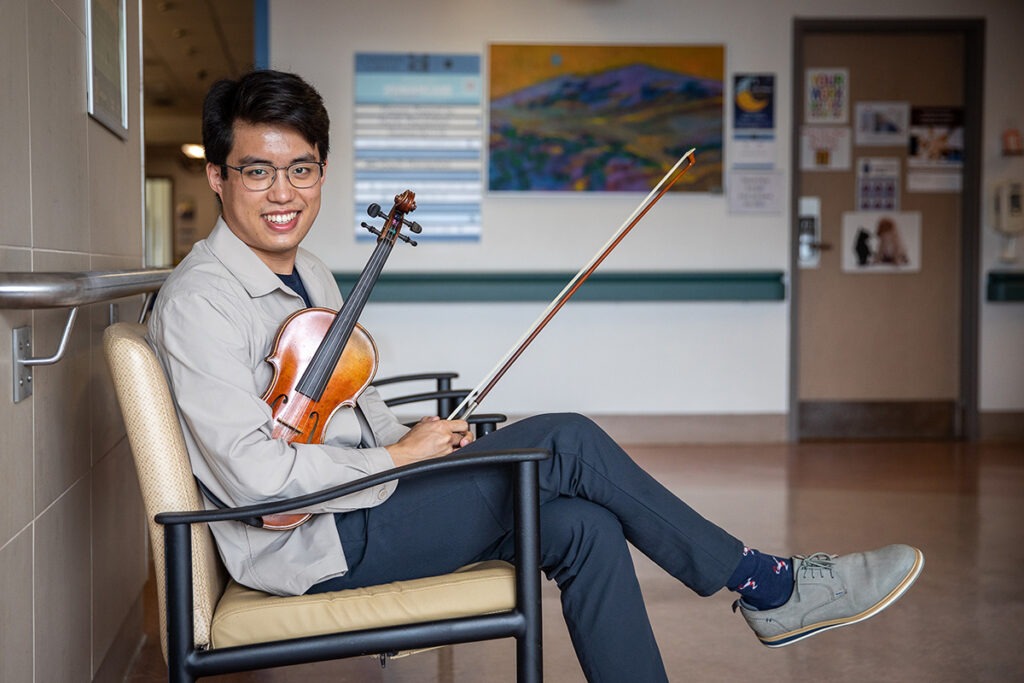 By Marlene Leung
Photos by Eduardo Lima
Video by Marlene Leung