Dr. Tara Kiran's #OneBurningQuestion: How can we make patients' first point of health care better?
January 26, 2022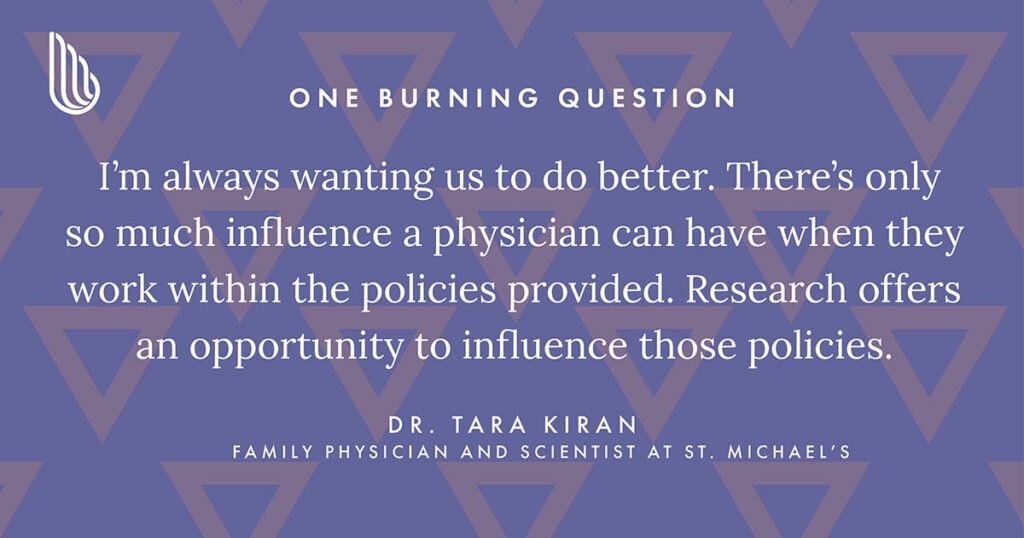 At the St. Michael's Academic Family Health Team, Dr. Tara Kiran never works alone.
In addition to her expertise as a family physician, her patients have access to many providers, including pharmacist, a nurse, a social worker, a dietitian, a nurse practitioner, an income security health promoter, or many others based on their health needs at the time of their appointment. This is the team-based model Dr. Kiran has operated in for more than a decade.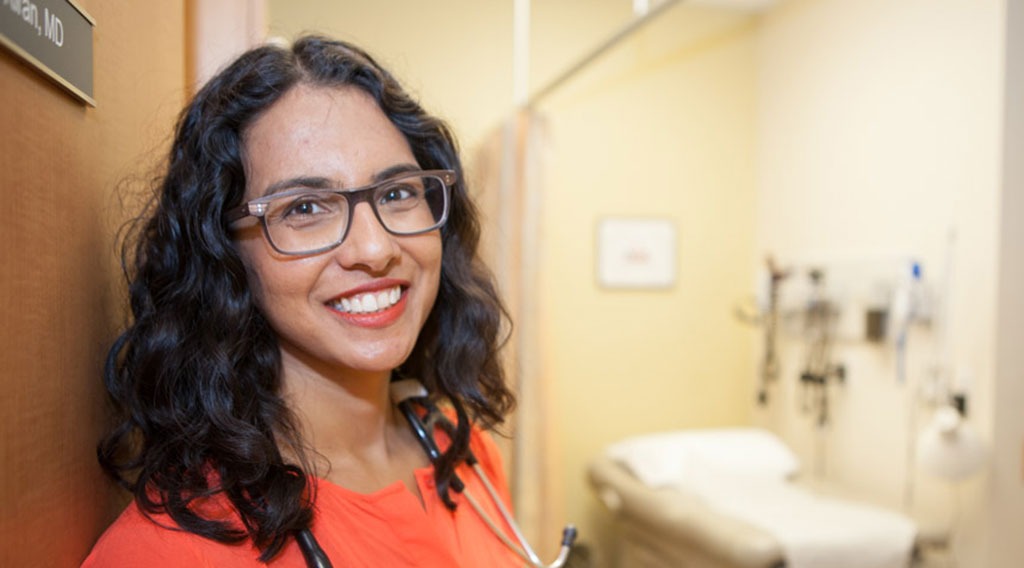 "If I didn't work with a team, I don't think I'd be able to deliver the same quality of care to our patients," she says. "Things change fast in medicine, and a team helps you ensure you're keeping up."
This model doesn't exist everywhere – some primary care teams include only physicians, or have different sets of health-care providers.
This led Dr. Kiran to wonder: Does having a team model lead to positive health outcomes? Could the impact of interdisciplinary care be quantified through research? Her hope is to influence the care of patients and populations beyond the walls of the St. Michael's Academic Family Health team. Through research, Dr. Kiran has found a way to answer this calling.
"I'm always wanting us to do better. There's only so much influence a physician can have when they work within the policies provided. Research offers an opportunity to influence those policies."
The discovery
In a recent study published in Annals of Family Medicine, Dr. Kiran and her research team set out to study the impact team-based care has on patients. They evaluated emergency department (ED) use by patients whose physicians had transitioned from an enhanced fee-for-service payment model to either a team-based or non-team-based capitated payment model.
In a capitated payment model, health providers are paid a certain fee per month per patient, depending on their age and sex, as opposed to being paid per visit, which is the fee-for-service model. In the early 2000s, physicians in Ontario transitioned to this payment model either through a practice on their own, or one that involved a multi-disciplinary team.
The research team analyzed the annual ED visits of approximately 2.5 million patients, looking at their ED use before and after their primary care physician transferred from a fee-for-service model to either a team-based or non-team-based capitation model.
"Generally, we saw an increase in emergency department use," Dr. Kiran said. "The increase, however, was less overall for patients who were part of a team-based model."
The research group looked at ED visits in cities, towns and rural areas in Ontario, accounting for patients' differences in age, sex, neighbourhood, income, recent immigration status, and pre-existing conditions. The findings were consistent in all settings studied and after accounting for patient differences. regardless of patient variables, Dr. Kiran said. The findings were consistent in all settings studied and with two different analytic methods
The impact
Studies have examined the capitation models since their implementation, and some did not reflect a difference in patient outcomes. With this work, Dr. Kiran and her team had the benefit of time.
"We looked data over a 15-year period (2003 to 2017)," she explained. "It takes a long time for teams to form well and one of the strengths of our study is that we're doing this at a time when we have a lot of data after the teams formed."
With this much data, the study was able to show that team-based care can be associated with better outcomes for people.
Team-based care and the capitation payment structure were introduced to improve patient care and reduce family physician burnout. Expansion into these models stopped in 2012.
"There is data out there that shows that patients and providers like team-based care. This study adds to the system-level information around it improving outcomes, and possibly even costs."
Future research in this area could explore the best team structures and optimal roles in a Family Health Team – the structures of which are currently variable.
For Dr. Kiran, working in a team-based model has helped her provide more holistic care to her patients.
"I rely on our pharmacist to integrate new medications into my practice, or on our social worker to support some of my patients with mental health and addictions, or on our nurse to be the first point of contact for patients. The expertise doesn't rest solely with one person."
More #OneBurningQuestion articles
By: Ana Gajic