Dr. Charles de Mestral's #OneBurningQuestion: How do we stop the most devastating outcome of diabetes and poor circulation?
May 11, 2021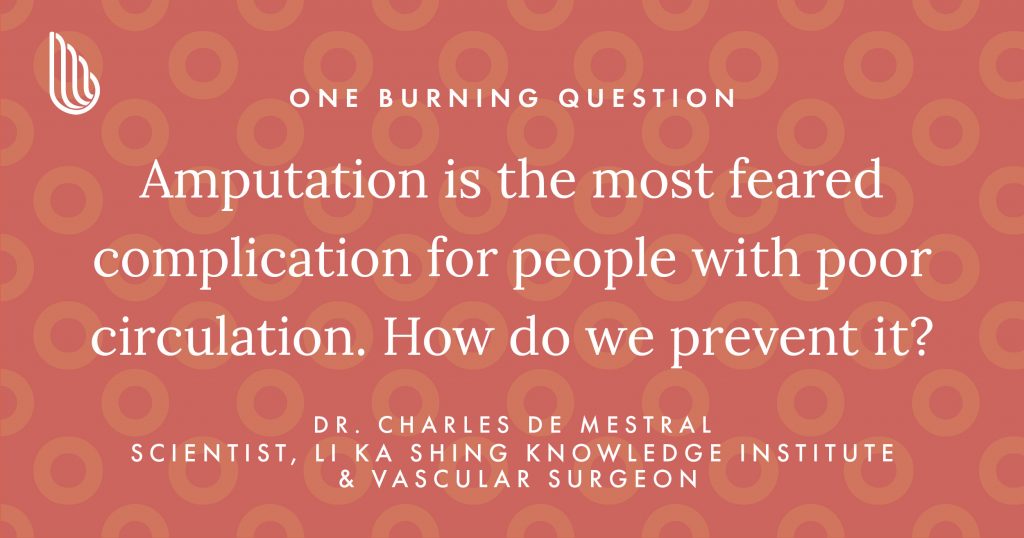 By Ana Gajic
Dr. Charles de Mestral was drawn to vascular surgery because it offered him the opportunity to directly treat a patient's health concern through an invasive intervention and also advise patients on how to prevent complications of vascular disease.
"As vascular surgeons, we're part of treating the problem when it happens, but also looking at how to prevent it from ever happening." says Dr. de Mestral.
In his medical practice, Dr. de Mestral saw a devastating pattern repeat itself: many people with diabetes and poor circulation – known as peripheral arterial disease – got to a point in their journey where they had to have their leg amputated due to their disease.
The most frustrating part, he said, was the fact that with the right preventative care, these patients' limbs and by extension, quality of life could be saved. Dr. de Mestral, a scientist at Li Ka Shing Knowledge Institute, set out to study how access and use of health care services impacted amputation rates.
"We've been heavy on anecdotal evidence and we know there's a problem, but it's not that easy to lay out data around it – and that's what my research has aimed to do."
The discovery
In Ontario, five people lose a leg to diabetes and poor circulation every day and that number is rising. Fortunately, four out of every five can be prevented with the right type of care, such as frequent foot checks for wounds, foot assessments by a trained health care provider, and prompt evaluation of foot wound infections.
To understand how access to healthcare impacts amputation rates, Dr. de Mestral and his team identified 11,658 patients with lower extremity amputation in Ontario.
Their research, published last year in CMAJ Open, found that in areas where there were assessments done by vascular surgeons and where procedures to restore blood flow were performed more frequently had less amputation.
In particular, rural Northern Ontario areashad the highest rates of amputation, and areas in more urban settings had lower rates. Dr. de Mestral attributes that to the fact that disparities in community prevention and access to expertise in limb salvage.The reality is, however, that gaps exist throughout the system.
"To prevent amputation, many layers of care are needed," Dr. de Mestral said. "Irrespective of where you are in the process, we know there are gaps in preventative care and what my research is trying to do is begin describing the current context of care and what works well in the real-world."
The impact
This study is part of a greater body of work that first documents the burden of disease and identifies who's at greatest risk of losing a leg. With this information, researchers can begin to understand who's at greatest risk of not receiving the right type of preventative care so that they can then come up with regional solutions that have targeted initiatives to address amputation prevention.
"Amputation is the most feared complication for people with poor circulation," Dr. de Mestral said. "It has impacts on a person's mobility, their financial situation, their family members who have to help care for basics of daily living, and their overall quality of life. Sadly, I see this outcome on a weekly basis."
No one person is responsible for reducing amputations – it takes a team of primary care providers, , chiropodists/podiatrists, medical specialists and surgeons. Ideally, Dr. de Mestral said each Ontarian would have access to a team of people to help them with a foot problem.
"I'm sitting on the prevention side and the treatment side – that's not always the case depending on the field of medicine you're in. In this field, the successes are so motivating because you've prevented the most feared complication of this disease."
More #OneBurningQuestion articles