New centre at St. Joseph's offers lake views and a cozy kitchen, setting a new standard for the palliative care environment
August 16, 2023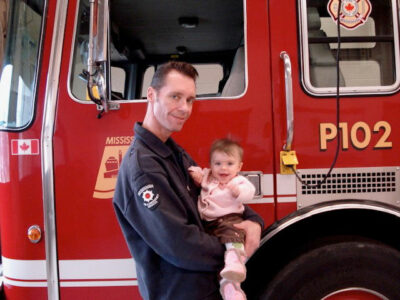 When Jennifer Wittig's husband, Ben Uwe Wittig, was transferred from a small, windowless patient room in a century-old wing at St. Joseph's Health Centre to one with natural light and views of Lake Ontario, she remembers what a difference it made on the day before his passing.
"The doctors debated the safety of moving Ben and though he could no longer speak or move, his mother and I decided to go for it," said Wittig. "He had always loved the outdoors. After wheeling him in, I leaned over and said, Ben, I don't know if you can see it but the sun is shining. He opened his eyes, nodded his head and grinned. It was such a moment of humanity in the horror show of those final months. It felt really good to be able to do that for him."
Five years after Ben's death, a new centre at St. Joseph's showcases what the palliative care environment can look like.
Designed in partnership with palliative care patients, caregivers and specialists, the new Lake House Palliative Care Centre features cottage-inspired finishes, ample natural light and lake views. It also features an outpatient clinic – a first for St. Joseph's and one of the few in west Toronto – to provide day treatment and support for patients who choose to receive palliative care at home.
The 15,000-square-foot space was made possible by the St. Joseph's donor community, including a transformative donation from Hans Koehle, a grateful patient and long-time supporter of St. Joseph's, who wanted to honour the care that he and his late wife, Audree, received at the hospital. The Koehle family wanted to build a space for patients that reflected the comforts and ambience of a lakeside retreat, inspired by the look and feel of a cottage in Muskoka or on Lake Simcoe.
"This centre is unlike anything I've ever seen before in the palliative care space," said Michael Nguyen, Patient Care Manager of Transitional Care and Palliative Care at St. Joseph's. "It's calming, designed to promote dignity and enhance patient comfort. It doesn't resemble a hospital setting but patients have direct access to hospital-based services and exceptional medical care."
Previously at St. Joseph's, the hospital didn't have a separate space for palliative care. Patients were assigned one of 10 beds on a general medicine unit, many of them in shared rooms.
"The care we received at St. Joseph's was incredible but the facilities were so meager at the time," said Wittig. "There was a tiny room down the hall with a microwave, a half-operable sink and a fridge used for medical supplies. That was it. I remember getting Ben ice chips from the freezer and thinking, I can't believe this is all they have for these patients."
The new centre offers 10 large, private patient rooms designed to accommodate patients' support people and care team. Each room has its own pullout couch or sleeper chair, a television, a private washroom and a panel that allows patients to control their blinds and lighting from the bedside. The centre also has a lounge, a homey kitchen and dining area and three large family rooms where patients and families can connect.
"This space allows families to rest comfortably with their loved ones in their final days and at their most vulnerable state," said Nguyen. "They can have tough conversations in privacy and don't need to worry about sharing a room while their loved one is passing away. All the little things are taken care of."
The centre is staffed by a dedicated interdisciplinary team of social workers, occupational therapists, clinical nurse specialists, registered nurses, physiotherapists, speech language pathologists, registered practical nurses and physicians who support patients at all stages of their palliative care journey. The team is supported by spiritual care practitioners, pharmacists, health care aids, learners and volunteers.
"Every member of this care team is present every day, just for our palliative care patients," said Stefanie Filion, a registered nurse in the centre. "We understand that the palliative experience looks different for everybody and that's why this team is so effective. We meet patients exactly where they're at."
This model allows staff and physicians to manage patients' symptoms more effectively and in a timelier manner, with the goal of improving their quality of life and granting them more autonomy, said Filion.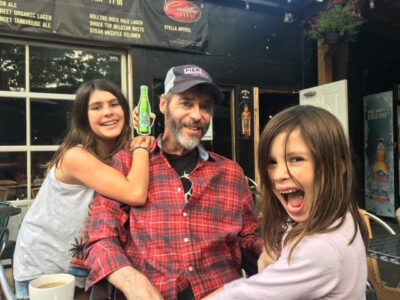 "One of the certainties of life is that we'll die and yet in the health care setting, death doesn't always get the respect it deserves," said Filion. "This setting recognizes that. It acknowledges how natural it is to die of a life-limiting illness. To me, there's nothing more beautiful than allowing someone a dignified death."
For Wittig, who says that she wishes there had been a more welcoming space to bring their young daughters, Genevieve and Juliette, to visit their dad or to cook Ben's traditional German foods while he was receiving care, it's the new space that she's most excited about.
"Our environment has the power to lift us up and I know that this new space will make a tremendous difference for palliative care patients and their families supporting end-of-life care," she said.
By: Anna Wassermann